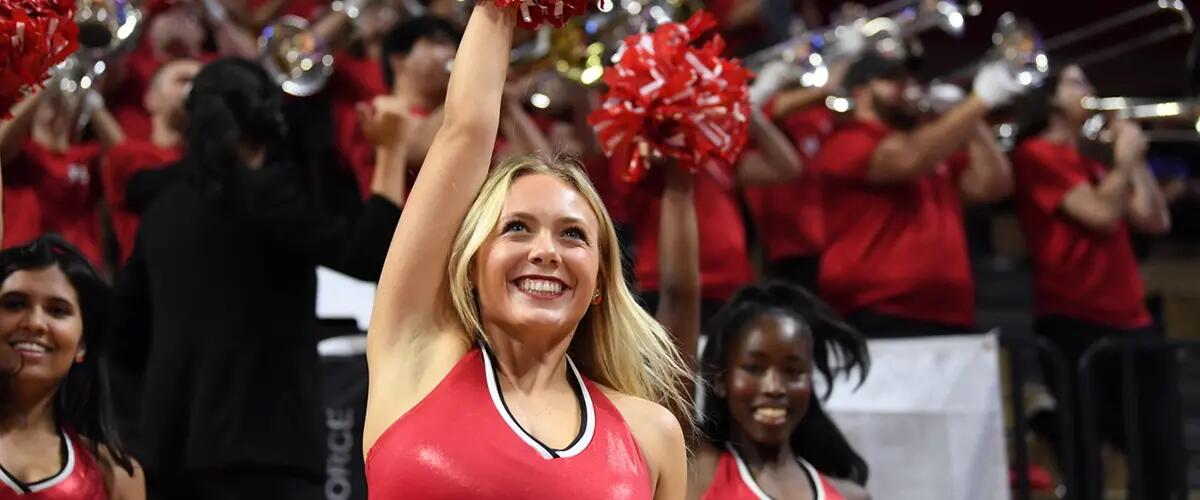 Senior is getting a taste for sports marketing as intern with RU Athletics
Marketing major Cameron Bruker juggles classes, a spot on the Rutgers Dance team, and a busy internship that offers her real-world work experience.
Rutgers Business School social media ambassador Cameron Bruker has created videos chronicling her busy days as a marketing major, University Athletics intern, and member of the Rutgers Dance Team.
Her Instagram take-overs promoting RBS are among the most popular on the school's Instagram account.
More often, though, the RBS senior is behind the camera, taking photos and videos, and creating graphics. With Rutgers Athletics, she captures footage of sporting events for the Scarlet Knights teams and posts live updates during games and tournaments. 
"Cameron was part of game day (as a dancer) and saw what it looks like on the front end, but college sports at this level is a business, and she wanted to learn what makes it work from the other side," said Matt Choquette, director of athletic communications at Rutgers University-New Brunswick. "It was great to see her dive in and take on a new sport she hadn't known much about."
Choquette said what Bruker is learning in the "high-paced, high-octane atmosphere" of college sports marketing will translate well to her career pursuits.
Bruker intended to pursue a degree in finance at RBS, but an introductory marketing class changed that. "Consumer Behavior" and "Social Media and Mobile Marketing" are among her favorite marketing courses, she said.
Bruker's goal is to become a sports agent. "All the skills I'm learning at Rutgers Business School are going to help me," she said. The career "is all about marketing—marketing myself to clients, marketing my clients to teams and endorsement deals," she said. After graduating from RBS in May, the 22-year-old wants to work for a marketing firm and later attend law school.
Discipline and perseverance are second nature to Bruker, who has been an athlete since childhood. She began dancing at age 2 and played soccer, basketball, and softball. The demands of travel softball— one year, her team made it to the Little League Softball World Series—took a toll and she gave the sport up in high school to focus on dance, she said.
There's little down time in Bruker's schedule. In season, she practices dance routines about six hours a week and performs at game. She estimates she has learned 40 routines since freshman year when she started on the team. As an intern for RU Athletics, she has covered Scarlet Knights sporting events and spent about eight hours a week working in the athletics office. She has created website landing pages for the dance team and cheerleading squad that resemble those for other Rutgers sports teams. She's also produced a women's basketball guide, among other projects.
As if that's not enough, Bruker serves as a RBS ambassador, giving prospective students tours and sitting on panels to provide visiting students with insights about the student experience. She also works out five days a week.
"I like to have a set schedule, because if it's on there, I'll make myself do it," she said. Bruker said she tries to alternate extremely busy days with lighter ones, and schedules classes for the afternoon so she can sleep in. "Juggling it all definitely requires discipline," she said.
- Margaret McHugh
Press: For all media inquiries see our Media Kit