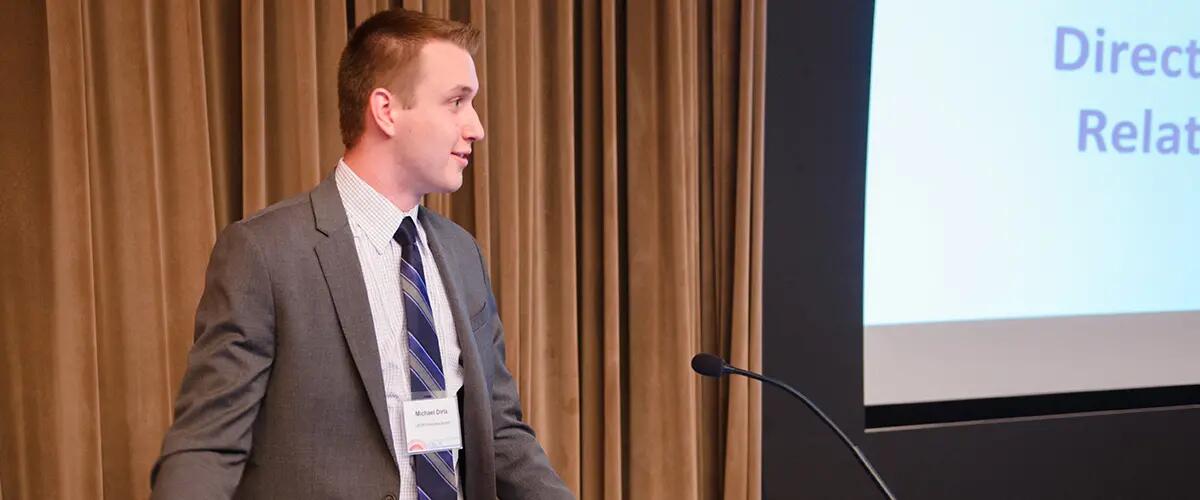 Senior Michael Dirla awarded Ben Sopranzetti prize
Dirla addressing over 330 people at the 2016 Rutgers Libor Finance Summit held at Citi's world headquarters in Manhattan.
Finance & Economics professors Ben Sopranzetti and John Longo selected senior finance major Michael Dirla as the recipient of the Ben Sopranzetti Prize. The prize is awarded periodically to the student who has done the most to help other Rutgers Business School (RBS) students obtain "front office" jobs in the financial industry.
The award was established by Professor Longo and his championship-winning students who have been participating in the CFA Investment Research Challenge case competitions since 2006 (Rutgers Business School won the New York Regional Finals in 2015, 2012, 2011, and 2008).
Dirla, a first-generation college student, mentored numerous undergraduate students who went on to receive internships or job offers from Citi, Barclays, Morgan Stanley, Goldman Sachs, The Blackstone Group, Bank of America, Credit Suisse and many others. 
"Front office jobs for Rutgers Business School students are important because they demonstrate that Rutgers students can compete with the best students from around the world," said Longo. "Michael not only helped students obtain jobs at 'bulge bracket' Wall Street firms, but also exemplifies the type of honorable behavior we would like all of our students to demonstrate.  That is, one who performs at a high level and gives back to the Rutgers community."
Dirla knows all too well how difficult it can be to land a Wall Street position – he secured a return offer from his summer internship and will be working at Credit Suisse after graduation in their Investment Banking Division. He also completed internships at UBS, in their Anti-Money Laundering Group, and at KPMG, in their Valuations Group, his freshman and sophomore summers respectively. 
In addition to mentoring students one-on-one, Dirla made many contributions to the Rutgers and RBS communities. He served as an assistant director to the Rutgers Road to Wall Street program during which he created and taught multiple seminars on interviewing skills and technical questions to over 50 members of the programs cohort. As a result of Dirla's training efforts, over 90 percent of the cohort secured a freshman or sophomore year summer internship. In the fall semester of 2016 more than 35 juniors received front office internships, and Dirla helped many of them throughout the interview process.
Dirla also is the co-president of LIBOR, one of the largest undergraduate finance clubs at Rutgers. In April 2016, Michael and fellow RBS students, Nishant Gidvani and Vikram Kesavabhotla, hosted the 9th Annual LIBOR Finance Summit. This was the largest student-run event of the year and had a record attendance of more than 330 students, alumni and professors. Dirla helped secure speakers and top executives from KKR, Goldman Sachs, Deutsche Bank, and MSCI for the event's panel discussion. At the summit, students had the opportunity to network with more than 180 professionals, most of them Rutgers Business School alumni, representing every major bank on Wall Street. 
Press: For all media inquiries see our Media Kit