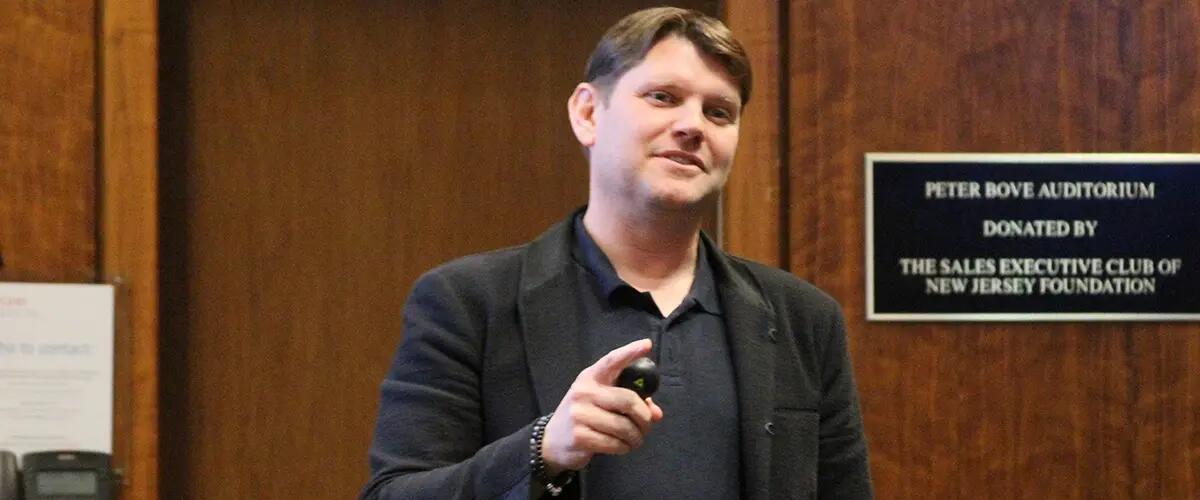 Speaker Series: Mediaocean CEO encourages students to take calculated risks early in career
Bill Wise, who is considered a visionary in multi-channel marketing, offered Rutgers Business School students some insights about proceeding on their career paths during a March 29 visit. 
Wise, who spoke at Rutgers as part of the semester-long Business Leaders Speakers Series, is chief executive officer of Mediaocean.
Through a series of stories from his own career, Wise used a combination of humor and wisdom to give his audience some nuggets of advice and inspiration. He urged them to take calculated risks, to hop around early in their careers and to do things – like take an accounting job and learn to be a good story-teller – because will prove to be a good foundation on which to build the rest of a career.
"We live in a world that's moving very fast," Wise said. "Understand the landscape of the industry you're in. Know the movers and shakers. Associate with people who will help move you along in your career." 
"Confidence," he said, "is critical." 
Anna Sista, a senior studying accounting and supply chain, said she was impressed with how Wise started at the bottom, made calculated career moves and worked his way up to CEO. 
"He's so personable and so confident of himself," she said. "Everyone can see that." 
Wise earned his undergraduate degree at Albany State University and has spent 24 years in digital advertising. He began his career as an accountant, but also spent time at Yahoo before starting Media Bank, a company he formed to compete with Donovan Data Systems. Eventually, he acquired Donovan Data.
"I feel like I've been incredibly fortunate," Wise said.
Rahul Anand, a senior who has already started running his own marketing business, was excited to hear Wise speak. "This was very energizing," Anand said. "He's at a level where I might be in five years."
"The biggest value is just hearing him talk about his experience," he said. "Hearing about someone else's success helps you to succeed."
The speaker series was organized by Professor Can Uslay to provide students in Newark and New Brunswick with an opportunity to learn from successful real-world executives. 
Coming speakers: 
Thursday, April 13, 4-5 p.m.: Prudential Financial Vice President and Controller Gregory Bedard, Bove Auditorium, 1 Washington Park, Newark. 
Wednesday, April 19, 10:30 a.m.: Integra Life Sciences Vice President, Asia Pacific Steve Powick, 100 Rock, Room 1095. 
Thursday, April 20, 4-5 p.m.: Vital Decisions CEO Mitchell Daitz, Bove Auditorium, 1 Washington Park, Newark
- Susan Todd
Press: For all media inquiries see our Media Kit