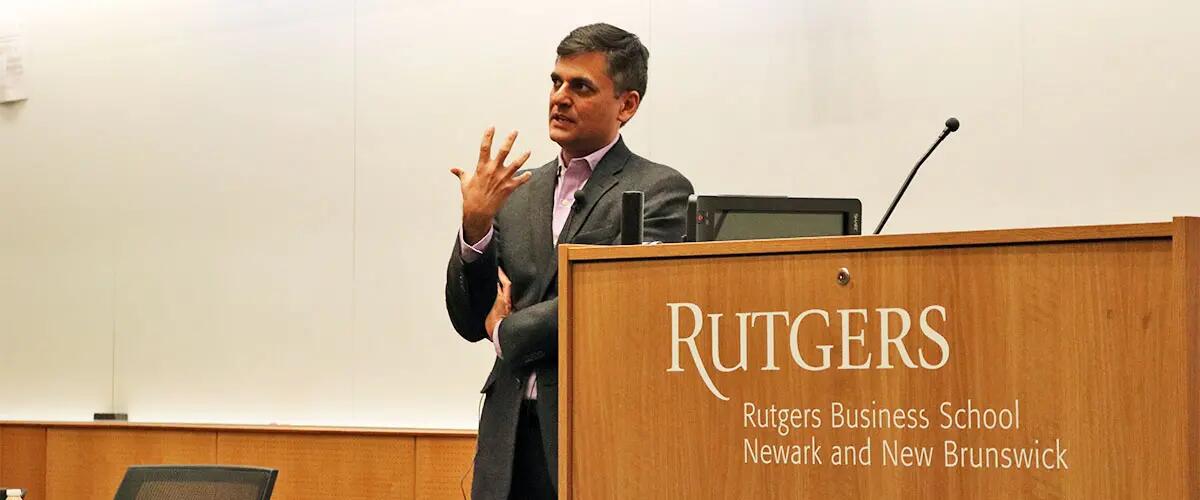 Speaker Series: Revlon & Elizabeth Arden marketing SVP inspires students
Rahul Mehrotra, senior vice president of marketing services, Revlon | Elizabeth Arden, shared his winding and changing career path with Rutgers Business School marketing and management students during the October 31 Business Leaders Speaker Series.
He told students that he knew what he liked and did not like, but "you can't really plan your career path."
"I had certain areas where I knew I did not want to go: legal, human resources. I followed my interests and pushed to take positions outside the usual progression, to learn new skills and to learn different sides of businesses," said Mehrotra.
Kristina Durante, associate professor and Marketing Department Ph.D. Coordinator moderated the lively question and answer period.
Mehrotra's bachelor degree was in metallurgical engineering and materials science. "While I quickly learned that I did not enjoy that work, I applied myself to learning the mathematical, analytical, number-crunching that would be so useful to me throughout my career," he said.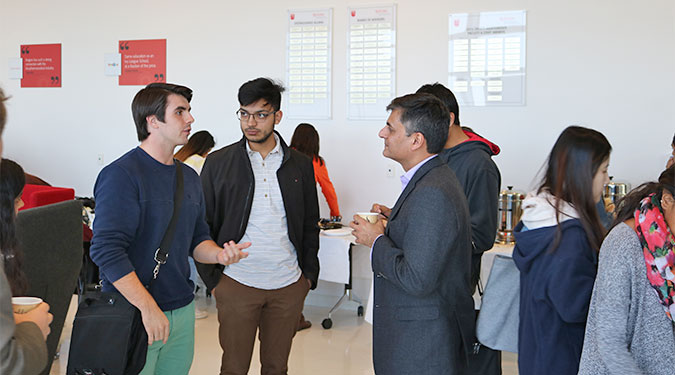 His marketing MBA fit his interests and set the foundation to his career. "I didn't remember specific lessons long, but I focused on learning the fundamentals of business very well," Mehrotra said. "Learn the fundamentals and be able to apply them to new and unexpected situations," he advised.
Students asked a wide range of thoughtful questions and received straight answers.
Sophomores Anushtha Mittal and Nimit Jogani enjoyed listening to what Mehrotra had to say. They found Mehrotra's career journey and "lessons learned" very encouraging. "He was very inspirational," Mittal said. "I appreciated his 'straight forward' way of speaking to us, and his unconventional career journey."
"Absolutely," agreed Jogani. "A big take-away' for me was his message that you can't strictly plan your career. I really liked his approach of taking different positions and learning from every experience."
-Sean Ireland
Press: For all media inquiries see our Media Kit