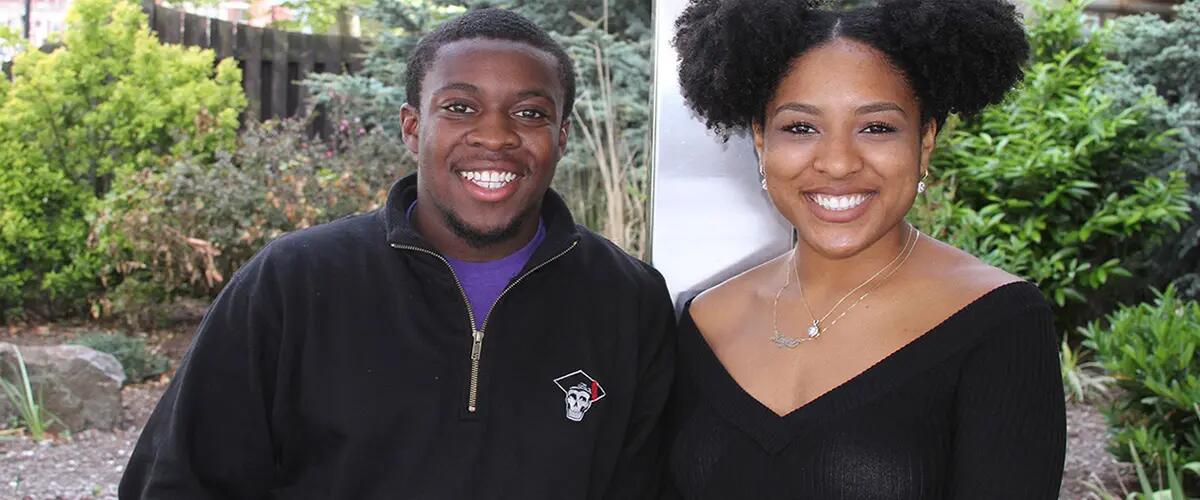 Student entrepreneur delivers a series of winning pitches
Rutgers senior Kayla Jackson won a series of pitch competitions this year, each one of them helping to attract more support and buzz for a start-up business called PeduL.
Kayla Jackson, who studied entrepreneurship at Rutgers Business School, has a talent for making a pitch.
During the past year, she has been a top winner in three competitions, including the UPitchNJ Business Plan in April. Her success at the competitions helped to grow PeduL Inc., a start-up co-founded by Rutgers alumnus Chisa Egbelu.
PeduL Inc. is a unique crowd-funding platform created exclusively for students who are trying to raise money to pay for their education. The platform takes those efforts a step further by securing scholarship providers, including major corporations, and trying to optimize the student campaigns.
Egbelu, who graduated in 2016 with a degree in journalism and media studies, came up with the idea for PeduL after watching his roommate struggle unsuccessfully to pay for his studies by trying to piece together scholarship money and loans.
The business idea got its first boost last summer when Newark-based IDT Ventures brought Egbelu and Jackson into its incubator program and made a $600,000 investment in PeduL. Through the IDT incubator program, the two students also met Cleveland Cavalier Dahntay Jones, who connected them with Valeisha Butterfield-Jones, his wife and the head of black community engagement at Google.
Meanwhile, Jackson took her pitch for PeduL onto the competition circuit.
In January, she finished first in the annual I Have a Dream Entrepreneur Summit at New York University's Tandon School of Engineering.  Next came the New Jersey Regional Global Student Entrepreneur Award Competition. Jackson was the top winner chosen by six members of the Entrepreneurs Organization.
Most recently, Jackson, who also studied journalism and media studies at Rutgers University's School of Communications and Information in New Brunswick, won first place representing Rutgers in the UPitch Competition at Princeton. Jackson's five-minute pitch beat 12 other young entrepreneurs from across the state.
For Jackson, the recognition and even the prize money is secondary to the access it gives her and Egbelu to mentors, marketing experts and legal resources to help build PeduL. The pair expect to launch the company this summer.
Rutgers Business School nurtures student entrepreneurs like Jackson with practical curriculum, mentors and special training in such things as marketing and pitching.
Jackson, who graduated in May, described "an aura of entrepreneurship" at Rutgers that gave her the resources to hone her entrepreneurial skills. She got an early taste for entrepreneurship when she started an online magazine in high school and sold it before she entered college. She has dabbled in the entrepreneurial space ever since.
"I've always looked for opportunities to make cool things that help people," Jackson said. "With PeduL, I realized that it doesn't need to be my idea just something that I'm passionate about."
-Susan Todd
Press: For all media inquiries see our Media Kit