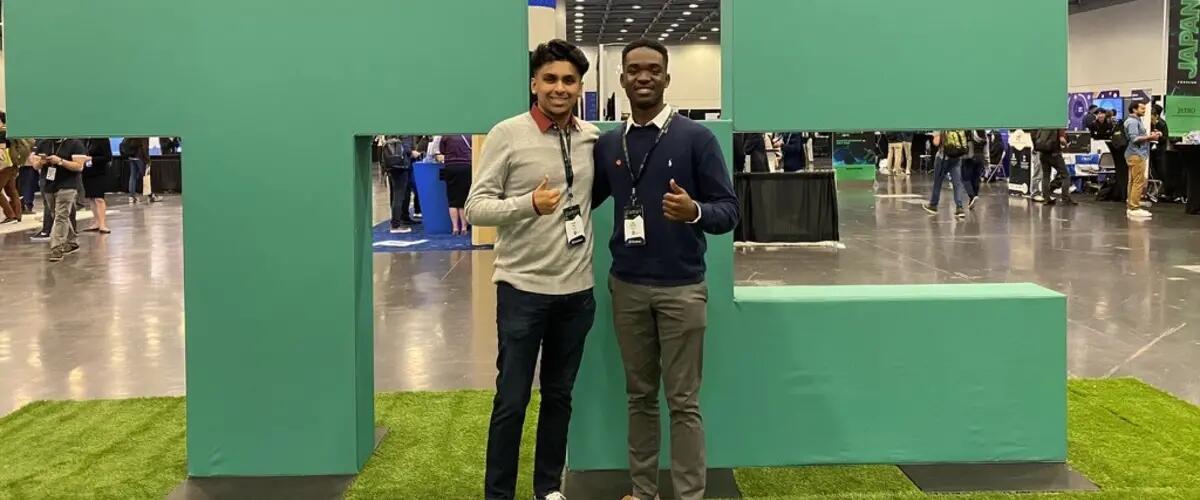 Student founder's start-up gamifies financial literacy
Sophomore Alex Simeon's MoneyUp venture is getting notice in the entrepreneurial community.
When Rutgers Business School sophomore Alex Simeon arrived at the TechCrunch Disrupt conference in San Francisco this summer, he didn't feel nervous about networking with investors two or three times his age. His venture, MoneyUp, had been chosen as a top 20 global college student startup by TechCrunch, giving Simeon two minutes to pitch his concept to the crowd.
"I wrote out what my goals were, and I was on a mission to get those tasks done," said Simeon, adding that Rutgers entrepreneurship professors had prepared him for this opportunity. "They helped overall with every aspect of it, giving me the support I needed," he said.
Simeon, 19, is a finance major with a concentration in entrepreneurship. He enrolled at Rutgers because of the strong reputation of its business school and entrepreneurship program. Simeon's mother Marilyn received an MBA from Rutgers and is a project director at Novo Nordisk. His father Alex, a senior data analyst at Bloomberg, always encouraged his son to become an entrepreneur.
"They encouraged me to do things, even if they failed," said Simeon. "I'd be in my room writing out elaborate plans of things I wanted to do."
In fourth grade, Simeon wrote his first business plan, "for fun." With paper, markers, and highlighters – "the tools a young child would have" – he designed the perfect doughnut shop. "It was a hodge-podge of a young child's ideas related to doughnuts," said Simeon. "That was my first desire to become an entrepreneur."
He got more serious about entrepreneurship during his freshman year at Rutgers. Simeon noticed his friends were not savvy with money, spending a lot and then running short on cash. Simeon began offering tips on saving and investing. "I was naturally helping people around me become more adept," he said. Simeon wondered why his friends hadn't learned the money lessons he had, and he began looking for a solution. But Simeon decided the offerings were lackluster – formal classes would not appeal to this age group and apps were not engaging enough.
Simeon started working on MoneyUp as the solution, while taking entrepreneurship courses with Alfred Blake, founder of the Entrepreneurship Living Learning Community at Rutgers, and Gary Minkoff, a professor of professional practice in entrepreneurship. MoneyUp is a platform with gamified tools to make banking, investing, budgeting and money management easy for college students and Gen Z. The goal is to make financial education simple and engaging so users can apply what they learn to improve their well-being.
Simeon interviewed students, then disseminated a survey form in group chats and his classes to obtain more input. While working 40 hours per week at a camp last summer, he also focused on MoneyUp, creating a business model canvas and a business plan. He continued to seek feedback from Gen Z so "I could develop it with the customer right by my side," he said.
"He has enormous drive, ambition, and discipline with a bias towards action and execution," entrepreneurship instructor Mukesh Patel said of Simeon. "Most importantly, he is relentlessly resourceful, which will take him far in his journey."
When he returned to Rutgers in the fall, Simeon enrolled in the Innovation Lab with Mukesh Patel, an assistant professor of professional practice and serial entrepreneur, and entrepreneurship instructor Kristy Fall. Simeon credited his instructors, plus his membership in Rutgers Entrepreneurial Society, with helping him grow MoneyUp, refine its message and connect with industry experts.
"I've learned so much that I've been able to apply, because education only goes as far as that application," Simeon said. "It's really been the reason why we are where we are. They give you the resources you need to grow."
Patel said Simeon is a passionate tech-entrepreneurial leader, but with a steady hand and calm demeanor. "He has enormous drive, ambition, and discipline with a bias towards action and execution," Patel said. "Most importantly, he is relentlessly resourceful, which will take him far in his journey."
That journey has already showed signs of progress and success.
Simeon won the RISE (Rutgers Innovation Startup Expedition) pitch contest on Dec. 8, sponsored by the Rutgers Entrepreneurial Society. MoneyUp is now a team of seven, including Simeon and his co-founder, Krish Nair, a sophomore at Stevens Institute of Technology. At the TechCrunch conference, industry experts encouraged Simeon to continue building MoneyUp. Simeon hopes to have a product finished in the first quarter of 2023 and test it with 1,000 Rutgers students. Then he wants to keep scaling it with students at other universities. "We see this as a great opportunity," he said.
Students can join the waitlist to test MoneyUp by visiting getmoneyup.com.
- Sharon Waters
Press: For all media inquiries see our Media Kit