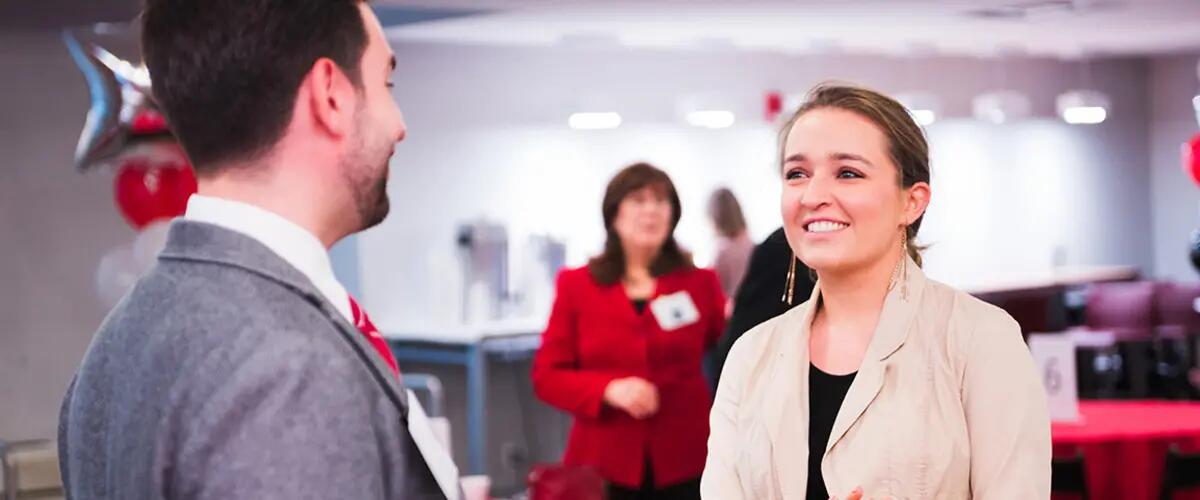 A student's path to leadership
Anna Pisklarov, a stand-out supply chain management student, was one of three students selected for Rutgers Business School's annual Distinguished Leadership Award.
When Anna Pisklarov looks back on her four years at Rutgers Business School-Newark, she can chart the path of conversations, activities and opportunities that, collectively, transformed her into a student leader.
If one thing had not happened, would it have turned out the same, she said, sounding both philosophical and reflective as she prepared to take the last exam of her college career.
As it turned out, Pisklarov was one of three students selected to receive Rutgers Business School's Distinguished Leadership Awards for 2020.
After the cascade of disappointments caused by the Covid-19 Outbreak, Pisklarov was buoyed by the award, a recognition affirming she had achieved a personal goal. "I was very involved," she said. "I wanted to make sure I left my mark on Rutgers."
Pisklarov, a first-generation college student who came to the U.S. from the Ukraine with her parents when she was three, said after an unremarkable freshman year of commuting, she was determined to stop making excuses for not being more active on campus.
In sophomore year, she was invited to join Women BUILD (Business Undergraduates in Leadership Development). She found herself surrounded by ambitious, career-focused students who were doing internships with big companies. It was motivating. "I felt a little behind," she said. "I started to put myself out there more. I started to branch out."
With the encouragement of John Impellizzeri, an instructor in supply chain management, she participated in her first case competition and helped the team win second place. "That was the inflection point," she said.  
She decided to pursue supply chain management to complement her major in finance. After participating in the case competition, another professor asked her to be president of a fledgling student group called Business Association of Supply Expertise or BASE.
"I wanted to make sure I left my mark on Rutgers."
She said she was reluctant at first. Professor Thomas York, who had started the club, wanted it to survive, but Pisklarov said she wasn't sure her sophomore hands were capable of the job. In addition to reviving the club, the position would also put her on a board of other student officers who worked closely with school administrators.
After doubting herself, she said she finally had the realization that the role was exactly the type of opportunity she wanted. She stepped up and turned BASE into "most improved club."
"What I learned from BASE is I'm not so bad as a leader," she said. "You have to communicate. You have to trust others and delegate, and you have to work as a team."
Pisklarov credits Professor Impellizzeri for leading her into supply chain and setting her onto a path of opportunities and accomplishments. "He truly cares about the success of his students," she said. "I've been very fortunate to have his support."
Once Pisklarov decided to study supply chain as a second major, Impellizzeri said her growth was "nothing short of remarkable."
In addition to being recognized for her leadership, Pisklarov was named the top supply chain management student in Newark for 2020. Last year, she was named a Gene Richter Scholar, which included $10,000 and the distinction of being one of the Top 5 supply chain management students in the country. 
Her passion for supply chain also led to internships – one at the Japanese cosmetic maker Shiseido and another at BD, a global medical device company. After graduation, she will start a full-time job with IBM in Washington D.C.
"I feel like I really am ready to take on the corporate world," she said.
Pisklarov said she had organized a weekly series of seven workshops called "Adulting" to educate students about taxes and 401k plans. It was like a swan song. One workshop was held before Rutgers Business School had to be closed for the remainder of the semester.
That was the first of the disappointments. Days later, a spring break vacation to Mexico with her closest friends had to be cancelled. With each disappointment, Pisklarov said she could only think, "This is really not happening." It wasn't long before graduation was added to the list.
Like many of her classmates, Pisklarov is trying to look beyond the disappointment, to the job awaiting her in August, to everything the future holds.  
"Rutgers Business School taught us to be resilient and resourceful," she said, "and that's what we're doing."
The Distinguished Leadership Award is given each year to an undergraduate student from both Newark and New Brunswick. A third student is selected from the graduate program.
This year, Matthew Iaccarino was selected from the RBS-New Brunswick graduating class and MBA student Arnav Gulati was chosen from the graduate program.
- Susan Todd
Press: For all media inquiries see our Media Kit