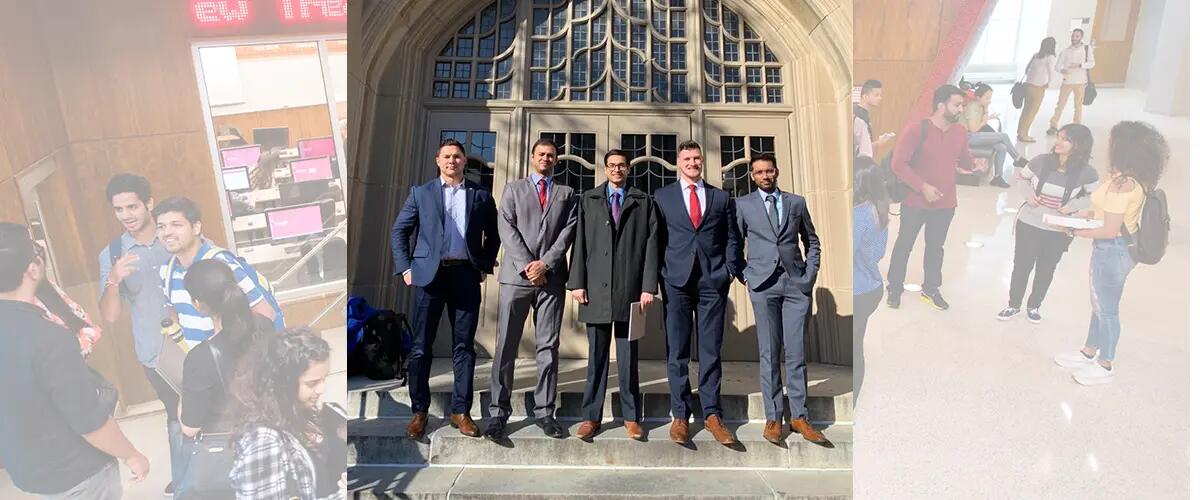 Graduating MBA student feels well prepared to navigate the unexpected
Arnav Gulati, 2020 Graduate Programs Distinguished Leadership Award Winner
Rutgers Business School (RBS) was always Arnav Gulati's first choice. "I was accepted by several MBA programs, but I knew I would attend RBS ever since my cousin did," said Gulati. His cousin graduated in 2017 and had many great things to say about RBS and his experience. Gulati saw the important changes in his cousin brought about by the program.
The Full-Time MBA was just what Gulati expected, right up until the last semester and the COVID-19 outbreak. Suddenly the university closed its doors and all classes moved online. Along with his classmates, Gulati would have a virtual graduation in lock-down. "It was tough navigating all this but it was still a great learning experience for me," Gulati said. "My MBA experience did not end the way I hoped, but I am fortunate to be well prepared for what comes next."
Gulati had a finance background which he continued as a concentration of the Rutgers Business School MBA.  For his second concentration he chose supply chain management. "SCM operations taught how to evaluate how decisions are made, the reasons why," Gulati said.  "The curriculum covered areas such as decision making, modeling, and strategy; providing a full holistic view of a company, the how and why choices are made to understand different aspects of the business."
"I had so many great professors and courses that it makes it difficult to pick a few standouts," Gulati said.  "Professor Farrokh Langdana's aggregate economics is something no student should miss.  He connects current real-world experience to theory and concepts.  He also offers different perspectives on the same topic which was particularly enlightening.
"Associate Professor and Accounting & Information Systems Department Vice Chair Valentin Dimitrov made accounting fun!
"Negotiations with Associate Professor Oliver Sheldon opened my eyes to what one need do in any situation: do the research, prepare. The subject may sound generic but preparation can apply to anything."
"Supply Chain Management Strategies with Assistant Professor John Hellriegel demonstrated how different companies operate and handle different disruptions.  For every class we prepared a write up for a situation and discussed our various solutions. It was a very valuable learning experience."
Arnav Gulati was selected to receive the 2020 Graduate Programs Distinguished Leadership Award for his academic excellence and the leadership he demonstrated as the graduate student body president representing the voice of over 2,000 students.
"Liaising between the students and the management and holding events for students and dealing with budgets, suppliers and preparations helped me to navigate different situations as one would face in business," Gulati said.
The Distinguished Leadership Award was initiated in 2011.  It is given to one student leader from the Newark Undergraduate, New Brunswick Undergraduate, and Graduate Programs of Rutgers Business School. The award recognizes student leaders who demonstrate outstanding academic achievement, service to RBS, and leadership potential. The name of each recipient is engraved onto the Rutgers Business School Bell and will continue in successive years.
The 2020 New Brunswick Undergraduate Program Distinguished Leadership Award recipient is Matt Iacarrino. 
The 2020 Newark Undergraduate Program Distinguished Leadership Award recipient is Anna Pisklarov.
Press: For all media inquiries see our Media Kit