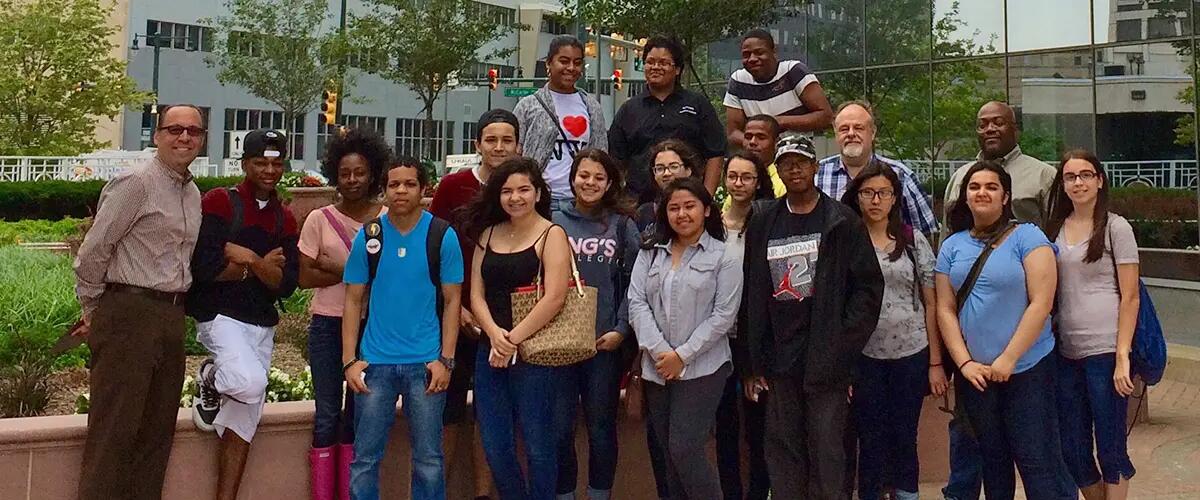 Supply Chain Education Partnership introduces Newark high school students to careers in logistics
This story originally appeared in Rutgers Today. It was written by Dory Devlin.
As Adriana Martinho grew up, her dream of being a chef evolved into owning the restaurant too. "Now, I just want to own a business or work in business," said the Science Park High School student.
Martinho, a rising junior, was among 15 Newark high school students who got an eight-day introduction to how multiple supply chains relate to the success of a business and its community. The Rutgers Business School's first Supply Chain Education Partnership Program also aims to give local high school students a sense of supply chain management as a career.
So how do you make supply chain management enticing to teenagers, just as the school year gives way to summer?
"We try to make it as relevant as possible by bringing real-world references to them from their everyday lives," said John Impellizzeri, co-director of RBS's Center for Supply Chain Management. You also take them to a new corporate headquarters built with reducing environmental impacts in mind (Panasonic's riverfront offices), and to Halsey Street to visit local merchants and a restaurant to explore how supply chain management is imperative to every business, large and small.
As global economies become more connected, supply chain management (SCM) has grown in popularity as a business undergraduate major and an MBA. SCM encompasses every step involved to get products made and into the hands of consumers, from finding quality suppliers of materials to making and moving products to marketing them.
The SCM center reached out to guidance counselors in Newark high schools to refer top students to the program, funded by a $30,000 grant from the Schindler Elevator Corporation. Rutgers SCM professors and guest speakers from Schindler, Pfizer, Panasonic, Union Wear, Mount Sinai and PSE&G covered procurement, sustainability, inventory management, logistics and planning and forecasting from June 22 to July 1. The companies are among the center's advisory board, and they "represent the 'private' component in the collaboration of the public, private and community sectors," Impellizzeri said.
"We're trying to get students in the pipeline early," said Kevin Lyons, a professor in the supply chain management program. "When they think about business school, they often think about finance and accounting and we want them to see what supply chain is all about."
Marketing was front and center last week, as Lyons told students who chose to spend their first week of summer at the business school that everyone they meet at Rutgers is now part of their professional network. "Even though you haven't begun your official career yet, this opportunity is about who you know and what they can share with you," Lyons said. "The students around you, the professors, are all people you can contact in the future."
The weeklong program is also a way for the Rutgers professors to market the business school and the supply chain management major to some of the best high school students in Newark. Students who are accepted and choose to attend Rutgers Business School will receive three credits for the session toward a Rutgers degree. "We want them to get excited and to get on campus and see what's it like," Lyons said. "We're talking to them and letting them know how great the program is."
Martinho was among 10 students from Science Park High School, while five West Side High School students also attended, along with two students from the Urban Assembly School for Global Commerce in New York.
"Matching our businesses with local talent – that's the big picture." - Supply Chain Management Professor Kevin Lyons
Velon St. Martin and a friend from Urban Assembly commuted two hours from Brooklyn each way for the program. "It's really worth the trip," St. Martin said. "We've been learning about supply chain management at my school, but this makes it real."
Martinho hadn't heard of supply chain management when her guidance counselor approached her about attending the RBS summer program. "Now it makes tons of sense," she said.
Midweek, the students took to white boards in teams at Lyons' direction to come up with sustainability projects that could help the environment and the local Newark community, while taking into account the general supply chain areas covered in the first few days at the business school.
The students crafted and presented plans for recycling used end-of-year school supplies into new school supplies, turning vacant city lots into community greenhouses, and creating personal sensors that communicate comfort levels with heating and cooling systems. It was an impressive showing of innovation for 30 minutes of work.
Among Lyons' research is his work with local manufacturers and businesses on their workforce development to help foster local talent for future jobs. "My goal is to say, listen, you have talent right in your backyards that you can pull from," Lyons said. "Matching our businesses with local talent – that's the big picture."
Press: For all media inquiries see our Media Kit