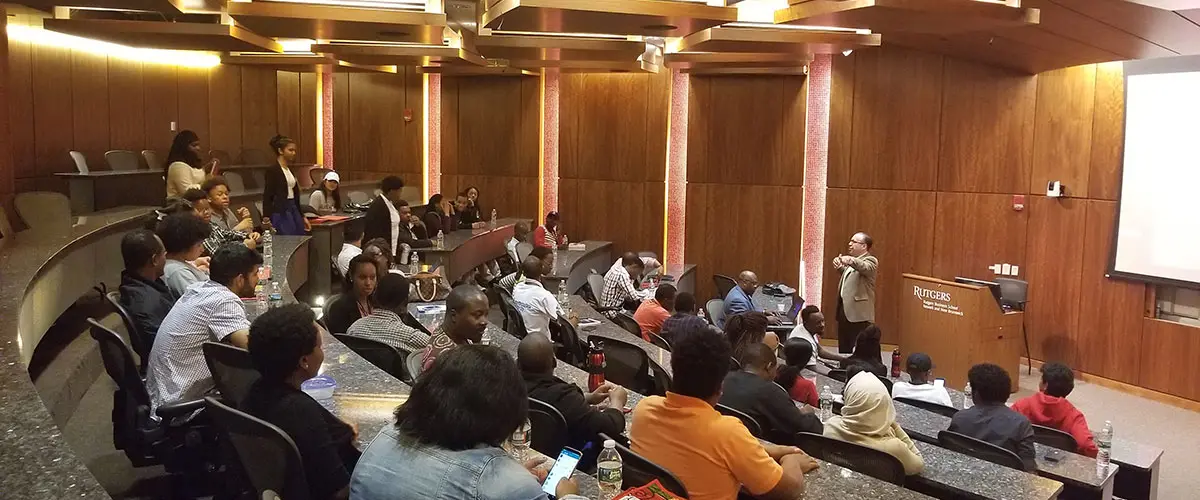 Supply Chain Education Partnership Program
2023 SCM Education Partnership
The Rutgers Business School's first Supply Chain Education Partnership Program aims to give local high school students a sense of supply chain management as a career. Just as the school year gives way to summer, the Center for Supply Chain Management finds a way to entice teenagers towards a rewarding future.
The goal is to show relevancy bringing real world reference to our students from every day activities. Students are given hands on experience through visit to industry facilities to explore how SCM management is imperative to every business, large and small.
As global economies become more connected, supply chain management (SCM) has grown in popularity as a business undergraduate major and an MBA. SCM encompasses every step involved to get products made and into the hands of consumers, from finding quality suppliers of materials to making and moving products to marketing them.
Rutgers SCM professors and guest speakers from board member companies such as Schindler, Pfizer, Panasonic, Coca-Cola, Johnson & Johnson and PSE&G covered procurement, sustainability, inventory management, logistics and planning and forecasting. These companies "represent the 'private' component in the partnership of the public, private and community sectors".
The weeklong program is also a way for the Rutgers professors to market the business school and the supply chain management major to some of the best high school students in Newark and neighboring cities. Students who are accepted and choose to attend Rutgers Business School will receive three credits for the SCM session toward a Rutgers Business degree and an opportunity to open many doors.
In past programs, with Professor Lyons guidance, the students crafted and presented plans for recycling used end-of-year school supplies into new school supplies, turning vacant city lots into community greenhouses, and creating personal sensors that communicate comfort levels with heating and cooling systems. It was an impressive showing of innovation for 30 minutes of work.
The goal is to recognize and nurture talent in our own backyard and neighboring cities. There are many opportunities in our local community and we need to rise to the challenge. Rutgers SCM program is the first step in preparing our student to reach higher heights in this field.

HS Summer Program Courses
Below is a sample of the schedule for the Rutgers SCM High School Program:
Day 1
Intro to Supply Chain
Professor John Impellizzeri will kick off the program with an overview of Supply Chain Management. The emphasis of this course was to instill the value that the supply chain has on a company. The students learn an overview of the many business practices used in the industry. Professors presents how procurement, sales and operations planning, distribution, and demand management are linked to improve efficiency.
Team Exercise: The students will present the supply chain from raw materials to end customer of a McDonalds French Fry.
Professor: John Impellizeri- Assistant Professor of Professional Practice, Undergraduate Program Director (Newark), and Co-Director of the Center for Supply Chain Management Thomas York- Assistant Professor of Professional Practice
Guest Speaker: Industry partner
Day 2
Global Procurement and Sourcing Strategies
Professor will teach the students what procurement is, and the importance of strategic sourcing. The students learned different characteristics (cost, quality, lead-time, location) to consider when choosing a supplier. Techniques are shared for choosing a supplier in various industries.
Team Exercise: The students are given a scenario where they worked for a mobile service provider. Their company wants to introduce the market to the first foldable tablet in 9 months. Their role in the case was to identify what suppliers to use for this project. The students considered time, cost, and capacity constraints.
Professor: Dan Klepacki- Assistant Professor of Professional Practice
Guest Speaker: Industry partner
Day 3
Business Logistics and Transportation
Professor Mark Sutterley introduced the students to the basis of logistics and transportation. He helped the students understand the linkage between inventory and transportation. Also, he briefly covered management of inventory, evaluation of transportation alternatives, information flows, facility location, outsourcing, and the rapidly expanding field of logistics information technology.
Team Exercise: The students were given the dimensions of a product case, pallet, and truck trailer. The students were to optimize the space inside the truck with the given information.
Professor: Mark Sutterley
Guest Speaker: Industry partner
Day 4
Demand Planning and Fulfillment
Professor presents the first heavily quantitative lecture. The students learn planning strategies and tools that are commonly used in business practices. The major topics included demand forecasting, sales and operations planning (S&OP), inventory management, material requirement planning (MRP), and revenue management and pricing strategies.
Team Exercise: The students are given demand for a unit; production capacity of operations; costs for holding safety stock and paying employees overtime. The students will analyze the data and present the cheapest way to meet demand.
Professor: Rosa Oppenheim- Professor
Guest Speaker: Industry partner
Day 5
Visit to Industry Company (Company could change from year to year)
Day 6
Supplier Environmental Management and Sustainability
Professor Kevin Lyons lecture emphasized on global experiences and examples that show how comprehensive organizational environmental sustainability and archaeological criteria integrated into the supply chain management/procurement process and decision making of public and private agencies, organizations, and corporate entities can improve financial and environmental performance, while addressing ethics, social regeneration, resource/waste impacts, and economic development concerns.
Mandela Washington Fellow: "Since 2014, 500 fellows from sub-Saharan Africa who want to serve the public through NGOs or community-based organizations have participated in the fellowship at one of only 20 American universities selected by the U.S. Department of State. Rutgers has been chosen for each of the three years of the program to host 25 fellows for a six-week civic leadership institute, which provides proven methods in civic engagement, business and entrepreneurship, and public administration that they may apply to projects at home." - Learn More
Team Exercise: The student's will be paired with the Fellows to present the supply chain for a product, of their choosing, from raw materials to end customer. Once they've decided on a project and mapped out the supply chain, they would find opportunities for sustainability through their suppliers.
Professor: Kevin Lyons- Associate Professor of Practice
Guest Speaker: Mandela Fellows
Day 7
IT Systems and SAP
Professor will teach the students the foundation for understanding the process integration of business-wide functions supported by ERP systems; examines the benefits of implementing ERP; investigates the guidelines for ERP system implementation and application; offers hands-on practice in SAP ECC to illustrate the basic concepts, capabilities and advantages of ERP.
Professor: Lian Qi- Associate Professor
Guest Speaker: Industry partner
Day 8
Rutgers Business School
The students will be given a presentation on everything they would need to know to be admitted into Rutgers Business School. Also, a career management specialist, will present valuable career management techniques (resume, networking, elevator pitch). Prior to lunch, the students will be given a tour by the Assistant Dean of Enrollment, of Rutgers Business School.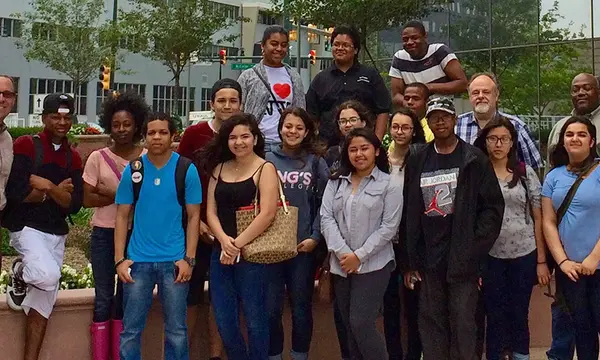 School News
This story originally appeared in Rutgers Today. It was written by Dory Devlin.