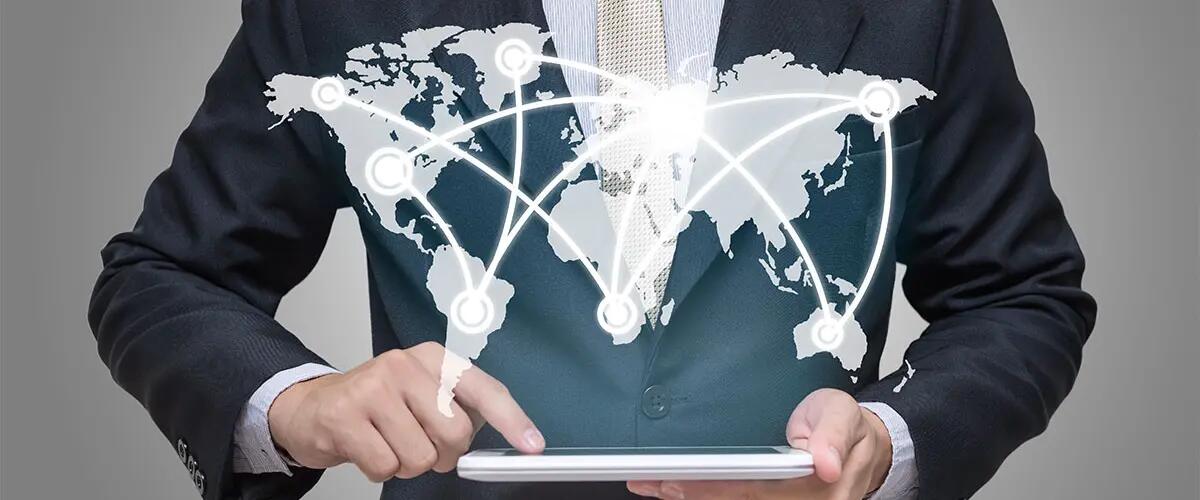 Undergraduate students continue record of winning Institute for Supply Management's national case competition
Three Rutgers Business School students won the Institute for Supply Management national case competition in Orlando, bringing the top prize to Rutgers for a second year in a row.
The team – Diana Harriman, Sonali Shah and Marchela Stancheva, all seniors majoring in supply chain management – competed against students from Michigan State, Arizona State, the University of San Diego and Western Michigan.
"They're three pretty sharp students. They worked well as a team, and they spent endless hours practicing," said Paul Goldsworthy, assistant professor of professional practice who selected the students to represent Rutgers. "I am thrilled and proud of them – and Rutgers."
Harriman, Shah and Stancheva received the case in mid-October, giving them a little more than a month to prepare for the Dec. 4 competition.
The case, which Harriman described as "really challenging," involved indirect procurement – an emerging trend in the industry. It required the students to make an executive-level case for why procurement at Adidas should take over IT, an indirect service.
Shah said the team spent more than 40 hours on the case, juggling the work around regular studies and extracurricular events. They divided up parts of the case to research and focus on, she said, and then come together on weekends to discuss and collaborate.
While Stancheva and Harriman had each done one previous case competition, Shah was new to the experience. "I was very excited. I considered it an honor," she said. "I offered some ideas, and I think I was able to make an impact."
The Institute for Supply Management case competition occurs during the Institute for Supply Management's annual conference, making it part of an industry event that attracts dozens of companies and more than 150 supply chain professionals. ISM is considered the world's largest organization for the procurement, supply chain management industry. During the event, students participating in the competition have an opportunity to learn from conference speakers and network.
In the six years that students from Rutgers Business School's supply chain management program have participated in the case competition, Rutgers has won three times – more than any other school that has competed. "It's a great way of showcasing Rutgers talent," Goldsworthy said.
Read more about where the Supply Chain Management Program at Rutgers Business School ranked last year among U.S. universities
"What this year's team was able to do is take a complex issue and analyze it and present it so a layman could understand it," Goldsworthy said. "They made a very clear, convincing story, bringing in all of the things we've taught them about project management and supply chain finance."
The three students knew one another going into the ISM event – Marcela and Shah, who is majoring in accounting as well as supply chain management, are roommates, and both of them had met Harriman during an event last summer. None of them have taken a class together. "The best part of this was how we worked together," Shah said. "We weren't afraid to critique one another."  
Stancheva agreed. "It's real world in how it teaches you to work as a group. It's a great experience."
Stancheva said the case didn't contain a lot of financial information, so the team did a lot of research so they could present such details as capital costs, financial projections and a pro forma return-on-investment calculation. Harriman, who studied supply chain finance with John Impellizzeri, an assistant professor of professional practice, took the lead on the finance piece of the case. And in the end, all three students agreed it was such detail that set them apart from the other teams.
"That class was the entire reason we were capable of winning," Harriman said.
Maybe not the entire reason.
On the night before the competition, Harriman and her team mates began one more marathon rehearsal around 8 p.m. in their hotel room. The practiced their presentation until nearly midnight when they decided to find the conference room where the competition would be held the next day. The hotel staff wouldn't let them stay in the room because it was already set up for the event, but the team was directed to a similar room where the three students practiced until 2 a.m.
"We were able to get a feel for the room and get an idea of how we were going to transition," Shah said. "We were able to see there would be only a little room between us and the judges and that's when we decided we would walk in and shake the judge's hands."
Each of the students won $1,000 in scholarship money, but the winning almost seemed secondary to the experience itself.
"The experience of working on a team and doing a case study is more beneficial than any group project I've ever done," Harriman said. "You learn so much in the process. It's so much work, but it's so worth it."
"All three of us are the kind of people who attack every challenge," Harriman said. "Why would we do less than we possibly could? When we won, it didn't really sink in until later."
Press: For all media inquiries see our Media Kit