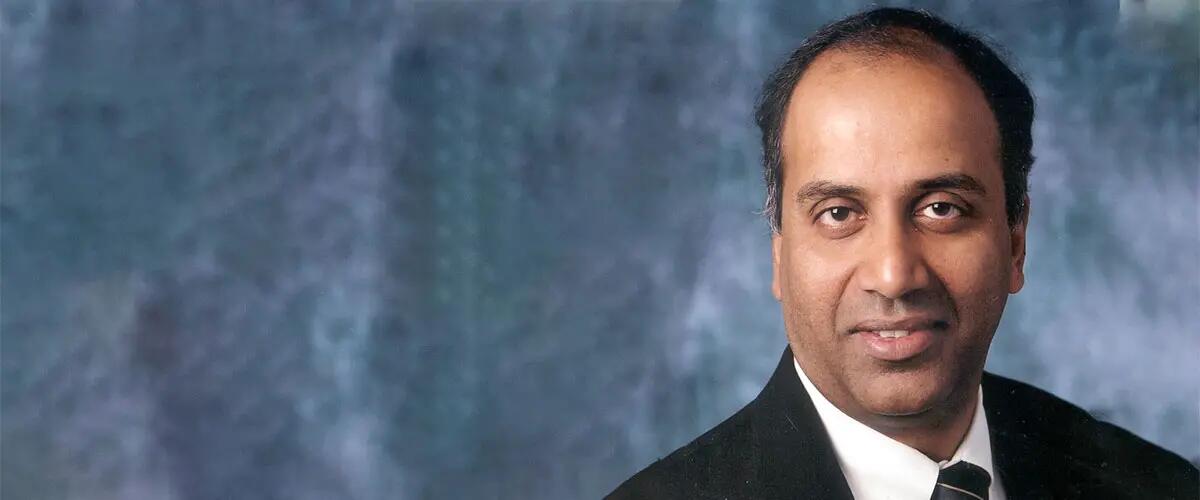 Suresh Govindaraj
Professor and Director of the Ph.D. and DBA Programs
Professor Suresh Govindaraj is a two-time Paul Nadler Teaching Excellence award winner and was named one of the top 15 Forensic Accounting Professors in the U.S. by ForensicsCollege.com.
Dr. Govindaraj has also been a faculty member at the Stern School of Business, New York University, Kellogg Graduate School of Management, Northwestern University and the Graduate School of Business, Columbia University. He is also an invited speaker on financial analysis at the Columbia University School of Journalism.
Executive MBA Experience
Known in the Executive MBA program as the Grandmaster of Forensic Accounting, Professor Suresh Govindaraj teaches Financial Accounting, as well as Financial Statement Analysis in the EMBA program. The latter course now includes a module on Forensic Accounting. 
Professor Govindaraj has published research papers in leading accounting, finance and economics journals. He is also a reviewer for several prestigious academic journals. In addition, he has contributed to business articles published in leading newspapers and business magazines.
During the course of his academic career, Dr. Govindaraj has been the recipient of many research and teaching awards and he is the unprecedented two-time recipient of the Paul Nadler Award presented at Rutgers Business School. In the evening part-time MBA classes, his courses are so packed that students are literally sitting in the aisles. Many of his former students revisit his classes because he is constantly updating his course content to match contemporaneously unfurling developments in the world of financial statement analysis and accounting..
Dr. Govindaraj received his M.Phil. and Ph.D. degrees from the Graduate School of Business, Columbia University. He received a Masters degree from the Wharton School, University of Pennsylvania. He has an MBA and Bachelors Degree in Engineering from IIT, India.
Additional EMBA Courses
Derivatives have often been unfairly blamed for financial disasters by people who misused these instruments. In this unique course, Demystifying and Exploiting Derivatives and Options, the objective is to introduce EMBAs to the possibilities, potential, and pitfalls that derivative instruments bring to the table for corporate and individual financial planning.
The topics covered in this innovative course on derivatives, not typically offered in EMBA programs globally, include the valuation of derivatives, incorporating derivatives in corporate financial planning, constructing hedge strategies, and discussions of the risks and benefits of derivatives.
Academic degrees
Ph.D., Columbia University
M.Phil., Columbia University 
M.A., Wharton School of Business
M.B.A., IIT
Media Mentions
Wednesday, January 05, 2022
Tuesday, February 04, 2020
Dissertations Supervised
Name: Tejas, Tavish
Graduation Date: 2022/May
Name: Davis, Yehuda
Graduation Date: 2020/May
Name: Zhu, Zhangyao
Graduation Date: 2018/October
Thesis Title: Accounting Conservatism and Effectiveness of Accounting Information for Market Valuation under Adaptive Market Hypothesis
Name: Suslava, Katsiaryna
Graduation Date: 2018/May
Thesis Title: Three Essays on Equity Valuation and Predictive Ability of Quantitative and Qualitative Corporate Disclosures
Name: Varzgani, Nilofar
Graduation Date: 2017/October
Thesis Title: New Dynamic Optimization Models for Tax Loss Valuation and Sourcing Problems
Name: Al Abbad, Amal
Graduation Date: 2014/October
Thesis Title: Essays on the Performance, Disclosure, and Corporate Governance of Islamic Banks
Name: Li, Yubin
Graduation Date: 2015/October
Thesis Title: Three Essays about Accounting Information and Financial Derivatives
Name: Zhao, Chen
Graduation Date: 2015/May
Thesis Title: An Investigation of Stock and Options Markets, and their Interaction
Name: Chandia, Karina
Graduation Date: 2014/October
Thesis Title: Option Prices and Accounting Choices
Name: Liu, Sangsang
Graduation Date: 2014/October
Thesis Title: Portfolio Selection, Pead Anomaly and Value Relevance of Earnings
Name: Shih, Wei-Kang
Advisors: Govindaraj, Suresh and Lee, Cheng-Few
Graduation Date: 2010/October
Thesis Title: Three Essays on Firm Fundamentals and Asset Pricing
Name: Lynch, Paul
Graduation Date: 2008/January
Thesis Title: An Empirical Examination of the Association Between Auditor Change Events and Stock Prices
Awards & Honors
Paul Nadler Teaching Excellence Award, Rutgers Business School
Top 15 Forensic Accounting Professors in the U.S., ForensicColleges.com
Student Testimonials
I will never view a financial statement in the same way again. His courses changed all that. His approach is totally case-based, with cases (all financial statements from actual companies) sometimes just a few weeks old! Suresh is totally brilliant, his courses are tough, he packs in the material, he is intense, and he has an amazing sense of humor. In fact we have a list of 'Sureshisms!' A 3-hour class zips by leaving you exhausted and exhilarated at the same time.