Curriculum
M.S. Digital Marketing
Course Portfolio
The MS Digital Marketing curriculum is innovative, relevant, and taught by industry experts with real-world experience. As illustrated in the graphic below, our course portfolio is evenly split between:
Foundational marketing courses modernized for our digital world
Tactical courses focused on important digital marketing strategies and tools
Many of our courses are integrated with industry-leading marketing technology platforms, including Google Analytics, Hootsuite, and Tableau. The curriculum is purposefully designed to develop marketing leaders in our digital world, whether "digital" is in your desired job title or not.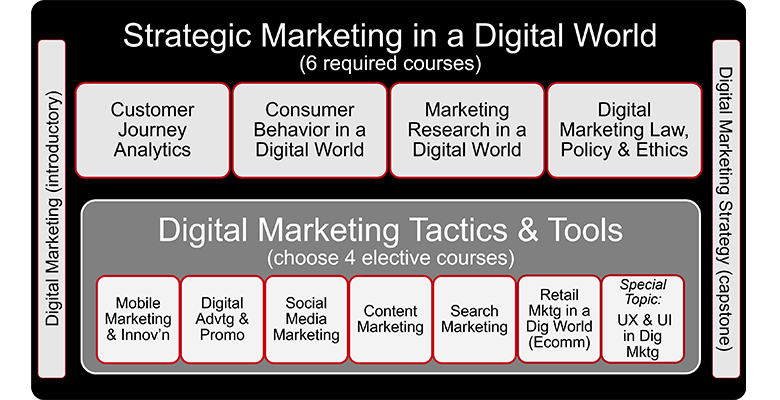 Courses are fully-online on the Canvas platform, which is user-friendly and accessible anywhere you can connect online.
For more information about our courses, please see our course descriptions below.
Please note: For current students who would like to review the original 36-credit version of the MSDM curriculum, please click here.
Course Information
Students must complete 30 credits (10 courses).*
Full-time students can graduate in 2-3 semesters (9-12 months) depending on the number of courses taken per semester. Part-time students can take up to 4.5 years to graduate. Classes are offered during the Fall, Spring, and Summer semesters.
*Credit Waiver: Subject to approval by the program director, students can be granted an "advanced standing" course waiver up to 3 credits. "Advanced standing" is only considered toward the Introduction to Digital Marketing course. A waiver may be granted for the following:
Prior comparable course work at the graduate level (preferably from AACSB-accredited schools). The student should provide a detailed syllabus of the comparable course(s) and prove the similarity in contents covered. A transcript showing the grade(s) of the comparable course(s) should also be provided.
At least five years of work experience in a relevant area. The student should provide a detailed resume and a supporting letter from his/her employer to prove the relevant work experience.
Professional certification(s) in a relevant area. The student should provide the relevant professional certificate(s), and prove that the contents covered in the certificate exam/training is similar to the contents covered in the corresponding course.
Required Courses
MS Digital Marketing Orientation – 22:630:500 (0 credits)
This is a three-week orientation course to acquaint new students with the systems, processes, and resources available in our M.S. Digital Marketing program.
Digital Marketing - 22:630:590 (3 credits)
This course provides an introduction to Digital Marketing, and to the ways marketers have had to adapt their strategies in this increasingly digital world. The course will familiarize students with the strategic aspects of digital customer experience, usability, analytics, digital content monetization, and online customer acquisition. Students will explore a range of digital marketing tools and tactics including: content marketing, display advertising, digital video, search engines, social media, mobile, gaming, and more. A practical approach is adopted in this course. In addition to becoming acquainted with basic principles of digital marketing, students will begin to develop the skills to solve real-world business problems and exploit digital business opportunities.
Consumer Behavior in a Digital World - 22:630:630 (3 credits)
An essential component of marketing is understanding consumer behavior. This course provides an overview of fundamental concepts of Consumer Behavior from the point-of-view of consumers living in a digital world. The course examines the decisions consumers make, the processes underlying these decisions, and the psychological and sociological factors that influence buying behavior. More specifically, students will learn about various external and internal influences affecting the field of consumer behavior considering the impact of social media,online communities, and always-on mobile connectivity. Such influences include social groups, online research and communication, social class, culture, perception, motivation, attitude, and self-concept, among others. The course also examines the impact of digital marketing on society, both domestic and global.
Customer Journey Analytics - 22:630:639 (3 credits)
This course introduces the concept of a Customer Journey which spans digital channels (web, mobile, app) and non-digital touchpoints (1:1, call center etc.). Customer Journey Analytics is the process of tracking and analyzing the way customers use combinations of channels to interact with an organization. The focus of the course is on digital analytics through practical applications, with an end goal of deriving actionable insights that will impact the organization's acquisition, experience and retention strategies. It provides a broad overview of key digital analytics strategies, concepts, issues, challenges and tools.
Digital Marketing Law, Policy and Ethics - 22:630:638 (3 credits)
This course will provide a basic understanding of the laws and regulations applicable to digital marketing as well as introduce ethical frameworks that can be leveraged to enhance marketing strategies, communications and business decisions. The course provides an in-depth study of the areas of law and ethics that are most critical to digital marketing business judgment and decision making. Topics such as ethics, fairness and privacy are discussed in detail as critical to growing a business, doing things the right way and earning and retaining customers by meeting and exceeding their expectations.
These topics are further explored through in-depth discussions, lectures, readings, videos, case studies to facilitate review of topics and issues that apply across marketing channels such as: free speech, intellectual property, truth in advertising, data privacy and security, demographic and behavioral targeting and customer relationship management.  Issues unique to marketing channels such as: online behavioral advertising, email, mobile, search, social, viral, crowdsourcing and user generated content will also be an area of focus in the course.
Digital Marketing Strategy - 22:630:629 (3 credits)
This is a "hands-on" capstone course that emphasizes marketing decision-making in our increasingly digital world. Throughout the course, the focus is on teaching students how to apply key digital marketing terms, concepts, tools, and frameworks to meet real-world business objectives. Students will learn how organizations leverage digital marketing practices to achieve sustainable competitive advantage.
Marketing Research in a Digital World - 22:630:634 (3 credits)
The omnipresence of digital channels has provided a flood of consumer information that marketers have struggled to manage, comprehend, and effectively use. In addition, those channels have created expectations that digital technologies in isolation provide a complete picture of motivations, attitudes, and identities that drive consumer behaviors. In this course, we'll explore how digital technologies (as well as more traditional marketing research techniques) produce consumer data that can be transformed into information and ultimately insights that enhance decision-making. The goal of this course is to expand students' understanding of marketing research and digital data collection methods, and develop their skills as producers, analysts, and managers of these critical tools and their outputs. 
Electives
Content Marketing - 22:630:637 (3 credits)
This course will help students analyze why brands are shifting from traditional marketing to content marketing: the new way to create meaningful and lasting customer relationships. To succeed in our hyper-connected digital world, students need to understand what is changing, how to create a content marketing strategy, and how to measure success. The course will focus on the process to design a content marketing strategy that enables brands to engage customers and build authentic connections across multiple channels and touchpoints.
Digital Advertising & Promotion - 22:630:631 (3 credits)
Marketers spend far more of their advertising budgets on the internet than on any other media. This class covers the key concepts in digital advertising and helps you to not only understand what happens as a consumer but also as a planner, strategist, and buyer of ads. This will include getting a fundamental understanding of the various digital outlets (video, display, search, and audio) as well as audiences, bidding, transparency, and technology. We will cover how to build and test media plans and then turn them into digital marketing plans for a company that we will present.
Mobile Marketing and Innovation - 22:630:635 (3 credits)
Mobile has made a dramatic impact on our lives, influencing everything from the way we consume news, learn, and shop, to the way we connect with our friends and larger community. The rise of mobile has led to an unprecedented opportunity for technology to empower marketing and create powerful, customer experiences.
Topics will extend beyond mobile advertising and mobile apps to technology trends that are altering how we can target, engage and serve consumers. These include: Artificial Intelligence (AI), Machine Learning, Augmented and Virtual Reality technologies, Internet of Things, Location Based Marketing and Mobile Payment Technologies. This course provides a best practices approach to mobile marketing and explores how it fits within the integrated marketing mix. Leave this course with a transferable method and the mindset to improve your role within any organization or department.
Retail Marketing in a Digital World - 22:630:633 (3 credits)
This course teaches students to apply marketing knowledge, research tools and methods to meet the demands of omnichannel consumers through both digital and brick-and-mortar sales channels. Students will gain an understanding of all aspects of the B2C and B2B ecommerce ecosystem, including: technology platforms, payment options, supply chains, security considerations, customer service, acquisition marketing efforts, and more. In addition, this class explores the increasing use of digital tools in the physical retail environment.
Search Engine Marketing - 22:630:636 (3 credits)
Search Marketing involves capturing consumer intent at each stage of the consideration, information, and buying cycle. This online Search Marketing course includes techniques of both "organic" and "paid" search and how to optimize your content for various devices and channels. It covers the basics and advanced tools of Search Engine Optimization (SEO) needed to improve your rankings during a search query. Students will analyze detailed examples of the code and content B2C and B2B websites use to achieve better search placement and apply this knowledge to their own website to practice SEO tactics. The course incorporates how SEO relates to paid advertising including Pay Per Click (PPC), display advertising, remarketing, affiliate marketing, native advertising, and programmatic advertising and provides tools Google, Amazon and Facebook use to help improve and measure the performance of your search marketing efforts.
Social Media Marketing - 22:630:632 (3 credits)
Social networking consumes several hours of our daily life, mostly on our mobile devices. This course focuses on current social media trends and marketing strategies, both for consumer and business audiences. It will explore the social media marketing ecosystem and how organizations incorporate social media into their business strategy. The course will also provide best practices for students to present their personal brands on social media.
Special Topic: UX & UI in Digital Marketing - 22:630:628:84 (3 credits)
In our increasingly digital world, marketers must be equally concerned with the way their digital experiences make audiences feel (the User Experience, or UX), and the way they enable their audience to function (the User Interface, or UI).
In this course, students will learn the strategies, tools, and methodologies of UX and UI design to develop more customer-centric marketing programs. Using various UX strategies and tools, students will understand when, where, how, and why their customers use the products and services that they do. The insights from this user research will help students create engaging and usable marketing campaigns for their audiences.
Students will apply design thinking methodology to build a digital marketing campaign for a brand, including a website and social media channels.