Student Experience
Master of Science in Healthcare Analytics and Intelligence
"Rutgers University and the M.S. in Healthcare Analytics and Intelligence, Rutgers Business School program is committed to sculpting industry leaders that will shape the future of healthcare, it is your responsibility to utilize all the tools and personnel at your disposal to make positive, impactful changes wherever your professional adventure takes you."
— Russell Pitcher, MSHIA Fall 2020
Fall 2021
Kareem Shama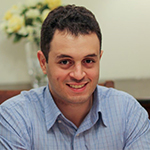 Kareem Shama joined the program Fall 2021 with a background in healthcare administration. After working for Americagroup/Anthem, Inc. as a Medical Management Specialist for four years, he moved to Oscar Health as an Operations Analyst during the 1st semester in the program. Kareem joined the program because of its focus on technical and analytical aspects of healthcare. The diverse backgrounds and experiences for students in the program and at Rutgers Business School have been enriching and refreshing to his professional development. Kareem plans to help make healthcare more accessible and affordable to the average consumer by using healthcare analytics to identify, monitor, and address pain points in healthcare system. He said:
"This program is perfect for anyone seeking to work in the healthcare industry on the more technical and analytical side. One of the main advantages to this program is that it is very flexible with multiple concentrations one can pursue."
The flexible curriculum and evening course schedules allow full-time working professionals to have a balanced work-study schedule.
---
Fall 2020
Russell Pitcher
 

Russell joined the MS Healthcare Analytics and Intelligence program at Rutgers in Fall 2020 with a supply chain background. During the program study, he performs at the highest level and engages closely with peers and educators to grow professional network on a daily basis. Towards his final semester in the program, Russell worked on an pharmacy intern with Mount Sinai Health System hospital under the guidance of Vikram Mulchandani, Juan Alexandre, Mikhail C., Sam Velez & the rest of the irreplaceable Pharmacy team. Afterwards, he was offered a position to proceed his professional journey at Bristol Myers Squibb, with the connection he established in the capstone class (Thank you Troy Carney!) Russell greatly appreciates the tireless efforts of the faculty (in particular Xin (David) Ding & Joe Agresta) to bring the best opportunities forward for the students in the Healthcare Analytics & Intelligence program. Through the program study, he spent semesters under the direction and guidance of some the most knowledgeable and hardworking professionals in the healthcare industry, whom take pride in providing the best patient care & experience to all patients that enter their sanctuary.
 
When asked for tips for graduating students, he suggested to keep LinkedIn and Handshake and Business Knight Profiles up to date and checking them regularly. He also suggested to utilize VMock to perfect your resume, and leverage other services such as Business knight to prepare for interviews in the role/industry you are interested in. Lastly, he recommended to find the perfect internship/job that coincides with your degree academic performance, and expected graduation date.
---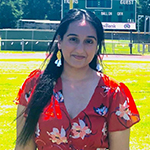 Navdeep Saini
Navdeep Saini joined M.S. in Healthcare Analytics and Intelligence program in Fall 2020. She came to the program as a patient account representative with B.S. in Health Administration. Post graduation, she launched a new position as a Business Analyst with Morristown Medical Center with Atlantic Health System, the #1 hospital in New Jersey. She is assisting perioperative services leadership with generating and validating business system data and supporting departmental initiatives.
When asked for tips for graduating students, she suggests utilizing career services at RBS to improve resumes and cover letters and to learn useful tips approaching the job market. She also suggests to take advantage of LinkedIn for networking with individuals from organizations of interest and when requesting to connect, send a personal message.
---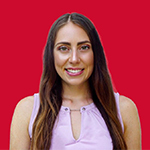 Tianna Fougeray
Tianna Fougeray is a second-year master student in the M.S. in Healthcare Analytics and Intelligence program with Rutgers Business School. She came to the program with a marketing background and recently transitioned to TI Health in NYC as an Account Manager (job secured in her 2nd semester in the program!). She is responsible for analyzing proprietary data to optimize advertising campaigns with digital media agency planners, top healthcare channel partners, and internal sales and advertising operations teams.
When asked for tips for graduating students, she suggests utilizing career services at RBS to fine-tune resume, highlight top skills on LinkedIn and select "open to work" option, customize cover letters for individual positions, send thank you letters after interviews, and stay positive.