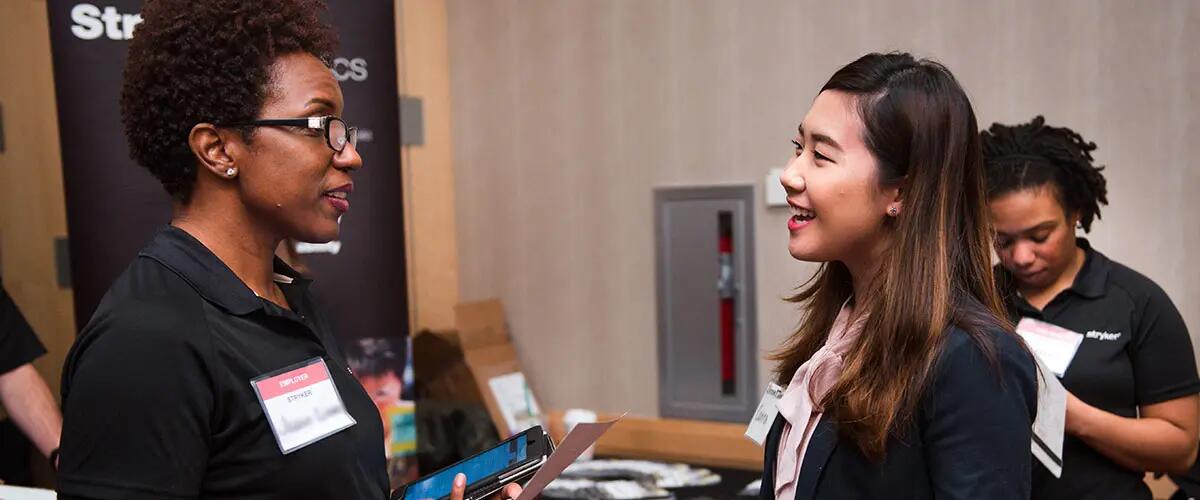 MBA in Professional Accounting Career Services
Your Path to the Accounting Profession
As an MBA in Professional Accounting student, you have access to a very comprehensive career services office dedicated to the program, on-site at the business school's Newark campus location at 1 Washington Park.
Our career services office is involved in helping our students set career objectives, resume writing, interviewing skills, mock interviews and assisting in networking and branding themselves.
Our office works to ensure that our students are prepared for the fast-paced corporate environment upon graduation.
Career offerings include:
Individual 1-on-1 Career Coaching
Resume writing assistance and critique
Cover letter writing assistance and critique
Mock interviews and feedback
Access to recruiting online system, RaiderNet (includes job postings, resources, campus recruiting)
Corporate lunch-and-learn and networking sessions conducted by our hiring firms
Career coaching appointments held on-site at Newark campus
Career Coaching
We provide one-on-one career coaching in all aspects of the career management process: self-assessment, market-assessment, job search skills and tools, and negotiation strategies.
Resume and Cover Letter Reviews
We help students create or re-create their resume and cover letter into effective job search tools.
Mock Interviews
A mock interview conducted by an external consulting firm provides an excellent "dress rehearsal" for the real thing. Students are provided with verbal and written feedback based upon the mock interviews.
Resume Referral
At the request of employers, Career Services forwards the resumes of students who meet the employer's stated qualifications for consideration for full-time or internship positions.
Job Postings
Opportunities for full-time and internship positions are posted on multiple job posting systems including RaiderNet, BusinessKnight and Handshake.
On-Campus Recruiting Program
Beyond posting job opportunities, Career Services manages the On-Campus Recruiting Program–consisting of corporate presentations, on-campus interviews, and lunch-and-learn presentations and networking, job postings, and corporate outreach. Our goal is to help each student prepare for a successful career in accounting.
Frequently Asked Questions
Will there be opportunities for me in accounting?
There are a variety of reasons to go into accounting. Here are just a few:
In an increasingly global world of business, accounting is an international language. 
Accountants design, manage, control and audit information systems that support most business decisions.
Modern accounting is closely integrated with computers and information networks.
Since the computerization of bookkeeping, that function is no longer part of an accountant's career.
Today's accounting graduates have new career opportunities in fields such as quality management, design of incentives, fraud investigation, on-line auditing and expert systems.
Many accountants become Chief Financial Officers and Chief Executive Officers of major enterprises.
The accounting field has been growing and changing rapidly in recent years.
Public accounting enhances the economic accountability of business enterprises. 
The robust growth in demand for accountants and accounting knowledge is expected to continue.
Are internships available through the program?
From the moment you enter the program, Rutgers Business School becomes your lifelong professional resource. Helping you to identify and achieve your career goals is an integral part of our responsibility as teachers and administrators. Through an on-campus internship recruiting effort, which attracts interviewers from international CPA firms, a high percentage of our Professional Accounting students can expect to obtain a permanent position. For those graduates who do not choose a career in public accounting, other executive opportunities exist.
Internships play a valuable role in the Professional Accounting student's career preparation. During the eleven-week intersession between the fall and spring trimesters, internship opportunities are available for selected students, which provide full-time professional work assignments with CPA firms or corporations. The Internship Coordinator helps students to locate internships, but it is primarily the responsibility of each student to secure a position. The salary earned during the internship is often enough to cover tuition for one term. The internship recruitment by firms is very much like interviewing for full-time employment and provides an excellent opportunity for students to experience the interviewing process. A high percentage of students in the program receive internship offers. Although the internship is an important learning experience, it is not required for completion of the program.
Am I eligible to take the CPA exam when I graduate from the Program?
Yes. After 14 months of intensive full-time study, you will receive an MBA from one of the nation's leading public business schools and are qualified to take the Uniform Certified Public Accountants (CPA) exam.