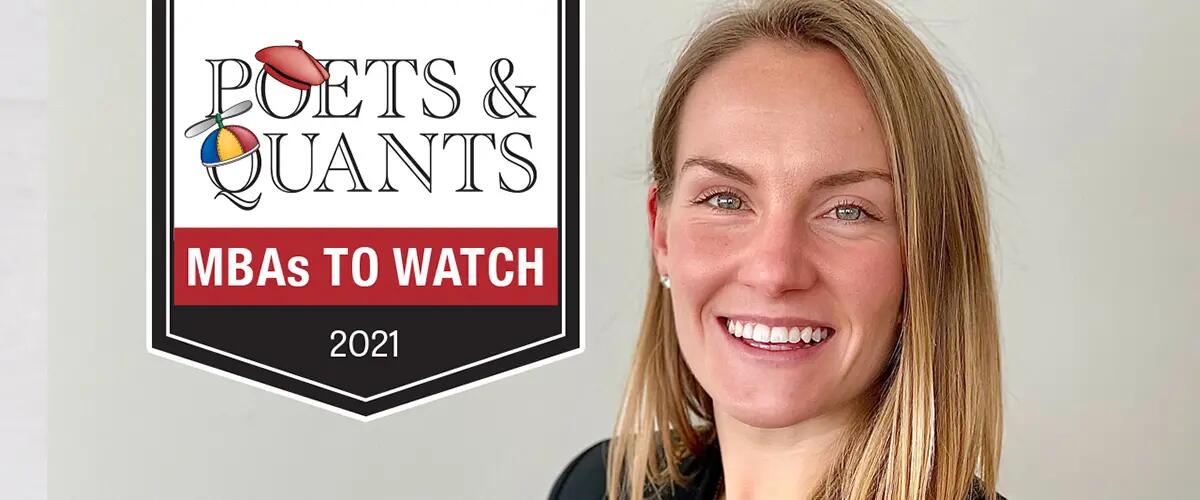 2021 MBAs To Watch: Jamie Liptack
This profile was included among the 2021 MBAs To Watch published by Poets & Quants on July 2, 2021.
Jamie Liptack, Rutgers Business School, MBA '21
"Eternal optimist and empathizer, intuitive strategist, connector of people, and lover of family and food."
Hometown: New York City, NY
Fun fact about yourself: I have traveled to 27 countries across 6 continents.
Undergraduate School and Degree: Boston College, BA in Communications and Management & Leadership
Where was the last place you worked before enrolling in business school? NYU Langone Health, Senior Media Relations Specialist
Where did you intern during the summer of 2020? Mars Wrigley, Newark, NJ
Where will you be working after graduation? Mars Wrigley, Associate Brand Manager
Community Work and Leadership Roles in Business School:
MBA Peer Mentoring Program, Marketing Lead
Rutgers Women in Business, Active Member
Rutgers Association of Marketing and Strategy, Active Member
Which academic or extracurricular achievement are you most proud of during business school? In the fall semester of my second year, I worked with two amazing classmates to develop a digital marketing strategy and execution plan for a small, local pet care business that had been severely impacted by COVID-19. The owner found our insights so helpful, that she plans to implement elements of our recommendation.
The work was a culmination of my studies in digital marketing and an application of lessons learned from my summer working in brand management. Even more importantly, my work was intended to help a local business owner in our community get back on her feet after a difficult year. I was proud of the work we presented because it was a true reflection of integrating practice and purpose.
What achievement are you most proud of in your professional career? At NYU Langone Health, one of my main roles was to secure as many high-visibility and impactful media placements as possible—highlighting emerging research, and fascinating patient stories. I will never forget landing my first proactively pitched story in the New York Times.
I worked closely with an emergency medicine physician to understand Cannabinoid Hyperemesis Syndrome, an illness that he had researched thoroughly—compelling to me because of the disease's unique symptoms and common misdiagnosis. The physician and I identified a patient willing to share his experience and I carefully crafted a pitch for a well-respected health reporter at the New York Times. I was relentless in my pursuit of publication—digging up more research, following up with the reporter, and selling her on the importance of this research and its potential widespread interest.
Two months later, the article was published. I proudly cut it out and pinned it to the corkboard in my cubicle to serve as a reminder of not only my hard work and dedication, but also that the work I was doing made a difference. In fact, for weeks after, patients called wanting to speak and meet with the physician for insight into their own possible diagnosis.
In my time working at NYU Langone Health, I always felt proud of the work I did—while I was not working directly with patients, I shared news about life-saving research developments and patient success stories that provided the public with knowledge and hope.
Why did you choose this business school?  It was while sitting in an auditorium on campus for an open house event that I felt a sense of mutual commitment with the Rutgers Business School MBA program. As I listened to the faculty and staff talk more broadly about the program itself, what I really felt was their underlying commitment and dedication to our education, to the program, and to us…the potential students. I could feel the sense of community and the familial bond that this commitment bred among everyone at RBS, staff and students alike.
One thing in particular that struck me during this open house was the comment, "We entrust you with the potential to succeed, and we challenge you to see how you will use that potential." Rutgers was making that commitment to me, as I was about to make that commitment to them. It was that mutual sentiment that ultimately made the difference for me, and was the reason why I accepted my offer.
Who was your favorite MBA professor? Professor Val Dimitrov was my favorite professor at Rutgers because he challenged me more than anyone else. Val is an associate professor and vice chair of the Department of Accounting and Information Systems and taught accounting my first semester. In hindsight, it is interesting that my favorite professor taught what I found to be the most challenging material in my two years of the program.
Val is brilliant and so easy to talk to—a straight shooter with a good sense of humor. He is an incredible professor because he does not simply teach students to prepare for exams, but how to bring classroom learnings to life. He used our analysis of balance sheets and income statements to make connections to companies going public or hedge fund scandals with widespread impact.
More than anything, Val was always willing to make time for his students—I spent nearly two hours a week with him in his office trying to understand fundamentals and apply concepts. I know he wanted to see me succeed and helped me do just that. For that, I am very grateful. Val's approach to teaching—focused more on deep understanding and unique applications instead of simply going by the book—shaped how I approached coursework in many of my classes to come.
What was your favorite MBA event or tradition at your business school? My favorite MBA event was our class trip to a New Jersey Devils hockey game first semester of our first year. We went to Redd's Biergarten (a Rutgers Business School favorite) before the game, and then walked down the street to the Prudential Center to see the Devils play.
Everyone in the class was invited to bring a spouse, partner, or friend and it was so special to get to know my classmates on a more personal level, especially with our class being so small—fewer than 50 students. The Devils game was our last hurrah before winter break, solidifying these important relationships for the semester to come.
Little did we know, only a couple of months later, because of the global pandemic, that we would not be able to enjoy events like that for the rest of the program. It is for that reason, as I look back on it now, that the Devils game seems that much more special. I am hopeful that my classmates and I will reignite this tradition post-grad as a means of getting together every year and staying in close touch.
Looking back over your MBA experience, what is the one thing you'd do differently and why? I firmly believe that everything happens for a reason. If I had to do one thing differently over the course of my MBA experience, I would simply want to spend more quality time with my classmates—my friends!
It is so easy to get caught up in recruiting and academics, which of course are extremely important. Once the program ends, I will miss the people more than anything. I have learned so much from my classmates and their unique and diverse backgrounds. We have been each other's support systems through the good, the bad, and the ugly for the past two years—studying together, preparing for interviews, celebrating birthdays, and enjoying wine nights. While I know this will not end, in hindsight, I wish I spent more time with them enjoying those simple moments.
What is the biggest myth about your school? The Rutgers Business School MBA program is no underdog. While it may not always be expected to be the favorite, it always proves people—recruiters and students alike—wrong. RBS may not have the same name recognition as other top MBA programs, but the caliber of the students, quality of professors and courses, and competitiveness in recruiting all suggest otherwise.
After receiving one particular internship offer, I accepted an invitation to the company's corporate headquarters for a sell-day—and I was the only student who was not enrolled a top 20 business school. At the end of the day, we were in the same room, sitting at the same table as equals, all offered the same opportunity.
The resilience, resourcefulness, and responsibility RBS instills in its students makes us anything but underdogs, and I will always be a proud alumnus of this amazing program.
What surprised you the most about business school? I was truly surprised by the quality of classroom discussions. My classmates come from such distinctive personal and professional backgrounds. As such, they bring a unique perspective and insight into the program.
Our class discussions wove together the lecture material and our lives, making each one interesting and dynamic, bursting with experiences, opinions, and ideas. Even with informal conversations, I was surprised how confident my classmates were and how much they were willing to challenge you on an idea or dig further to understand your thinking. These discussions have helped me explore new ideas and build confidence in myself and my own ways of thinking.
What is one thing you did during the application process that gave you an edge at the school you chose? There is no secret sauce to get an edge during the admissions process. The only thing I knew I could do as a candidate was to be completely and uniquely myself. If I was going to be accepted, it would be on my own merits.
In my interview for Rutgers, I spoke honestly about hopes and fears for my future career. I made jokes and even told stories about my family. In the end, I had a really wonderful, honest conversation with the admissions officer.
From the start, it was not about selling myself. Rather, it was about being myself. I was ready to show Rutgers what I was ready, willing, and able to bring to the table in the hopes that they would have me.
Which MBA classmate do you most admire? I so admire my classmate and friend, Oluropo (Ropo) Ajibulu. Ropo gave birth to her first child in the first semester of our MBA program. She managed to balance raising her newborn son while continuing her academic studies, applying to internships, and always being a wonderful friend. I admire her for her strength, optimism (supported by an infectious smile!), and perseverance in everything she takes on. She is an absolute superhero who inspires me to work harder and not let anything get in the way of my life goals, not only for my own good, but that of those closest to me.
How disruptive was it to shift to an online or hybrid environment after COVID hit? Shifting to an online learning environment after COVID-19 was not as challenging as I had expected. RBS leveraged digital technologies to keep us connected; the faculty quickly adapted teaching styles, ensuring we remained engaged with the material, and with one other. Everyone's hard work made the transition appear seamless. Although it probably was far from easy, it is testament to the school's efforts at cultivating the best learning environment possible for their students.
Instead, I found the social shift to far be more disruptive. I love the social and networking elements of our MBA program and I certainly miss the casual run-ins in the MBA lounge, the walks to the train station with classmates after lecture, and the lively in-class discussions. We are fortunate to have a small and tightknit class, and our WhatsApp group is always active, but I absolutely miss my classmates.
Who most influenced your decision to pursue business in college? My grandmother. She raised three children on her own and worked as a guidance counselor to hundreds of lucky students for more than 40 years. From her lifelong work, she always taught me the importance of a good education, the power of words, and that anything you set your mind to is possible.
Even from a young age, my grandmother used books and literature as a way to impart lessons about leadership, creativity, strength, and knowledge. To this day, every Christmas, she gets me a book about strong leaders and independent women like Michelle Obama or creative geniuses like Lin-Manuel Miranda to inspire me and show me what is possible with hard work and determination.
When I was exploring pursuing my MBA, a natural next step in pursuit of these intangible qualities, my grandmother's support continued to motivate and inspire me. Once I made the decision, she has continued to be endlessly supportive of me and my education, for which I am so grateful.
What are the top two items on your professional bucket list?
Create and implement a strategic vision for an organization. It would be a dream to bring an idea to life and support its growth—the culmination of my experience, leadership, passion, and resilience.
Be a meaningful mentor to others. I have been so fortunate to be mentored and coached by incredible people that have helped guide me to where I am today and I hope to do the same for others as my career grows and evolves.
What made Jamie such an invaluable addition to the Class of 2021?
"Jamie set out to take full advantage of the MBA experience at RBS, excelling in and outside the classroom. Regarding the latter, Jamie has taken on leadership roles in student clubs and pursued her career goals with high standards of excellence.  She embodies intangible skills—leadership, creativity, and interpersonal—which she has helped cultivate among her classmates. Moreover, her classmates speak of Jamie's optimism, reassuring presence, and a sense of humor as the keys to her mentoring success. That Jamie does not hesitate to credit people in her life who have helped her reveals a source of her mentoring acumen.
Jamie strives for excellence, and she consistently represents herself and our MBA program in the best light. That is certainly the feedback I received from Mars Wrigley when her summer internship converted to a full-time offer. Indeed, Jamie had been so focused on securing the Mars internship that she took calculated risks by turning down earlier opportunities for the one that was right for her.
Jamie's intellect and strategic insight have driven results in both classroom and real-world environments, most notably in developing a comprehensive digital marketing plan for a local small business striving to achieve measurable, real-world impact. As a trailblazer, Jamie has produced creative ad campaigns for consumer products and hospitality services, as well as crafted data-driven recommendations for large-scale retailers, both projects demonstrating her innate creativity and ability to think critically.
It is my pleasure to provide this letter of recommendation for Jamie. She embodies what Rutgers seeks in its students: academic excellence, leadership, and a desire to give back. My greatest compliment for Jamie is that I wish to have 50 Jamie Liptacks in every MBA class."
Dean R. Vera
Assistant Dean, MBA Career Management
Press: For all media inquiries see our Media Kit