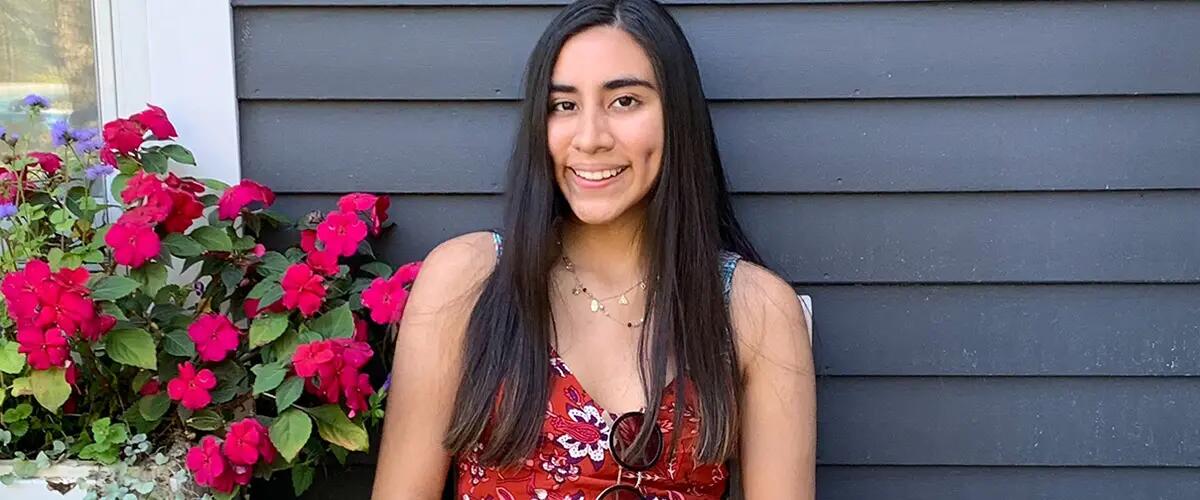 After experience of moving to a new country, graduating student is confident of navigating new career
Rutgers Business School senior Ariana Fernandez-Bazan will set off for Chicago after graduation and begin working as an associate at Nielsen IQ.


When Ariana Fernandez-Bazan immigrated to Bergenfield, N.J., from Peru in 2018, after high school, she sometimes felt overwhelmed navigating her new country. From filling out financial aid paperwork to translating for her parents at the doctor's office, Fernandez-Bazan juggled multiple decisions.
"It was very overwhelming having too many options," she said.
But the number and variety of offerings at Rutgers is what drew Fernandez-Bazan to transfer to the New Brunswick campus after two years at Bergen Community College.
"Rutgers seemed like the perfect fit because I wanted to experience a big school and diverse students and a lot of events and opportunities," said Fernandez-Bazan, 22, who will graduate in May from Rutgers Business School-New Brunswick with a marketing degree. "It seemed like the place I had to be."
After taking a business class in high school in Lima, Peru, Fernandez-Bazan knew the career path she wanted to pursue, and that Rutgers Business School (RBS) was where she should apply.
"I just loved the way the business school worked, all the opportunities and programs," said Fernandez-Bazan. "I realized from all the business aspects, marketing was the one I loved the most. You can work in so many areas."
She credits RBS with helping her adjust as a transfer student and then excelling in classes and other activities. A member of Beta Gamma Sigma, Fernandez-Bazan acknowledged her mentor in the honors society for providing advice about resumes and internships, plus offering her encouragement and friendship.
While she has enjoyed courses such as "Brand Management," "Digital Marketing" and "Consumer Behavior," Fernandez-Bazan's favorite class is "Marketing Strategy." "It was nice to see how all the classes I previously took were helpful for this class," she said.
Rutgers Business School professor, Marc. H. Kalan, talked about the importance of the course, and Fernandez-Bazan's performance in class.
"In marketing, as in life, communication is critically important. As Ariana completes her marketing major with "Marketing Strategy & Decision Making," she has demonstrated this skill well in her writing assignments and class participation," said Kalan, an associate professor of marketing. "This ability to effectively communicate will enhance her success throughout her future career."
Outside of class, Fernandez-Bazan honed her business skills through RBS clubs, including the Rutgers Association of Marketing & Strategy and Future Business Leaders of America - Phi Beta Lambda. Through networking events and workshops, the two organizations taught Fernandez-Bazan leadership skills for the professional world. She also received a National Society of Collegiate Scholars Honors Society Certificate.
Fernandez-Bazan is also a social media ambassador for RBS, helping to manage one of the school's Instagram accounts. She and five other students suggest ideas, create posts, snap photos, and promote events for the Instagram account. "On the soft skills side," she said, "I'm getting more comfortable working as a team and making sure everyone is accountable for their work." 
After being mentored at RBS, Fernandez-Bazan is now serving that role for a first-year student. "I wanted to do the same for someone else," Fernandez-Bazan said. "When I first came, I had no idea where I was going. And now, I know better. I can be that person who was the mentor, to someone else."
In July, Fernandez-Bazan will relocate to Chicago to work for Nielsen IQ as an associate in the company's Early Leadership Program. She connected with Nielsen IQ in a very Gen Z way, as she puts it, after signing onto RippleMatch, which she discovered on TikTok. She entered her skills, experience and interests. RippleMatch, linked her to Nielsen IQ, leading to a summer 2021 internship working as a commercial analyst on the company's Johnson & Johnson account. A month after the internship ended, Fernandez-Bazan received a full-time job offer. "I knew I wanted to join if I got an offer," she said.
The Early Leadership Program offers rotations with different teams within the retail analytics company. "I had doubts about which team I'd see myself in a full-time position. Now, I can see three teams of customer success. It gives me peace of mind that at the end of the program it will help me make a better decision," she said.
Relocating to Chicago doesn't faze Fernandez-Bazan because her family moved around Peru even before they decided to immigrate to the U.S. "Knowing that I could go to a new country and I could get by just fine and help my parents on the way, I know I can do that for myself when I get to a new city," she said. "It helps with confidence and direction."
Her experience at Rutgers Business School also boosted her confidence. "Rutgers has so much going on," said Fernandez-Bazan, reflecting on the professors and students she met, as well as the clubs she joined. "Everyone is there to help. You just have to ask."
- Sharon Waters
Press: For all media inquiries see our Media Kit