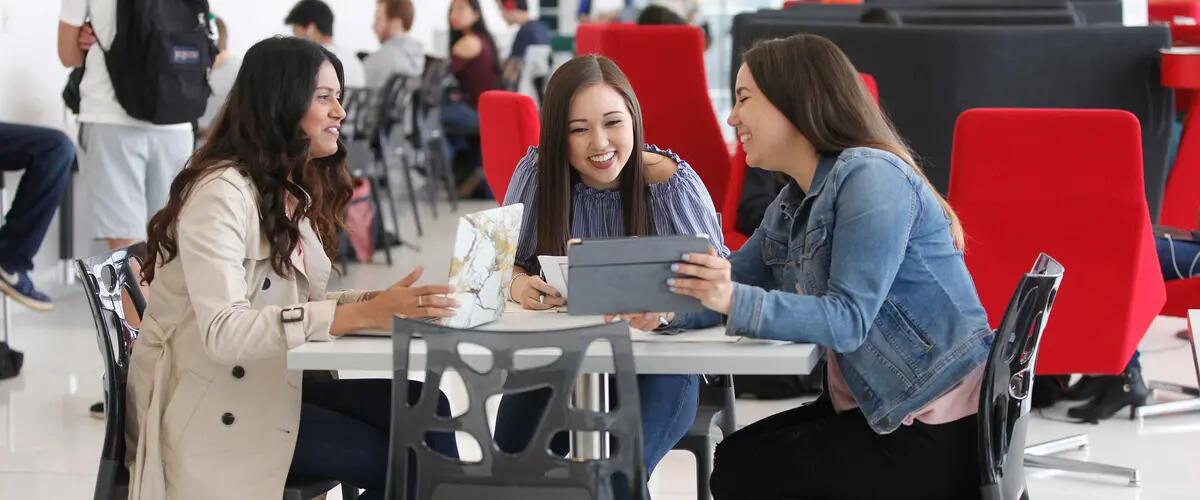 Student Involvement
Undergraduate Program in New Brunswick
There are many ways to get involved at Rutgers Business School: Undergraduate - New Brunswick. One great way is to join a student organization. Our diverse and well-rounded student body has led to the creation of all kinds of clubs, so you can be confident you'll find something that interests you.
Organizations
Ascend (Pan-Asian Leaders)
Ascend is the premier professional organization dedicated to enabling its members, business partners and community to leverage the leadership and global business potential of Pan-Asians.
Association of Latino Professionals For America (ALPFA)
ALPFA is the leading professional association dedicated to enhancing opportunities for all business related professions. Established in 1972, this Association continues to build upon our proud legacy of shared values and guiding principles. ALPFA advances into the 21st century as an experienced professional association with student chapters nationwide and over 15,000 members, and with the mission to enhance opportunities for building leadership and career skills.
Beta Alpha Psi (BAP)
Beta Alpha Psi is a nonprofit international honorary and service organization for accounting, finance, and information systems students. Beta Alpha Psi provides opportunities for development of technical and professional skills to complement university education; participation in community service; and interaction among students, faculty, and professionals.
Beta Gamma Sigma Honor Society (BGS)
Beta Gamma Sigma is an international honor society that provides the highest recognition a business student anywhere in the world can receive in a baccalaureate or post-baccalaureate (graduate) program at a school accredited by AACSB International.
Black Business Association (BBA)
The Black Business Association is an inclusive student organization focused on uplifting underrepresented minority students interested in any aspect of business. We aim to achieve this by providing a network of current students, alumni, and professionals in the workforce. Our programming includes professional and faculty speaker sessions, seminar-style discussions, coverage on topics like investing, entrepreneurship, and much more.
The Business Association of Supply Chain Expertise (BASE)
BASE assists students in developing imperative skills that are used in the professional world. This organization, and the skills promoted by this organization are beneficial to all business majors, with a special concentration to Supply Chain majors.
Delta Sigma Pi (DSP)
Delta Sigma Pi is a professional fraternity organized to foster the study of business in universities; to encourage scholarship, social activity and the association of students for their mutual advancement by research and practice; to promote closer affiliation between the commercial world and students of commerce; and to further a higher standard of commercial ethics and culture and the civic and commercial welfare of the community.
Fashion Organization of Retail and Marketing (FORM)
The Fashion Organization of Retail and Marketing strives to unite Rutgers students with a passion for fashion, encourage interest, provide learning and networking opportunities, and enable students to explore prospective careers in the business of fashion. Between lectures and workshops with industry professionals, students can collaborate ideas and foster a fashion-oriented community through interactive activities.
Future Business Leaders of America
Future Business Leaders of America is a professional development organization open to all majors, built around the pillars of Service, Education, & Progress. Their mission is to bring business and education together in a positive working relationship through innovative leadership and career development programs.
Investment Bankers of Rutgers (LIBOR)
We focus on placing students in "front-office" positions (Investment Banking, Sales and Trading, Research and Investment Management) at leading firms on Wall Street.
We host a wide range of educational and networking activities throughout the academic year, giving students opportunities to obtain and succeed at interviews. Our meetings and workshops are specifically designed to prepare our members for the rigorous Wall Street interview process. In any given year, the overwhelming majority of Rutgers students who receive summer internship or full time job offers in front-office positions are active LIBOR members.
Rutgers Association of Marketing & Strategy (RAMS)
RAMS serves the RBS and general Rutgers community as the outlet for industry and career information within the Marketing Communications sphere. We aim to educate students about careers in Advertising, Media, Marketing, or PR. Our organization offers opportunities to gain hands-on experience and a wealth of industry knowledge.
Rutgers Enactus
En ∙ trepreneurial – having the perspective to see an opportunity and the talent to create value from that opportunity;
Act ∙ ion – the willingness to do something and the commitment to see it through even when the outcome is not guaranteed;
Us – a group of people who themselves connected in some important way; individuals that are part of a greater whole.
Enactus is an international non-profit organization that brings together student, academic and business leaders who are committed to using the power of entrepreneurial action to improve the quality of life and standard of living for people in need.
Rutgers Phi Chi Theta
A national, co-ed professional business & economics fraternity. Open to students majoring in Business, Economics and Human Resource Management.
Rutgers Business Governing Association (RBGA)
The Rutgers Business Governing Association (RBGA) is the student governing body of the Rutgers Business School (RBS). We are the voice of the Business School students to the rest of the University and act as a liaison between faculty, administration, and students.
RBS Blockchain Hub
RBS Blockchain Hub brings together students from all disciplines and helps educate them about the future of blockchain applications for business. This is done through offering student-led workshops, speaker events, and sponsored travel to blockchain conferences and hackathons. The Hub also empowers students into careers involving blockchain by obtaining partnerships with companies onboarding blockchain-educated students, ranging from startups to establish corporations.
Rutgers Business School Innovation Committee (RBSIC)
The Rutgers Business School Innovation Committee (RBSIC) is a dynamic organization that plays the role of a liaison between RBS students and the Office of Career Management
Rutgers Consulting (RC)
Rutgers Consulting (RC) is the one-stop shop for students aspiring to succeed in the Consulting Industry. We deliver value across three focus areas: (I) Learning & Development, (II) Client Service, and (III) Postgraduate Opportunities.
Rutgers Real Estate Club
We organize events throughout to semester to educate students on real estate. These events include speaker series, case competitions, and Q&As. Once Covid restrictions have been lifted, we will attend real estate conferences.
Rutgers Undergraduate Women in Business (RUWIB)
The Rutgers Undergraduate Women in Business is a student run organization whose purpose is to empower future women leaders by building a strong community that develops professional skills; promotes business education; and fosters personal growth.
Rutgers University Accounting Association (RUAA)
The RUAA, Rutgers University Accounting Association, strives to provide current, new, and prospective accounting students with the resources they need to improve themselves and succeed both at Rutgers and in the professional world. The Association's primary goals are to organize study groups for accounting students, bring in speakers to inform students about opportunities in the accounting field, and to have seminars with professionals to improve students accounting skills.
Rutgers University Supply Chain Association (RUSCA)
RUSCA serves as an intellectual and social forum that provides students with corporate and academic experiences to promote their growth as future supply chain professionals. To that end, we are dedicated to providing academic, professional, and networking resources in order to cultivate Rutgers supply chain majors into leaders of their chosen industries across all levels of business organizations and society in the future.
Rutgers University Valuating (RU Valuating)
The focus of RU Valuating is to facilitate the education of financial concepts on campus and to bridge the gap between Rutgers students and intercollegiate peers when it comes to interview preparation.
TAMID Group at Rutgers
TAMID Group is a nonprofit organization that develops the professional skills of undergraduate students through hands-on interaction with the Israeli economy. 
TAMID Consulting provides pro-bono consulting for the most exciting and innovative companies coming out of Israel. TAMID members engage in projects during the academic year that build skills in market research, competitive analysis, market entry strategy, beta testing/product development and design, and more.