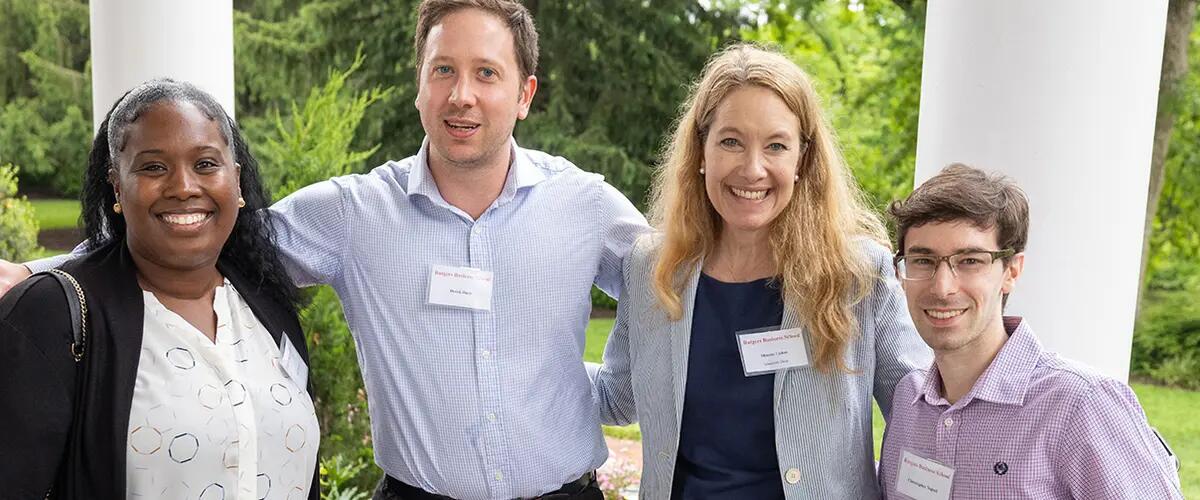 Alumni Corporate Engagement reception celebrates long-standing ties with Johnson & Johnson
Johnson & Johnson hosted a summer convening of Rutgers Business School's board of advisors and alumni at the company's historic Riverview Guest House.
Dean Lei Lei welcomed Rutgers University President Jonathan Holloway who addressed the board of advisors in a private meeting. About 75 people attended the networking, including many Rutgers Business School alumni who are currently employed by Johnson & Johnson.
Johnson & Johnson is one of the top employers of Rutgers Business School graduates. DeCandia, who completed his undergraduate engineering degree and his MBA at Rutgers, is among them.
"Building and strengthening relationships with our alumni and engaging them in meaningful ways with our students and school, enhances the value of Rutgers Business School's reputation and brand," said Andrea Cunnell, director of Alumni and Corporate Engagement. "Our alumni mean the world to us, and the J&J alumni are among the most involved."
The RBS Alumni and Corporate Engagement team held a similar reception at the Riverview Guest House in 2018.
Lydon said she was looking forward to being able to strengthen relationships with different groups of alumni and other corporate partners as more in-person programming is planned for the coming year.
"We want to do everything we can to support our alumni as they are the foundation of RBS," she said.
Press: For all media inquiries see our Media Kit