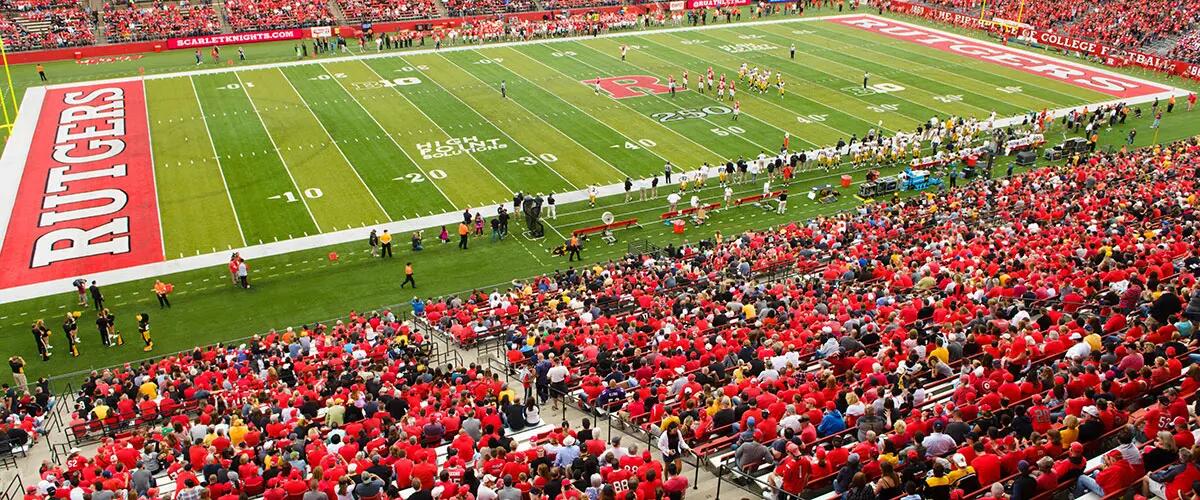 Alumni event will add a touch of business to celebration of milestone Rutgers anniversary
Celebration includes a Big 10 football game, networking and a special Rutgers 250 performance at the State Theatre New Jersey
Rutgers Business School plans to celebrate the 250th anniversary of Rutgers University with a weekend of special events to entertain, enlighten and engage its alumni and launch an enduring collaboration with arts and business leaders from across New Jersey.
Partnering with State Theatre New Jersey and Rutgers Athletics, Rutgers Business School - Newark and New Brunswick is hosting the unprecedented event Sept. 24-25 as a way for alumni from all over the world to tap into the spirit, history and pride that embodies Rutgers.
"As a Rutgers Business School alumna (MBA '06), I'm very proud to see RBS reach out widely across the community, including regional arts and business leaders, to celebrate this milestone anniversary," said Anna Marie Gewirtz, senior vice president and chief of external affairs at State Theatre New Jersey.
"RBS's community-mindedness helps build vital connections among alumni and pave the way for a future generation of leaders in New Jersey and across the globe," Gewirtz said.
The weekend will include the fanfare of a Big 10 football game, an engaging talk on the venerable theme of leadership by Steve Forbes, one of the state's most successful businessmen, and an original Rutgers 250th tribute performance at the State Theatre New Jersey.
"This is a great occasion for RBS alumni to come together to strengthen our large alumni network and show pride in our school," said Zuzana Harvis, president of the Rutgers Business School Alumni Association and alumna (RBS '01). "I hope all of my fellow RBS alumni will carve out time in their busy lives and reserve the weekend for this once-in-a-lifetime opportunity to celebrate the quarter millennium milestone of our alma mater."
The 250th anniversary of Rutgers has brought a year of festivities celebrating the university's history, achievements and notable alumni. President Barack Obama's appearance as commencement speaker in May was a highlight, producing a dramatic send-off for the 2016 graduates and putting Rutgers on the world stage.
The September event, "Coming Home: Honoring our Rutgers Heroes and Heritage," continues the celebratory year.   
"Our alumni represent the Rutgers brand in every part of the world." Rutgers Business School Dean Lei Lei said. "We want them to have a chance to be part of this milestone anniversary."
"The coming home event promises to be inspiring, exciting and most of all, to be an unprecedented chance for our alumni to connect with one another and with important community leaders during a weekend that is certain to raise the stature of RBS," Lei said. 
The event kicks off Saturday with a festive prelude to the Big 10 face-off between the Scarlet Knights and the Iowa Hawkeyes. Event guests and Rutgers Business School graduate students will have entry to an upscale tailgate party outside High Point Solutions Stadium.
On Sunday, the festivities continue with an alumni brunch at the Heldrich Hotel and a series of events at State Theatre New Jersey, including a ceremony honoring former Gov. Tom Kean and other "heroes" plus a performance by the Rutgers Glee Club, one of the nation's premier collegiate choirs.
As part of the event on Sunday, Forbes, editor-in-chief of Forbes magazine, will talk about the stunning parallels between great leaders of the ancient world and today's top business leaders. The talk will be based on his book, "Power Ambition Glory."
The 250th event culminates with an original tribute performance created by Marshall Jones, artistic director at Crossroads Theatre and an instructor at Mason Gross School of the Arts.
Throughout the weekend, alumni will have an opportunity to socialize and network with leaders from the New Jersey arts community, government officials and influential executives from businesses in New Brunswick and beyond.
William Downey, who attended Rutgers as an undergraduate and completed his MBA at Rutgers Business School, said his "Rutgers network" is one of his most important personal and professional tools.
"I have found RBS events to be a great way to keep my connections to Rutgers dynamic," he said. "I have already made some great contacts by being on the event committee for the 250th celebration. That is why alumni and friends should consider joining us for the activities planned for September 24th and 25th."
Press: For all media inquiries see our Media Kit