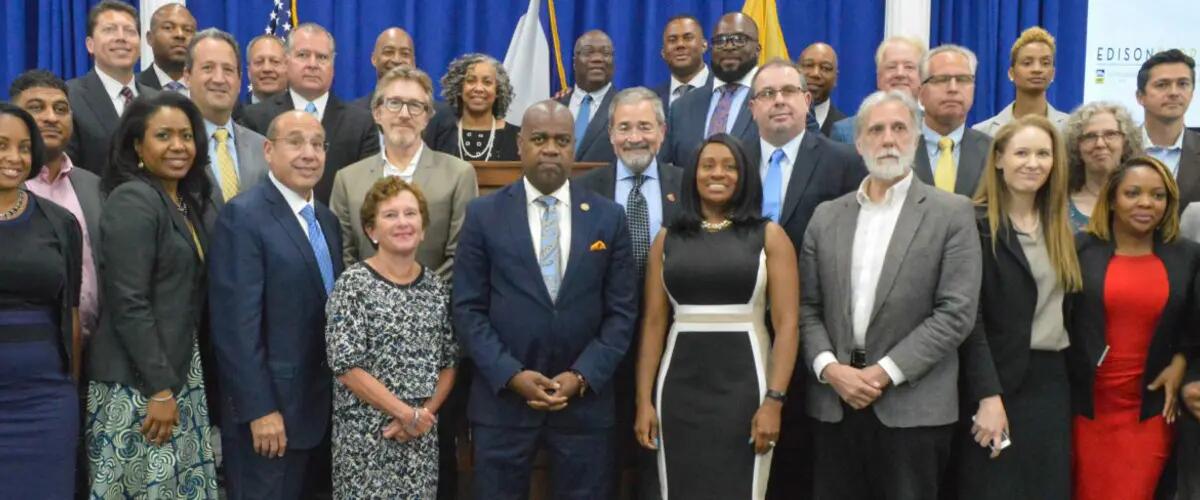 Anchor institutions aim to strengthen Newark's economy
Rutgers University – Newark Chancellor Nancy Cantor joined City of Newark Mayor Ras J. Baraka and leaders of numerous other local anchor institutions in a press conference in a major collective impact initiative to dramatically reduce poverty and unemployment and strengthen the city's economy by the beginning of the next decade. Under this initiative known as Hire.Buy.Live.Newark, each of the partner organizations from the public, private, and nonprofit sectors is establishing specific targets for employing more Newarkers and increasing procurement of goods and services from Newark-based businesses.
Among the most ambitious elements is an effort that the cross-sector partners are calling "Newark 2020," the aim of which is to connect 2,020 unemployed Newarkers to work by 2020. According to a recent report from the New Jersey Institute for Social Justice, Newark's 33% poverty rate among minority populations is nearly double the national average and only 18% of jobs in Newark are held by city residents, half the proportion of that in comparable cities. For their part in increasing access to jobs for Newarkers, Chancellor Cantor and Rutgers Biomedical and Health Sciences (RBHS) Chancellor Brian Strom announced that their institutions combined aim to make 220 local hires.
Another element of the initiative is to increase local procurement by Newark's anchors, spurred by the finding of a 2014 study funded by the Prudential Foundation that showed six representative anchors combined were spending only 3% of their procurement dollars with Newark businesses. Projections released at the press conference indicate that increasing local procurement to 10% would add $33 million to Newark's economy. Cantor and Strom announced their intention to increase the combined local procurement of Rutgers-Newark and RBHS by 20% by 2025.
The thinking behind Hire.Buy.Live.Newark has been informed by extensive research into the breadth and depth of Newark's network of more than 400 manufacturers conducted by Kevin Lyons, professor of professional practice at Rutgers Business School, Newark and New Brunswick, and director of its Public-Private Community Partnership Program. Lyons has been working for several years with regional collaborators to improve key business functions of Newark-based manufacturers such as supply chain and logistics, workforce development, business development strategies, new decision-making tools for industrial production databases, and new ways to analyze customer demand. One notable major success was when he connected Newark Beth Israel Hospital to local manufacturer Rock Ya Socks LLC to meet a need for socks given to hospital patients. That contract is now being scaled up to meet needs across Beth Israel's parent organization, RWJ Barnabas Health.
This story originally appeared in the Newark University News. It was written by Peter Englot.
Press: For all media inquiries see our Media Kit