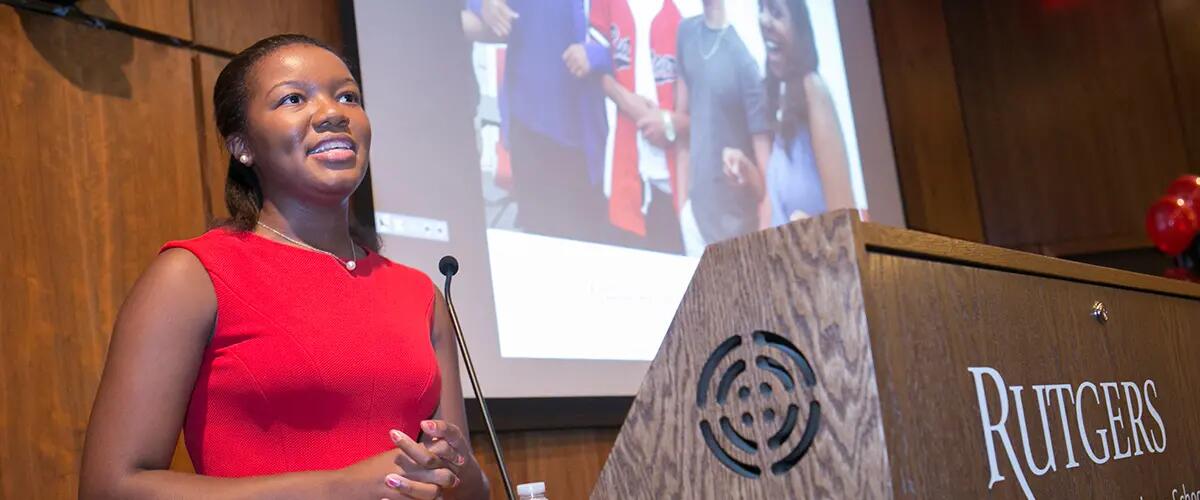 B-STAR program is recognized by educators for making an impact
Program guides promising students to success
Rutgers Business School's B-STAR Program was recognized by the Association to Advance Collegiate Schools of Business as part of an international collection of Innovations That Inspire.
The B-STAR program won in the category for engaging a diverse community.
The recognition showcases the ways AACSB members are redefining the face of business education and the critical work being done to drive positive impact. Rutgers Business School was among 188 institutions from 33 countries that submitted 315 innovations to the AACSB.
"The AACSB's recognition of the B-STAR Program highlights the impactful work undertaken by Rutgers University, Rutgers Business School and the RBS Office of Diversity Programs on a daily basis," said Assistant Dean Charles A. Brown. "It highlights what can be achieved when administrations, faculty, staff and students work in tandem toward the common objective of diversity and inclusion excellence."
The three-year-old Business Student Transition at Rutgers (B-STAR) program, created and managed by the Diversity Programs Office, is a six-week program for freshmen admitted to Rutgers Business School. Students complete six credits of academic course work and participate in enrichment activities such as study skill workshops, leadership seminars and job shadowing experiences.
Once the academic year begins, B-STAR graduates are provided with ongoing follow-up and engagement and given various support services, resources and opportunities to develop leadership abilities as they work on their undergraduate business degrees. As the students progress through their programs, they are also given access to corporate partners and encouraged to pursue internship and full-time employment opportunities.
"Through meaningful ideas and increasing opportunities for engagement, Rutgers Business School has created a remarkable impact, to ensure a better and more connected world for many years to come," said Tom R. Robinson, president and chief executive officer of AACSB International.
"I am thrilled to recognize Rutgers for its role in driving innovation in business education and fostering positive change in the areas of diversity and global economic prosperity," Robinson said.
Rutgers Business School – Newark has the highest percentage of incoming first-generation students (30 percent) of the more than 100 schools participating in a recent Poets&Quants survey.
Students who participate in the B-STAR program are from minority groups traditionally underrepresented in a business school. In the most recent class of B-STARs, 42 percent came from low-income families, 60 percent are multi-lingual and more than 50 percent are the first in their families to attend college.  To get a sense of the program's impact, consider that 100 percent of the students completed their freshman year and 96 percent completed sophomore year. Eighty-eight percent of the students said they were reaching their goals at Rutgers even if they faced many challenges.
"Based on data we have collected, the B-STAR students are more confident and much better prepared for their first semester," Brown said. "They also demonstrate a stronger motivation, determination and resiliency."
As part of its recognition, AACSB presented a selection of the chosen Innovations That Inspire, including the Rutgers B-STAR program, at its annual deans conference on Feb. 6 in New Orleans.
Press: For all media inquiries see our Media Kit