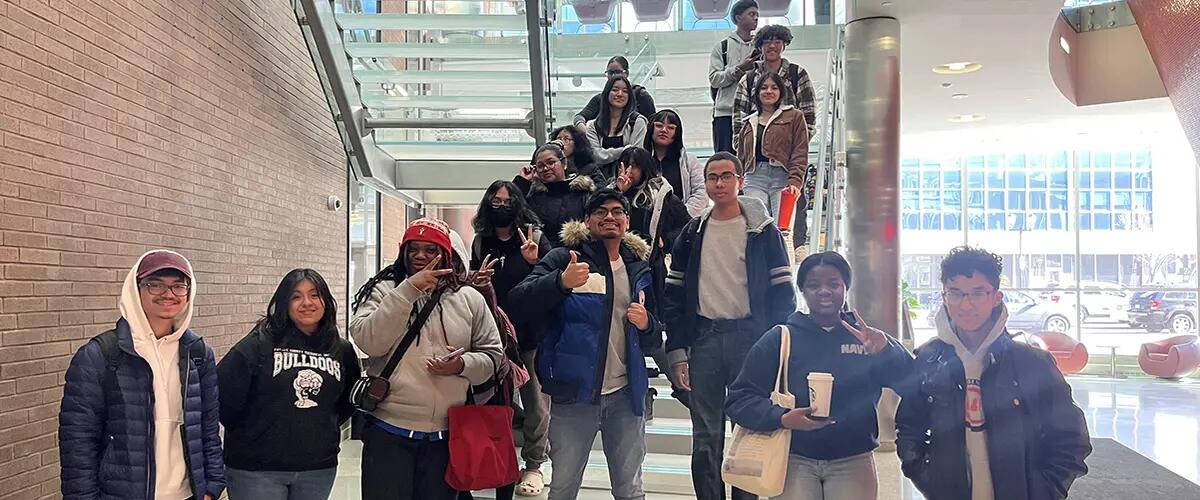 Deloitte Foundation supports program that introduces, attracts racially and ethnically diverse students to business school
A new gift of $125,000 from the Deloitte Foundation will allow Rutgers Business School to expand RBS PREP, a pre-college enrichment program for racially and ethnically diverse high school students.
The gift proposes to create a pilot to accommodate approximately 80 high school juniors, up from the usual cohort of 40, for six-months of Saturday sessions, stretching from January through May of 2024. The Deloitte Foundation's support will help pay for tuition, meals, books and materials, computer needs, and other assistance to participating students. Deloitte professionals will also be invited to participate in RBS PREP activities.
The RBS PREP program offers high-performing students an immersive introduction to Rutgers Business School and the studies it offers, including accounting. Students experience campus life and enrollment in a college-level business course. When students complete RBS PREP, they receive three credits that can be used toward an undergraduate business degree in addition to insights about possible areas of study and career paths.
"I am thrilled that the Deloitte Foundation is supporting Rutgers with this generous gift to help scale the program," said Jeff Mraz, partner, Deloitte & Touche LLP. "It is an incredible opportunity for high school students to engage in the business school experience and access the extra support the RBS PREP offers while exploring a variety of business career options."
RBS PREP is part of a portfolio of programs run by Rutgers Business School's Office of Inclusion, Diversity, Equity and Access (IDEA). IDEA's portfolio includes Business Student Transition, Access, and Retention, or B-STAR, for newly admitted business school students and the DiversityLAUNCH Institute, which was started last year to expand the impact of B-STAR.
Charles Brown, assistant dean for the Office of Inclusion, Diversity, Equity and Access, said part of the plan to scale RBS PREP will involve hosting student access info sessions for and visits to area high schools to discuss benefits of the RBS PREP program with students and administrators.
"With the added resources provided by the Deloitte Foundation, we have an opportunity to be more intentional about recruiting racially and ethnically diverse students and students from financially disadvantaged backgrounds," Brown said. "In addition to our other IDEA pre-college programs and initiatives, the RBS PREP program is a critical piece of the pipeline RBS has established to help reach, serve, and support this student population."
Lei Lei, dean of Rutgers Business School, agreed. "The RBS PREP program ensures that Rutgers Business School achieves its important objectives of providing equitable access and inclusion for all our students while also nurturing a strong and diverse workforce of the future," she said. "We are grateful to the Deloitte Foundation for supporting the important work of our IDEA Office and helping to make RBS PREP even stronger with their generosity and commitment."
Erin Scanlon, Deloitte Foundation president said, "our work, which sits at the intersection of education and equity, helps prepare the next generation for the future of work through programs like RBS PREP. Introducing racially and ethnically diverse students to business careers early in their education journey is essential to helping build pathways to opportunity for the workforce of the future."
About the Deloitte Foundation
The Deloitte Foundation, founded in 1928, is a not-for-profit organization that supports education in the U.S. through a variety of initiatives that help develop the next generation of diverse business leaders, and their influencers, and promote excellence in teaching, research, and curriculum innovation. The Foundation sponsors an array of national programs relevant to a variety of professional services, benefiting high school students, undergraduates, graduate students, and educators. Learn more about the Deloitte Foundation.
About the Office of Inclusion, Diversity, Equity and Access at Rutgers Business School
The RBS Office of Inclusion, Diversity, Equity and Access, formerly the Office of Diversity Programs, was established in 2013 and is strategically located within the RBS Office of the Dean. The IDEA Office seeks to establish Rutgers Business School as a national leader and model for diversity excellence as we challenge our community to embrace differences as assets in a culturally and racially diverse world. The IDEA Office helps create and sustain a welcoming environment for all RBS community members, including students, faculty, and staff, ensuring equality of access, opportunity, representation, and participation. Diversity excellence will be a hallmark of this office as we pursue and promote new partnerships within the Rutgers University system and beyond that embrace the indivisible bond between academic and professional excellence, inclusion, diversity, equity, and access.
Press: For all media inquiries see our Media Kit