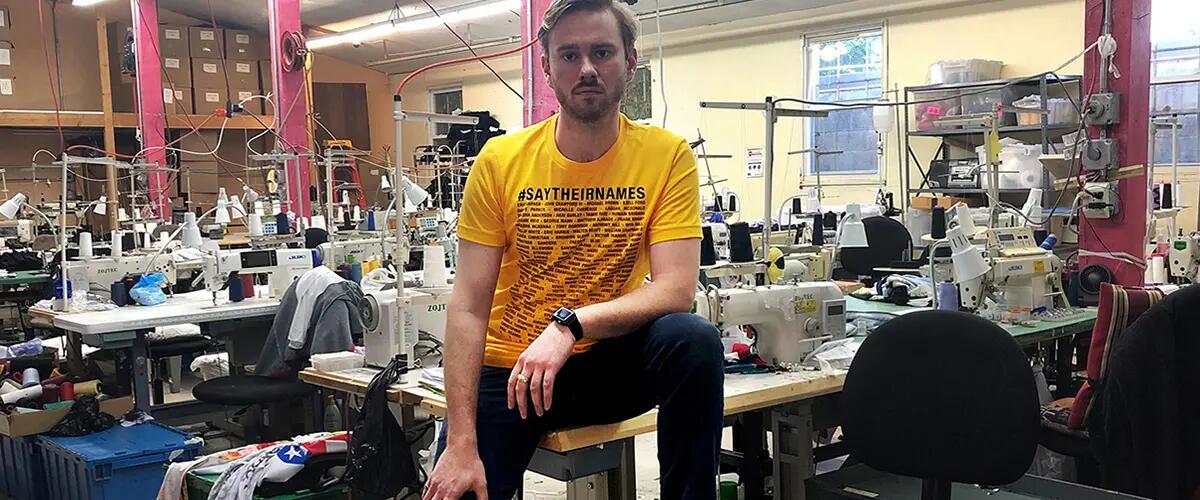 Business of Fashion program fostered student's entrepreneurial dreams
Fashion designer Justin Farnham lacked any business background when he applied to the Rutgers Business School Master of Science in Business of Fashion Program. What the Parsons School of Design graduate did have was several years of industry experience and a vision for his own menswear line.
"I didn't have high expectations of getting in," he recalled. Encouraged by MSBF Program Director Tavy Ronen, Farnham studied for the Graduate Record Examination test and enrolled in the fall of 2017. Over three semesters, he learned about supply chain management, project management, finance, and accounting.
"The program fostered my entrepreneurial dreams," he said. "I feel much better equipped to push forward with my own business."
Learn more about a $100,000 fellowship available for eligible Rutgers alumni who are admitted to the Master of Science in Business of Fashion Program.
Farnham had never used a sewing machine before college but quickly became skilled at pattern-making, sewing, and embellishment. He helped to create gowns for the likes of Michelle Obama, actress Mila Kunis and Lauren Bush while interning at an evening-wear sample room. He has worked for many recognizable brands including Ralph Lauren, Tommy Hilfiger and UNTUCKit, and now makes custom wedding gowns by hand for private clients.
Since earning his master's degree at RBS, Farnham manages all cut-and-sew production at Stylus Apparel, a vertically integrated clothing manufacturer in Linden, New Jersey. The company makes and drop-ships custom orders on-demand in Toyota's 'Just-In-Time' model, he said. "This is the future of fashion." 
Farnham will soon launch his own line of men's swimwear made of vintage fabrics from the 1950s, 60s and 70s. He's chosen the name Mond, the German word for moon, as a nod to his night-owl paternal grandmother. Farnham credits her impeccable taste and his mom's love for shopping for sparking his passion for fashion. Farnham said he plans to produce his swimwear in the U.S. at Stylus Apparel.
When the COVID-19 pandemic hit, the company quickly pivoted to producing face masks and isolation gowns for a major network of health care providers and other businesses. Stylus Apparel has made more than 100,000 cotton face masks and is producing 2,000 isolation gowns per week under contract through the end of the year.
"The whole industry has come together," Farnham said. "It's been intense, but it's great to feel like you're doing something to help."
- Margaret McHugh  
Press: For all media inquiries see our Media Kit