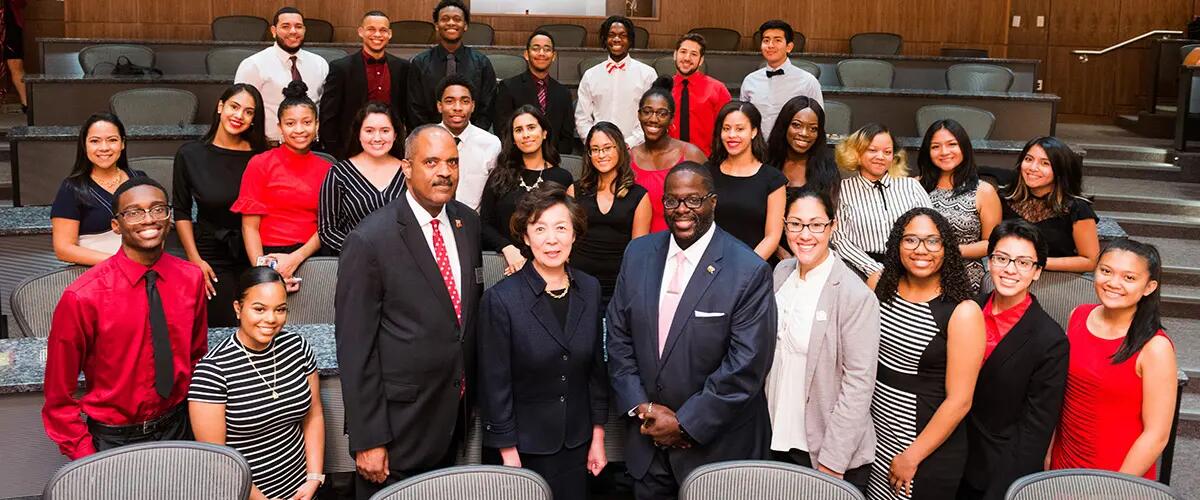 Celebrating a new class of B-STARs
Rutgers Business School recognized its newest class of B-STAR students during a ceremony celebrating the completion of an intense six-week program that launches their college journeys.
During the past six weeks, the 28 students studied, networked, absorbed insights about financial literacy and branding themselves. They moved from being "pretty terrified" as one student put it to learning responsibility, time management and the power of friendships.
"There is perseverance, strength and confidence in each of us," Hannah Bondalo, a 2019 RBS B-STAR class representative said in an address to her classmates.
Dean Charles Brown, who leads the Office of Diversity Programs, described the completion of the six-week program as just the "first leg" of what promises to be an amazing journey. "Your hard work and focus can't stop here," he said.
The Business Student Transition at Rutgers (B-STAR) Program is designed to support high-performing and high-potential freshmen students from underrepresented communities who plan to attend Rutgers Business School. The multi-tiered program – the first is the intensive, six-week-long, on-campus academic prelude to freshman year – provides support services, resources and opportunities designed to develop the students into leaders during their undergraduate education.
Yvette Del Valle, program coordinator for the Office of Diversity Programs, served as master of ceremonies during the recognition ceremony for the 2019 B-STARs. As she introduced a series of speakers, she shared highlights of the previous six weeks and some of her observations about the determination and hard work the students demonstrated.
She and the other speakers, all of whom also worked closely with the B-STARs during the previous six weeks, commented on the hope they had for the group's success. And if the 28 new B-STARs emitted a sense of promise and possibility, then rising RBS senior B-STAR Ty-Lynn Johnson left the audience of incoming freshmen inspired and excited.
Johnson spoke eloquently about his own opportunities – an internship at KPMG, a trip to Japan, an internship at BlackRock. He encouraged them to build relationships, to create social capital. "When opportunity knocks," he told them, "answer the door."
"The idea of building a network and social capital is important if you want to be competitive," he said.
Johnson, an honors student who maintains a 3.7 GPA, encouraged them to be involved, but "first get your work done." he said.
He also offered to help them as they set out to find their own opportunities. "I hold this program near and dear to my heart," he said.
Other speakers included Wes Ifan, financial advisor from Allied Wealth Partners, Yai Vargas, founder and CEO of The Latinista and Natividad Cruz, who offered a parental perspective on the program. Incoming freshmen Hadacha Rodriguez and Hannah Bondalo spoke about the student experience.
Lei Lei, the dean of Rutgers Business School, gave a presentation that included some of Rutgers Business School's latest rankings and student successes. She also introduced the B-STARs to a school branding that will surround them in their classrooms – the four R's – Resilience, Responsibility, Resourcefulness and Reinvent.
Lei said all of those traits will help Rutgers Business School achieve one of its newest goals: to be a top supplier of the work force by 2030. "We will be there," she told the students empathically, "because we have you."
Press: For all media inquiries see our Media Kit