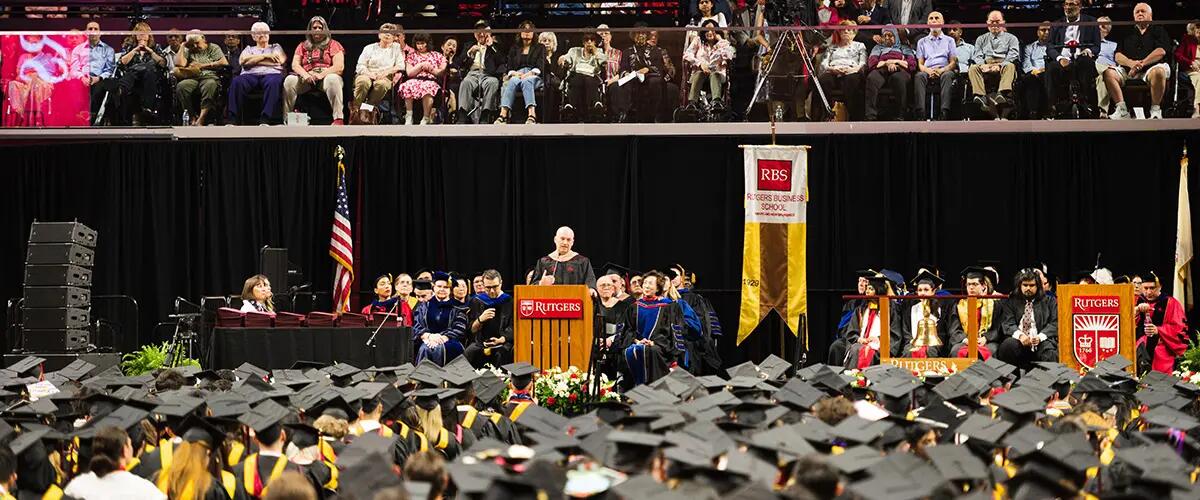 Class of 2023 receives some parting advice for achieving success in life
The graduating class of Rutgers Business School-New Brunswick students represented one of the largest at the university. An estimated 539 of the graduates studied finance.
As 1,350 graduating students from Rutgers Business School-New Brunswick filled the chairs set up inside Jersey Mike's Arena for convocation, graduating senior Suchita Kanala tried to sum up the experience of the past four years and the milestone that would soon make it all a memory.
"These past four years taught me that I'm stronger than I ever thought I was," she said. "There was so much stress, so much uncertainty. As cliché as it sounds, if you work hard, if you have faith in yourself, it really will all work out."
Supply Chain Management major Katherine Perez, who received the dean's Distinguished Leadership Award leading up to convocation, described graduation as "bittersweet."
Like Kanala, Perez is set to start her career with a full-time job after graduation. "These have been the best four years of my life," Perez said, "but I'm also very excited about the future."
Members of the Class of 2023 were freshmen when Rutgers was shut down by the pandemic. They attended class by Zoom and forged friendships remotely until restrictions allowed them to return as juniors when they faced, among other things, the task of getting internships. In their senior year, they were back on campus, attending classes and events.
Rutgers Business School Dean Lei Lei commended the graduating class for overcoming those challenges. She urged them to remain resilient and connected to Rutgers Business School as they moved into the work world.
During his address to the graduating class, convocation speaker Jeff Mraz, an alumnus of Rutgers Business School and an Audit and Assurance partner at Deloitte & Touche LLP, recalled some highlights of his time at college.
During the spring break of 1994, he recalled life-changing events, being offered an internship at Deloitte where he has worked for 28 years, going on a first date with the woman who would become his wife. Marz remains a "die-hard" fan of the Scarlet Knights football and men's basketball team. He also sits on the Rutgers Business School dean's board of advisors.
"When I was asked to speak, I thought about what message I wanted to convey," he said. "Do I try to be witty? Do I try to be deep and quote some of the great philosophers?"
"I decided to keep things simple and provide a few tips that I feel will enhance your ability to achieve success in life – not just career success, but overall success in life," he said.
His tips included being genuine, the importance of strong communication skills, giving back, celebrating successes, and being open to accepting challenges.
He shared his own experience of being reluctant to accept a months-long role working for a client in Australia. It was far away from his family and friends when technology wasn't as available to minimize the distance, he said. And yet, it was an opportunity to spend time on a different continent and learn a new culture.
"Looking back, my decision to say yes was one of the highlights of my career," he said. "One of the most important skills I've learned over the years is becoming comfortable with being uncomfortable."
"Believe in yourself and your capabilities," he said.
Mraz also emphasized the importance of relationships and the ability to balance work and life. As he concluded his speech, Mraz urged the students to remain consistent in following the steps. "You will be well positioned for success," he said.
Before the members of the graduating class filed onto the podium and before the ceremonial adjustment of the tassels dangling from their graduation caps, Natasha Kanitkar, president of the Rutgers Business School Governing Association, reminded them: "We've been tested, and we persevered. We're more ready than ever for what lies ahead," she said. "Enjoy the ride."
Press: For all media inquiries see our Media Kit