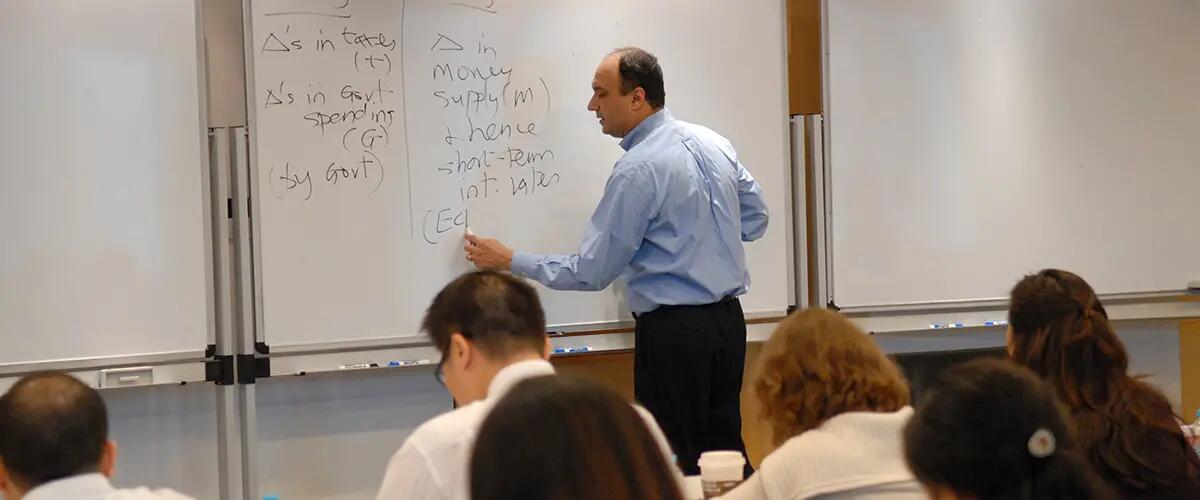 Classrooms named to honor Professor Farrokh Langdana and distinguished alumnus Robert E. Campbell
Rutgers Business School will name classrooms for Farrokh Langdana, a popular professor of finance and economics, and Robert Campbell, a former Johnson & Johnson executive who earned his Rutgers MBA in 1962.
The classroom namings - the first in Rutgers Business School's history - are part of a new and continuing initiative by Dean Lei Lei to recognize faculty and alumni of uncommon distinction.
The Professor Farrokh Langdana Classroom naming in the RBS - Newark building at 1 Washington Park provided a way for alumni and faculty to demonstrate their admiration and respect for Professor Langdana, and to ensure that his name will be forever associated with Rutgers Business School.
"Farrokh's dedication to RBS and to his students is legendary," said Dean Lei. "He has received many outstanding teaching awards and has been an inspiration to countless Executive MBA, MBA, and International Executive MBA students over the years."
"I am honored to have a classroom named after me, but really this is a testimony to the exceptional Rutgers Executive MBA students who give their all to the program, as well as my outstanding faculty colleagues, who went above and beyond to donate the funds to make this possible," said Langdana.
"I am very fortunate to be a professor here at Rutgers Business School, for two reasons," Langdana continued. "First, our global rankings in EMBA, MBA, Supply Chain, Pharma, Finance, etc., are really not our objectives, per se.  Instead, they are simply the result of the faculty and staff adding value to each and every individual student here.  Rutgers adds value to the careers of individual students while they are in the program, and even while they are alumni.  The rankings then follow automatically; they are a result.
"Second, we are an understated school that overperforms. Our faculty, staff and students have their two feet planted firmly on the ground – there is nothing pretentious about us. And yet our students totally nail it out there in the business world – from the case competitions, to their jobs, to their careers – they consistently overperform," Langdana said. "And this makes me so proud to play my tiny part in this amazing RBS success story."
"The naming of the Robert E. Campbell Classroom at RBS - New Brunswick in 100 Rock is a small token of our gratitude for Bob and his wife Joan's long-time support of Rutgers University and Rutgers Business School," said Dean Lei.
"One of their many philanthropic priorities is the Cancer Institute of New Jersey," continued Dean Lei. "Bob was one of the original visionaries in the development of CINJ in the early 1990s. Bob is a generous supporter of the Graduate School of Management. He also established the Robert E. Campbell Endowed Fellowship at Rutgers Business School, which has provided financial assistance to numerous full-time or part-time MBA students. In addition, he funded the Robert E. Campbell Seminar Series in RBS Pharmaceutical Management Studies."
Campbell is a distinguished alumnus of the Rutgers MBA program, '62. "I was drawn to Rutgers Business School by its reputation, cost and convenience,"Campbell said. "I obtained an excellent education."
Short biographical backgrounds
Langdana is the recipient of the Horace dePodwin Research Award and more than 30 teaching awards, including the highest possible teaching award at Rutgers University:  the Warren I. Susman Award. He also has received Rutgers Business School's Paul Nadler Award for Excellence in Teaching. From 2011 to 2013, the Award for Excellence in teaching in the MBA Program was named the Farrokh Langdana Teaching Excellence Award.
A professor in the Finance and Economics Department at Rutgers Business School, Langdana is also director of the globally ranked and highly regarded Rutgers Executive MBA Program. He is the author of five books and several articles and has taught in China, France, Iceland, India and Singapore, in addition to the US.  Langdana was recently interviewed by The Wall Street Journal where he discussed how the Rutgers EMBA program evolves constantly to meet the changing needs and demands of the global executive workplace. He has been director since 1997.
Campbell, retired Vice Chairman of the Board of Directors of Johnson & Johnson, joined Johnson & Johnson in 1955. Shortly after that, he served for three years in the United States Air Force. After returning to the company in 1959, he held numerous positions in financial and general management including treasurer, vice president of finance, and executive committee member. After nearly 40 years with Johnson & Johnson, Bob retired in 1995.
Campbell is currently a member of the Rutgers Foundation Board of Overseers. He is also a member of the RBS Board of Advisers.
-Sean Ireland
Press: For all media inquiries see our Media Kit