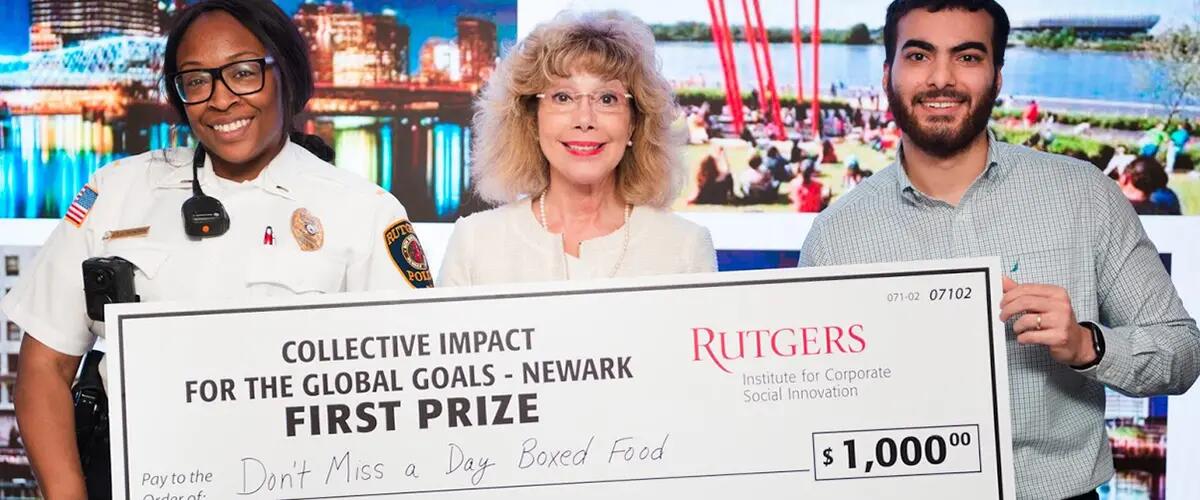 Competition gives students a chance to engage with UN's global goals
New institute for corporate social innovation at Rutgers launches competition that gives students an opportunity to immerse themselves in projects that address hunger, urban agriculture and the employment potential in manufacturing.


A team that collected 1,940 meals to distribute to students at three Newark schools in an effort to address child hunger and its impact on academic achievement and social development was awarded the top prize in a competition sponsored by the Rutgers Institute for Corporate Social Innovation.
The winning team was composed of Rutgers University police officers Lt. Jamie Hendrix and Sgt. Todd Housell, Rosa Torres, of the Rutgers University-Newark Office of University and Community Partnerships, Rutgers Business School professor Leon Fraser and Rutgers Business School students Jackeline Khadan, Sapna Sanyal, Alfred Shahid and Michael Gendy.
The team's project, "Don't Miss a Day Boxed Food" was awarded a prize of $1,000. During the spring drive, the team helped to pack three non-perishable meals into decorated shoebox-sized boxes that children from three elementary-middle schools in Newark could easily carry home. Each box also contained a note of encouragement for the recipient.
Members of the team said their prize money would be used to support the program in the fall.  
The Rutgers Institute for Corporate Social Innovation announced the competition in March as part of a sustainability conference on how the 17 Global Goals of the United Nations could be put into action in Newark through collaborations with local businesses and community leaders.
Seven teams participated in the competition with projects that addressed local issues – employment, education, climate, and health and wellness, among them – that are reflected in the UN's Global Goals, or Sustainable Development Goals.
Two teams, The Urban Agriculture Team and Engaging the Next Generation in Manufacturing Careers, tied for second place. Both teams were awarded $500 in prize money.
The Urban Agriculture Team was made up of Rutgers Business School students Maggie Reiff, Kadeidra Robinson, Sheila Peri and Binita Bhattacharya. Professor Rachel Emas provided faculty support and Tobias Fox, founder and director of Newark Science and Sustainability, was the team leader and sponsor.
The team worked with the Farm to Table Co-Op operating at the Newark People's Garden to quantify the amount of leftover produce based on the abundance of produce it generated during its first growing season last summer. With those projections, they were able to engage potential partners from existing resources in the social, private and public sectors, including local produce shops and food programs.
By tapping into existing networks in Newark, the team will address two of the United Nations' Sustainability Goals – Zero Hunger and Health and Well-Being.
Engaging the Next Generation in Manufacturing Careers was made up of Rutgers Business School students Jamila Ritter and Betsy Apena; team leader Jackie Luciano, vice president of manufacturing operations at Newark-based ZaGO Manufacturing Co., and Professor Sharon Hellman, who provided faculty support.
The team's goal is to demonstrate that manufacturing has evolved with the emergence of technology and represents a source of employment. The team plans to counter the perception that manufacturing is declining by organizing tours to allow high schools students a chance to learn more about Newark-based manufacturing companies and the job opportunities they offer.
Jeana Wirtenberg, associate director for the Rutgers Institute for Corporate Social Innovation and a professor of professional practice, said the competition allowed the teams to make a "tangible difference" related to the 17 Sustainable Development Goals.
"What is exciting for RICSI is that we now have a proven model for designing and delivering a regionally/locally based model and intervention where students, faculty and staff, corporations, non-profits and communities work collaboratively across sectors and disciplines to foster collective social impact," Wirtenberg said. "These projects clearly demonstrated how, by working together on a volunteer basis, we can help to reduce poverty, address food insecurity, and find innovative ways to provide job opportunities in the emerging economy.
"Our students were inspired by and engaged in the opportunity to make such meaningful contributions," she said.
The four other teams that competed were New Jersey Sustainable Business Registry, Clean Potable Water in Newark, United Fashion Council Waste to Fashion and Frelinghuysen Avenue Corridor Master Plan.
In addition to Wirtenberg, the judges were Kevin Lyons, Arturo Osorio-Fernandez and Mukesh Patel, all professors of professional practice at Rutgers Business School; Can John Uslay, a Rutgers Business School marketing professor and marketing department vice chair; and Florencia Librizzi, senior manager, PRME, United Nations Global Compact.
The Rutgers Institute for Corporate Social Innovation, which was formed last year, held the competition with the support of a grant it received from the Robert Wood Johnson Foundation.
Press: For all media inquiries see our Media Kit