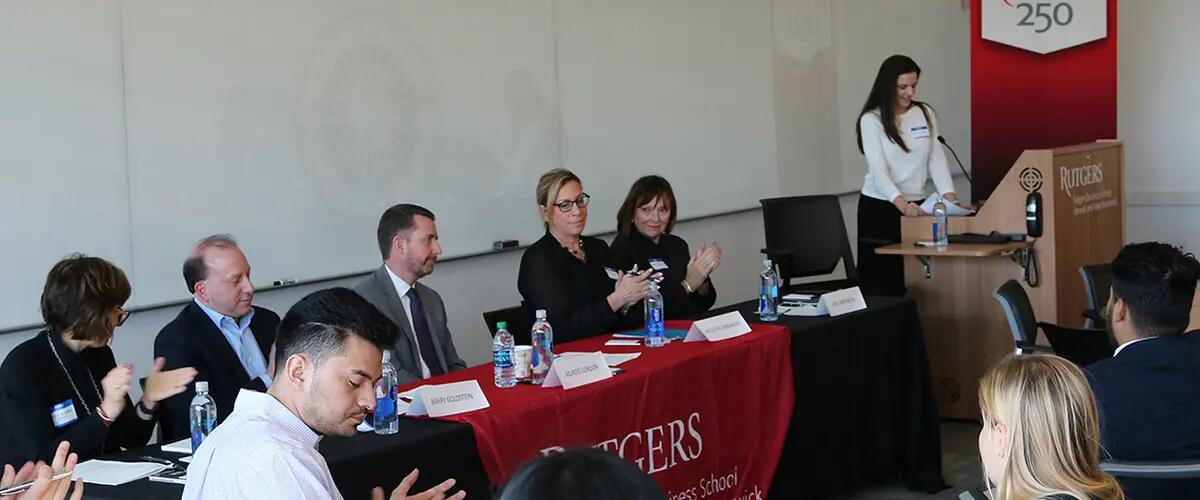 Executives tell students: "In marketing, it's good to fail."
Five "C-Level" marketing executives from widely divergent industries recently participated in a leadership panel discussion attended by current Rutgers Business School marketing students.
The marketing department hosted lunch during which the chief executives met students and engaged them in one-on-one conversations.
"Rutgers Business School's reputation, and our industry-connected faculty make these invaluable experiences possible for our students," said Department Chair Ashwani Monga. "This is a terrific opportunity for our students to be able to speak directly with CMOs and then hear them discuss challenges, opportunities, differences and similarities across industries."
Professor Monga began the event by welcoming all, and recognizing marketing faculty member and co-director of the Center for Market Advantage Professor Can Uslay, who spearheaded the effort to bring industry leaders to the event.
RBS Dean Lei Lei then gave a brief overview of the school and some of the latest accomplishments.  Professor Kristina Durante moderated the discussion and raised questions around the need for diverse methodologies considering rapidly changing digital and mobile platforms.
Chief Marketing Officer Amy Blumkin, Lowenstein Sandler LLP; Super Bowl 2014, presented her law firm as a fairly generic business-to-business. "So how do we stand out, get noticed? Our website is our storefront. Throughout the site we demonstrate thought leadership and we pay great attention to the customer experience."
Chief Digital and Distribution Officer Barry Goldstein, Wyndham Hotel Group, discussed the challenges of presenting 16 different hotel chains as a family of connected brands. "We are moving from national campaigns to more personalized campaigns considering regional interests, such as football in the South East. We even learned to create time of day specific messaging.  What a potential customer in the east is looking for in the morning is not the same thing as someone in the west in the afternoon."
Bristol-Myers Squibb's Executive Vice President and Chief Commercial Officer Murdo Gordon spoke about the difficulty of getting doctors to understand breakthroughs in immunology technology.  He also said that wearable technology, such as Fitbits, will become a wearable data stream of health information that can be continually uploaded to store an individual's health records.
Jacqueline Hernandez, chief marketing officer, NBC Universal Telemundo, said that it is crucial to continually ask: What do they want?  "We create new marketing plans based on research to update our messaging.  From cable channels to broadcast networks to even theme parks, we orchestrate wide-ranging areas in harmony not unlike Wyndham marketing economy, mid-level, and luxury rooms unified under one major brand."
Gail Van Dalen, chief marketing officer of Prudential Life Insurance, presented a 150-year old company with a history of tradition and still evolving. "We build on that history and tradition by growing our brand through serving under-served communities," Van Dalen said.
The consistent message from each speaker, across industries, was to understand the consumer, adapt to quickly changing technologies, and always remember the purpose of your actions. Beyond evaluating what they do, they focus on why they are doing it.
"In marketing, it's good to fail," Goldstein said.  "If you are not trying different ideas and failing, you are not learning and improving."
-Sean Ireland
Press: For all media inquiries see our Media Kit