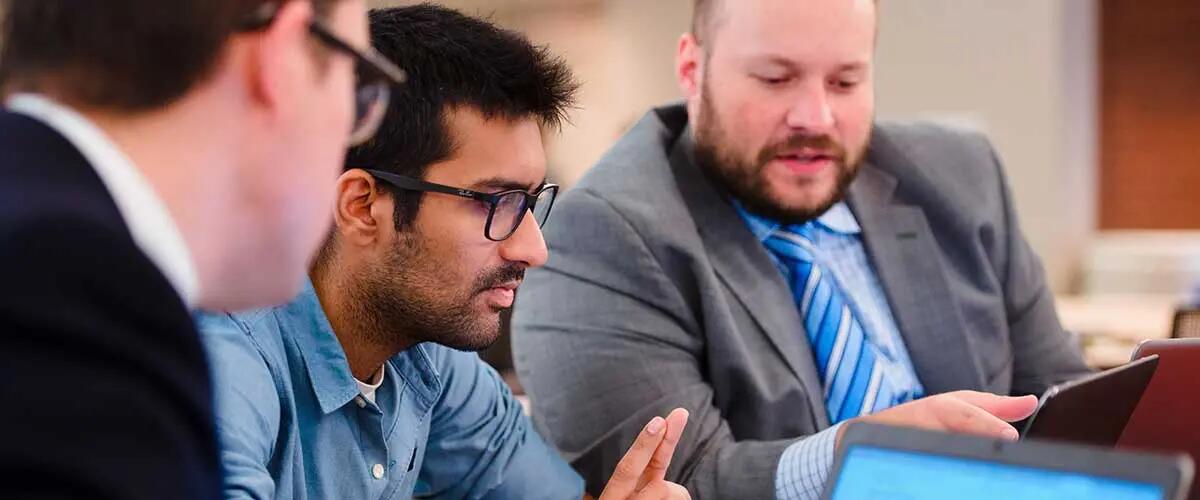 Financial Times ranks Rutgers Executive MBA among Top 100 worldwide
The Financial Times released the 2022 Executive MBA rankings of the world's Top 100 Business Schools, and the Rutgers EMBA program was ranked No. 15 for U.S.-only schools (stand-alone programs not affiliated with other schools), No. 4 among Big Ten peer schools and No. 73 worldwide [see report]. This moved Rutgers EMBA up five spots in the U.S. and up 15 places in the world compared to last year. 
In addition to providing a first-class EMBA learning experience, Rutgers EMBA has provided a strong return on investment and supported our students' career advancement for over two decades. Among U.S. business schools, Rutgers EMBA ranked No. 7 for Career Progress, No. 8 for Salary Increase (%), and No. 15 for Total Salary.
A total of 138 cohort-based programs, accredited by either the Association to Advance Collegiate Schools of Business (AACSB) or Europe's EQUIS, took part in the 2022 ranking process. Data for the ranking came from online surveys by participating schools and alumni who completed programs in 2019. Schools addressed ten criteria, including faculty with doctorates, Financial Times research rank, and ESG (environmental, social, governance). Over 4,000 alumni – a 42% response rate – responded to five criteria: salary today, salary increase, career progress, work experience, and aims achieved.
Class of 2015 Rutgers Executive MBA alumna Ukachi Anonyuo, the 2022 Rutgers Business School Alumni Rising Star Award honoree, is the Global Vice President of Packaging Innovation Strategy & Portfolio Management for the Estée Lauder Companies, Inc. In a recent promotional video, she explained how her career has grown since graduating from the program, "I chose the Rutgers EMBA program because I wanted to intentionally immerse myself into an advanced degree program with intimate training I could immediately leverage and action in real-time. The program has enhanced my critical thinking and thought leadership in a way that has accelerated my personal and professional growth."
Dean Lei Lei said, "Our wholehearted congratulations to Professor & Executive MBA Program Director Farrokh Langdana, the entire EMBA Team, all RBS faculty who taught our EMBA students, and staff members who strongly supported our EMBA program. And a special thank you to our EMBA class of 2019 for sharing their experiences with Financial Times. It takes an incredible team effort to be consistently among the preeminent Executive MBA programs in the world."
Professor and Executive MBA Program Director Farrokh Langdana said, "Our EMBA program is a combination of cutting-edge theory and real-world application. The core and elective courses are relentlessly reviewed and updated in response to industry trends, so each year, the content is fresh and immediately applicable.  I want to point out that we do not just 'add new course material.'  The professor is really the key.  The professors in Rutgers EMBA---The Powerhouse---are masters at the art of being able to leverage the tremendous amount of experience embedded in all our EMBA students to ratchet up the discussions to a very powerful real-world level. 
"This is truly a collaborative program taught by exceptional professors with academic and professional experience, supported by staff who make it all run like clockwork; one big family of participants who look out for each other for years and years after graduation," said Langdana.  "I urge all applicants to visit our live online Open Houses.  What they will find here is tremendously high morale in our students."
Additional Highlights of the RBS EMBA 2022 FT Rankings [view methodology]:
No. 2 in the U.S. for International Course Experience 
Measures exposure to international business experiences
No. 12 in the U.S. for Work Experience 
Measures seniority and international experience of EMBA class
No. 13 in the U.S. for ESG 
The proportion of core courses dedicated to ethical, social, and environmental issues
No. 18 in the U.S. for Research 
Calculated according to the number of articles published by current full-time faculty members
Press: For all media inquiries see our Media Kit