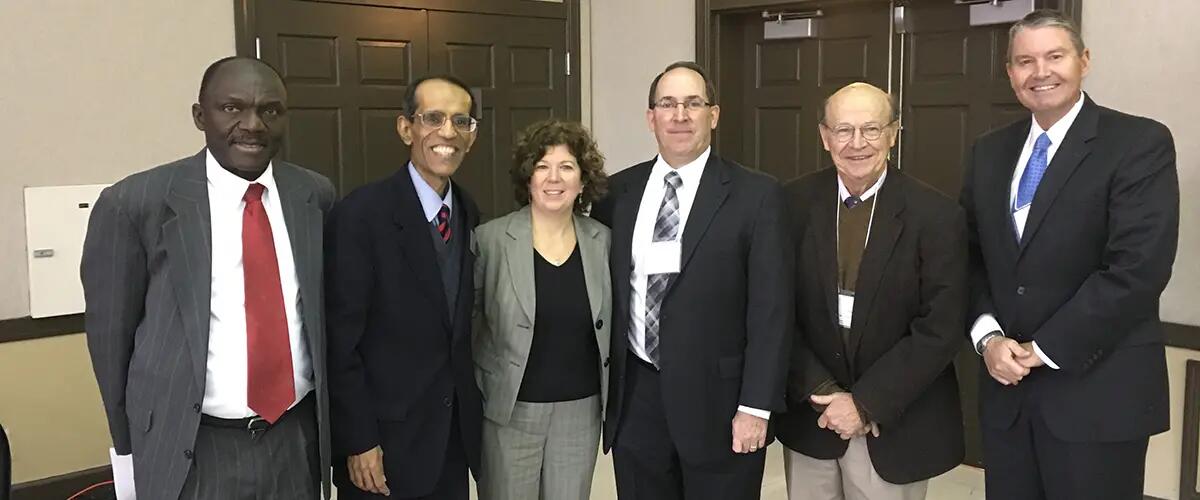 Governmental accounting professionals, faculty and students network at annual conference
The Rutgers Governmental Accounting and Auditing Update Conference brings together leaders in public financial management to address the most pressing issues, and provide an update on current regulations, accounting pronouncements, auditing issues, and other subjects of interest.  Deputy Director, NJ Division of Local Government Services Christine Caruso and New Jersey State Auditor Stephen Eells gave keynote addresses and answered questions from the attendees.
Dean Lei Lei and Executive Vice Dean Yaw Mensah proudly welcomed all attendees to the conference at the Douglass Student Center. Mensah said: "This is a very important conference for us at Rutgers Business School. We are committed to continual outreach and feedback from industry as we shape and update our curriculum."
Mensah also noted the 25-year milestone of both the Rutgers Master of Accountancy – Governmental Accounting (MACCY Gov.) program and the Rutgers Governmental Accounting and Auditing Update Conference.
Governmental accounting professionals earned eight continuing professional education credit hours and engaged in Q&A with state and national audit leadership. Several current Rutgers MACCY Gov. students also attended.  Shrushti Trivedi and Parisa Hamzetash appreciate the flexibility afforded by the online program.  Trivedi works in the office of New Jersey State Auditor Stephen Eells.  "How is the MACCY Gov. program helping in my current career? Ask my boss!" she said with a laugh.
Both Trivedi and Hamzetash enrolled in the program to build skills, expand their knowledge and for career development. Besides the keynote addresses and networking with other professionals, they also enjoyed visiting and talking with Professor Jim Smith with whom they otherwise only interact online.
-Sean Ireland
Press: For all media inquiries see our Media Kit