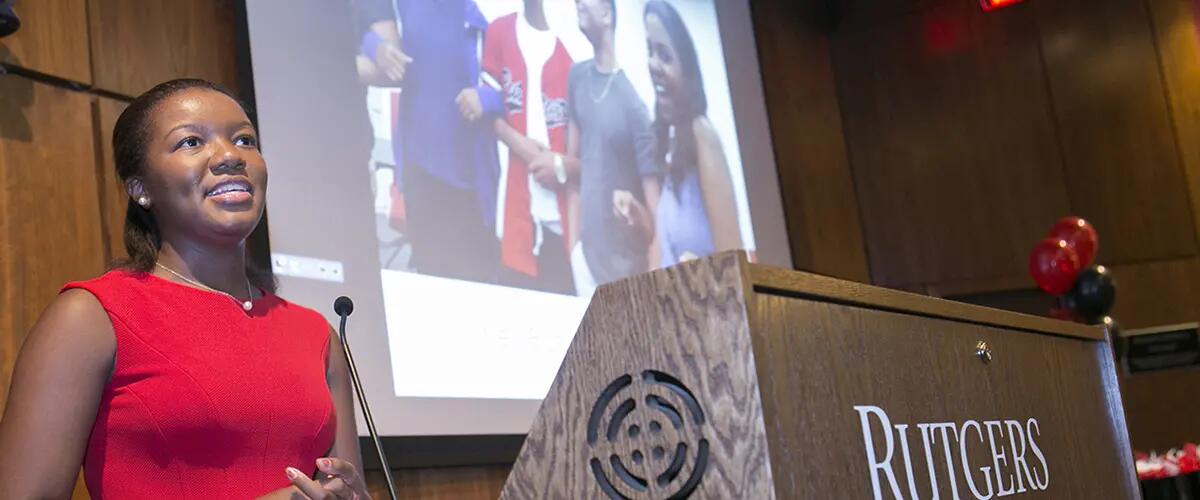 With grace and anticipation, a senior looks to the future
The Class of 2020 never wanted to make history this way. But as the coronavirus pandemic caused unprecedented changes in society and canceled major spring rituals like graduation ceremonies, many Rutgers Business School students drew on their resiliency to focus on the positive.
Paige Johnson, a graduating senior majoring in marketing, agreed to share some reflections on her time at RBS and what she is celebrating despite experiencing a very different ending to her college career than the one she imagined just months ago.
The next phase of my life will be an exciting journey no matter how severely COVID-19 has impacted what that will look like for me in the coming months. Prior to our current pandemic situation, I had planned to start my full-time position at BASF in the Commercial and Sales Professional Development Program, where I would complete three eight-month rotations at BASF sites across the country in places like Houston, Texas, Charlotte, North Carolina and Southfield, Michigan. Now, my first eight-month assignment at BASF, which I will start in mid-August, will almost certainly be virtual. Although disappointed at first, I now see this as a financial positive for me. I will be able to live at home with my family, save my first few months of full-time pay and then prepare to move to a new city once this global health crisis subsides to some degree.
Prior to the global pandemic, I was beyond excited to experience many of the senior traditions that I had seen done for previous classes of seniors. I still deal with immense feelings of disappointment and sadness that I'll never get to experience those traditions myself. I feel as though that would have been a great way to end my time at Rutgers where I truly made the most out of every opportunity that presented itself to me. 
On Wednesday, May 20, at around 10 a.m., I will participate in the Virtual Rutgers-Newark Commencement Celebration with my mom, dad, and brother huddled around me as we await my personal commencement slide with my name, cap and gown photo, and personal quote. It will be a joyous moment for my whole family.
I consider my most important accomplishment at Rutgers Business School to be my acceptance into the Office of Diversity's Pre-College Enrichment Program (PREP) as a junior in high school, and the Business Student Transition at Rutgers (B-STAR) Program in the summer before my freshman year. Both programs are the reasons behind my many academic and professional successes during the past four years, which included internships at Fortune 500 companies each summer and a job offer before I entered my senior year.
A close second accomplishment that has equally shaped me into the confident young woman I am today was being accepted into a Rutgers Global Study Abroad Program in Florence, Italy. Over the course of my five-month study abroad experience, I traveled to 18 different countries in both Europe and Africa. Visiting places like Morocco, Africa and Corfu Island, Greece on weekends made me a more confident and independent global student and citizen. 
The thing I will miss the most about college is not being able to have the traditional senior farewell to my incredible four-year journey at Rutgers University-Newark and Rutgers Business School.
I am learning to overcome my disappointment (over how the semester ended) with the fact that I have a job waiting for me in August with a company that has fully committed to their new hires and is still excited to welcome us on board this summer.
My next goal is to have a strong first year when I begin with BASF and to make the best out of this very uncertain situation we are in as a global society.
Press: For all media inquiries see our Media Kit