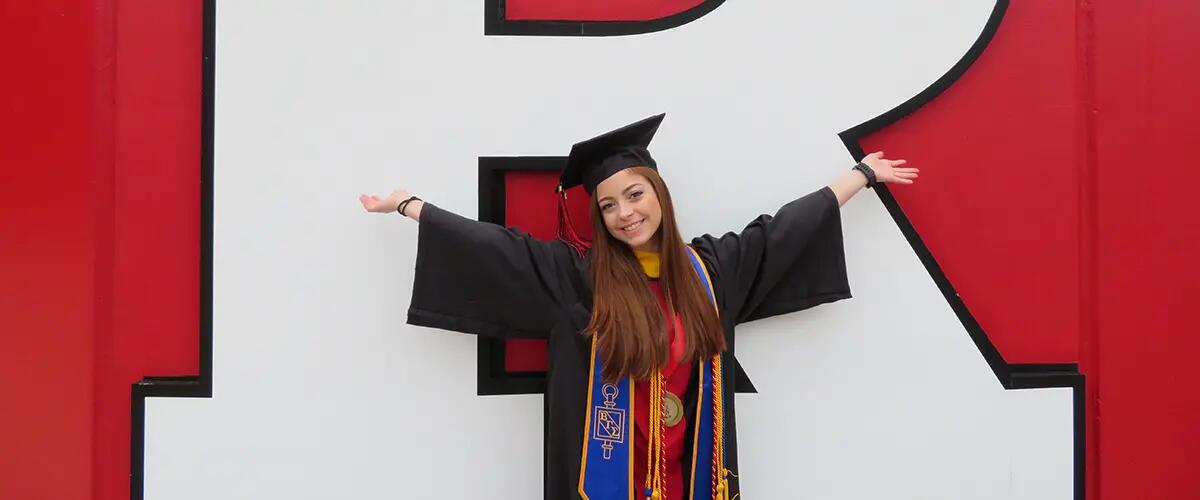 Graduating senior put leadership into action on campus
Amanda Maher, 2019 Distinguished Leadership Award Winner, New Brunswick Undergraduate Program
Like many students in their first year of college, Amanda Maher felt that things were not going well.  She had received polite rejections from some programs and Rutgers seemed like such a huge university.  Then everything turned around when she was accepted into the Women BUILD program (Business Undergraduates in Leadership Development).  
Women BUILD is a three-year-long leadership program designed to provide high-achieving, motivated and talented women undergraduates at Rutgers Business School the opportunity to reach their full leadership potential as business students.  While Maher might not have described herself that way before entering the program, anyone who knows her would describe her as high-achieving, motivated and talented since Women BUILD.
"I formed closer relationships with the other women in the program, and that made Rutgers seem much more manageable," Maher said.  "I began to feel like I really belonged here."  
"I was fortunate to be matched with Carrie Andrews, head of corporate marketing at Sterling, through the TeamUP mentoring program as part of Women BUILD," she said.  Andrews shared experiences and insights from her years as a marketing professional with Maher.  Their mentoring relationship continues, as many of the TeamUP pairings do, from the mutual benefit and friendship.
Maher played a key role in starting and organizing the Rutgers Cares Food Drive and she worked with the Rutgers Student Food Pantry to boost its visibility through a social media campaign. The number of Facebook followers grew from 10 to more than 600 between the springs of 2017 and 2018, she said. More significantly, the pantry served 500 students during the 2108 spring semester compared to only 15 a year earlier. 
Maher said she became hooked on marketing while doing an internship during her senior year of high school. She chose Rutgers Business School for its reputation and set her sights on a career that combines her passion for cosmetics and marketing. She spent last summer as a marketing intern at L'Oréal in New York City and will begin working full-time after graduation in the company's management development program.
The Distinguished Leadership Award was initiated in 2011.  It is given to one student leader from the Newark Undergraduate, New Brunswick Undergraduate, and Graduate Programs of Rutgers Business School. The award recognizes student leaders who demonstrate outstanding academic achievement, service to RBS, and leadership potential. The name of each recipient is engraved onto the Rutgers Business School Bell and will continue in successive years.
The 2019 Newark Undergraduate Program Distinguished Leadership Award recipient is Nicolas Romero.
The 2019 Graduate Programs Distinguished Leadership Award Winner is Shweytank Agrawal.
Press: For all media inquiries see our Media Kit