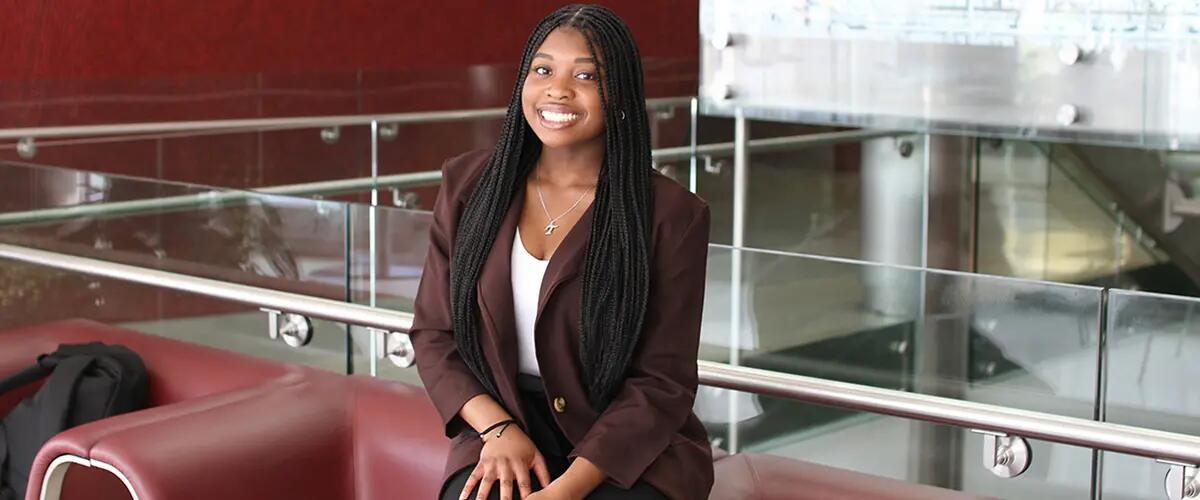 Graduating senior is ready to use her voice to influence change
Tenille Grant defied the disruption of a pandemic and participated in student organizations to hone her leadership skills.
When Tenille Grant started Rutgers Business School-Newark, she wanted to achieve more than good grades, she wanted her voice to help effect change.
It didn't take her long. As she began orientation with other members of the Business Students in Transition at Rutgers (B-STAR) Program in the late summer of 2020, an anti-racist movement was sweeping the nation after George Floyd's murder. Sensing a need for conversation, Grant set up safe space sessions where she and her classmates could share their thoughts and feelings about what was happening around them.
"I was very happy that I got into the B-Star program because it was the first place that I was able to make friends and establish what I wanted to do in my collegiate experience, not only taking classes and making sure my grades were really good, but also being involved and making an impact," Grant said.
After some initial concerns that the pandemic would thwart her goal of being involved on campus – conversations and classes happened over Zoom for her entire first year – Grant joined Women BUILD. Later, she took on other roles in student organizations. Her involvement earned her a 2023 Distinguished Leadership Award. The award is presented annually to one Rutgers Business School graduate student and to a graduating senior from each of the school's two campuses.
Shannon Brantly, an academic adviser at Rutgers Business School-Newark, nominated Grant for the award based on her academic achievements and her "natural ability to lead by example and empower those around her."
"Tenille possesses a remarkable personality that resonates with others," Brantly said. "She consistently goes above and beyond in her academic pursuits, showcasing her exceptional intellectual capabilities and dedication to learning." 
Read about the other Distinguished Leadership Award recipients, MBA Sarah Ladyman and RBS-New Brunswick senior Katherine Perez.
Grant thrived on Women BUILD's mission of empowering young women for the work world. "This program teaches us that we should have a voice and to not be afraid to use that voice," she said. "It sets us up for success."
She took a seat on the executive board for Women BUILD, serving as alumni relations director. She also served as vice president of the university campus organization, Pretty, Educated, Young and Thriving (P.E.Y.T) Womyn, and was the social media coordinator for the Black Organization of Students at Rutgers University-Newark.
Meanwhile, she had set a goal to complete her marketing major and a minor in social justice from the Honors Living Learning Community at Rutgers-Newark in three years. While she was getting more involved, she was taking six courses a semester plus classes during winter and summer breaks.
She felt the most challenged in achieving that goal last spring, she said, when it was time to apply for internships. "I knew I had to get an internship in order to come out in three years and have a full-time job lined up," Grant said. "It was a lot of pressure."
After a telephone conversation with a talent acquisition leader at the digital learning company SkillSoft, Grant was asked to complete a survey. That got her a face-to-face meeting with a hiring manager about a content marketing role. It also gave her an opportunity to express her passion for social justice and talk about a certificate in leadership she was earning through Women BUILD.
"I feel like maybe me being a marketing major played a role, but I think that my passions really intrigued her more," Grant said. "I think it was one of the big reasons I was able to get that internship."
During the internship, she worked on the company's women in tech report, which surveys female professionals in the industry on their experiences, identifies trends and practices in pay and work flexibility. She also worked closely with the chief marketing officer to produce regular podcasts, which involved copywriting and social media posts. She also worked a landing page for the women in tech report and wrote a blog to help promote it.
She will begin working full time in content marketing at SkillSoft after graduation. While mostly remote, she expects to go to the company's offices in New York City once a week.
Grant is excited about the work and a new leadership role she will have as one of a handful of co-chairs, mostly in senior positions, on the company's employee advocacy group for people of color. "It's a good thing for me to have a voice there, especially as someone who is from a different generation," she said. "I think sometimes we have different perspectives on things."
As she prepared for a senior parade and two graduation ceremonies at Rutgers in May, Grant wasn't nostalgic, only excited about the future. "This is the part of my life I feel I've always been waiting for," she said.
Press: For all media inquiries see our Media Kit