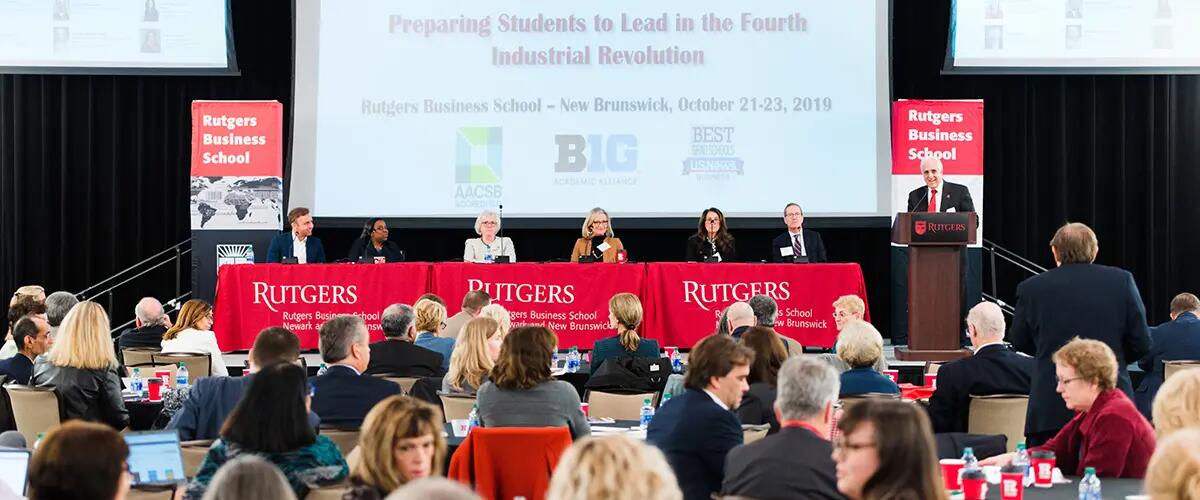 Innovations in Undergraduate Business Education: Preparing students to lead in the Fourth Industrial Revolution
Hundreds of business school leaders gathered at Rutgers Business School to discuss the challenge of preparing undergraduate students for careers and leadership in a business world being transformed by technology.
Innovations in Undergraduate Business Education, a conference Rutgers has hosted three times in the past five years, attracted deans, faculty and company executives from across the country. This year's conference – Preparing Students to Lead in the Fourth Industrial Revolution – built on the previous conference in 2017 when PayPal CEO Dan Schulman spoke about the unprecedented change disrupting the business world.
This year, some academic leaders described their efforts to rethink and revamp curriculum to ensure that students have adequate and relevant knowledge and skills in everything from the applications of artificial intelligence and the importance of emotional intelligence to speaking another language and knowing how to work in a team.
Rutgers Business School's third Innovations in Undergraduate Business Education provided them with a chance to share their approaches and ideas.
In her welcoming remarks to conference attendees, Rutgers Business School Dean Lei Lei touched on the element of uncertainty created by technology's disruption. She evoked the words of economist and author Thomas Friedman when she spoke of the challenge of preparing students for changing workplaces and for jobs that do not yet exist.
"We have to prepare our students academically, technically, professionally and emotionally," Lei said.
Business school students have to be trained as if they're going to the Olympics and they don't know what sport they will be competing in, she said.
Some of the deans who spoke on panels during the conference acknowledged that Friedman's point of view has guided their strategy: In core curriculum, many said they are trying to provide – or are restructuring their curriculum to provide – their students with a foundation in areas ranging from data acquisition and critical thinking to teamwork and emotional intelligence.
Geoffrey Garrett, dean of the Wharton School of Business at the University of Pennsylvania, provided a framework for the conversations by identifying some of the trends he's observed, including the idea that undergraduate business education will become more critical as the value proposition of a traditional MBA becomes too high for many working professionals.
Some of his other observations included:
Business schools will start to leverage liberal arts curriculum more – blending disciplines – as a way of inspiring creativity. "We need an environment where people develop ideas," he said, emphasizing that ideas are only truly valuable if they lead to outcomes. "Ideas into outcomes – some people define innovation that way," he said.

A core competence for all 21st century leaders will be leading diversity, he said. Having a diverse faculty, a diverse student body or even a diverse team is "only the beginning," Garrett said. But when everyone is comfortable expressing an opinion – when inclusionary practices are in place – then the power of diversity is harnessed, he said. "We have to help students develop these practices when they're still in school," he said.   

Learning by doing. Garrett said experiential learning "fires up" students the most. "Experiential learning should be integrated with what we do in the classroom," he said.

Artificial intelligence – machine learning, deep learning – Garrett said, it's all going to be "real important." The challenge, he said, will be "to equip our (business school) students for an AI world without becoming an engineering school."
Georg Kell, chairman of Arabesque and founding executive director of the UN Global Compact, gave the keynote address on the second day of the IUBE Conference.
The focus of his remarks revolved around ESG (environmental, social and governance) issues impacting asset management and long-term company sustainability.  "For decades," Kell said, "business schools have been teaching business ethics – which is good – but it has been predominantly on a moral basis. The 2004 report "Who Cares Wins" provided empirical evidence that 'doing the right thing' improves corporate value."
The report proved that companies with a higher ESG score tend to significantly outperform less sustainable companies.  "Finance is catching up with this 'future fit' to integrate ESG factors into financial analysis," Kell said.
"Education is essential to making the shift to an ESG perspective and opportunity thinking," Kell said.
The final panel session of the conference was "Diversity and Inclusion in the 4th Industrial Revolution" moderated by Assistant Dean for Diversity Programs Charles Brown, Rutgers Business School.
Through personal narratives and program overviews of corporate cultures, the panelists presented encouraging examples of a diverse workforce benefitting individuals and companies alike.  The session affirmed that a range of perspectives and experiences applied to problem-solving produced better results and empowered individuals to make greater contributions.  Attendees came away with an understanding that managers who tried to solve problems on their own failed to use the available resources surrounding them, and undervaluing individuals harmed the workplace environment and deliverables.  Inclusive, diverse corporate cultures produce better results and a sense of belonging and value within personnel.
Michael Burns of Conduent summed up the session: "Good leaders leverage who people intrinsically are at their core to what they do.  The diversity of experiences, thinking, and problem solving of the entire team makes the difference."
Over the two-day conference of engaging panel discussions, networking opportunities and plenary sessions, a clear vision emerged:  In these uncertain times of accelerating technical and global economic, social and environmental changes, business schools are uniquely qualified to meet the challenges of Preparing Students to Lead in the Fourth Industrial Revolution.
Press: For all media inquiries see our Media Kit