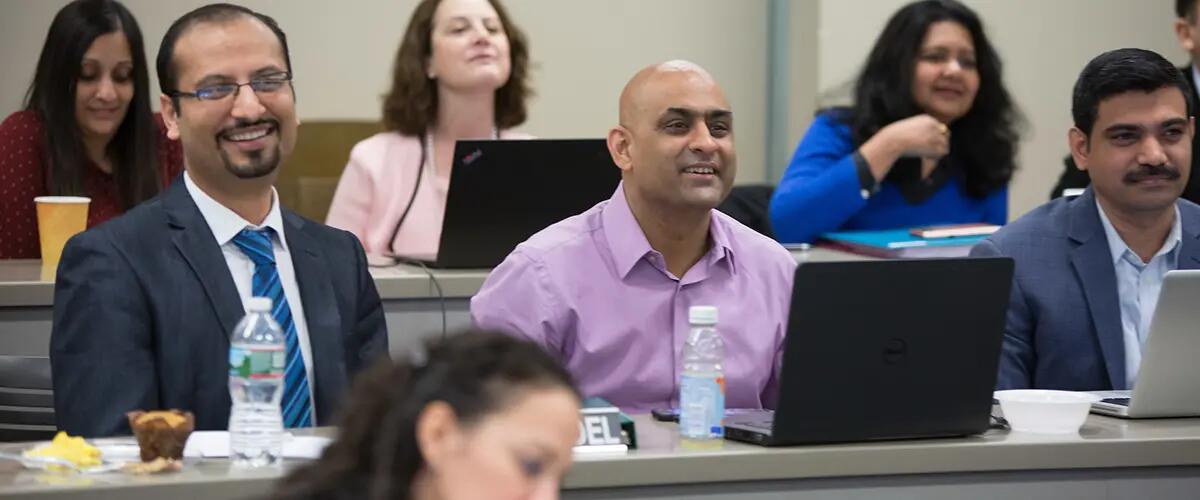 Ivy Exec ranks Rutgers Executive MBA No. 20 in the world
Rutgers Executive MBA ranks No.1 in the world for Life Balance by Ivy Exec.
Ivy Exec released their 2019 global rankings of the best Executive MBA programs and Rutgers EMBA ranked No. 20 in the world out of 189 EMBA programs researched.  This ranking places Rutgers EMBA No. 6 in the northeast U.S. and No. 3 in the Big Ten.  Ivy Exec based its ranking on a proprietary market index that used existing public information about the programs and included the views and opinions of 5,957 survey participants related to career advancement, curriculum, prestige, the global experience, and life balance.  Ivy Exec ranked Rutgers Executive MBA No.1 in the world for life balance.  
Professor & Executive MBA Program Director Farrokh Langdana said, "This Ivy Exec ranking is particularly meaningful given that the survey respondents for these rankings are executives who are either in the job market, or employers who are offering Executive-Level jobs.  These rankings testify directly to the 'executive employability' of our Powerhouse REMBA Graduates.  If you are looking for ROI, look no further; Ivy Exec ranked us No. 11 career advancement in the Northeast!"
The 20-month program, conducted on weekends following a week-in-residence the first week of every semester, was designed for busy executives.  Dr. Langdana, the faculty and staff respect students' other time commitments to career and family, ensuring that every class meeting is a value-added experience.
Current student Jérôme Bridgeman said, "The program is very well structured; the weekend class schedule supports our work/life balance.  Our face-to-face meetings are always very well coordinated and allows us to view the various projects from a wide lens.  I am able to work on projects on a Monday using the lessons that I learned during the prior weekend.  The lessons and projects ultimately helped me add value to my projects and executive discussions.  I have no doubt that the Rutgers EMBA directly contributed to my recent promotion."
"I have a very intense international travel schedule," Bridgeman continued, "but the weekend classes, emailing and video calls with classmates, and contacting my professors enable me to keep up with the program.  All the classes add a great deal of value to my work, from finance, marketing, micro-economics, macro-economics, statistics, web analytics, et cetera.  I have gained a tremendous amount of experience from the EMBA program."
"What I didn't know before joining REMBA was how exceptional it is to have the Rutgers Powerhouse behind you driving you forward," Rogina Boshra.
Rogina Boshra is another member of the Class of '19.  The mother of three had her third child while keeping up with the EMBA program and working full-time.  "The program is intense; all of us are driven, hardworking, and have to make adjustments," she modestly said.  "Being able to immediately apply what I learned in class to my job made the effort easier to bear."
"The Rutgers Executive MBA program is unlike other programs I've experienced," continued Boshra.  "REMBA students support each other; team projects are true collaborations.  When I missed two weekends while delivering my baby, classmates shared notes.  We work together, fill gaps, to the benefit of everyone rather than competing against each other.  The faculty are reachable, responsive and exceptional.  When I was struggling with a statistics problem, Professor Rosa Oppenheim exchanged several emails with me until I understood."
"It's not just one thing that creates the work/life balance; it is the program in totality that warrants the No.1 in the world for Life Balance ranking," Boshra said.  "It's the weekend class schedule, exceptional and responsive faculty, the supportive and collaborative cohort of students who work together rather than against each other that make this program unique. Professor Langdana says: 'Welcome to the Powerhouse.'  What I didn't know before joining REMBA was how exceptional it is to have the Rutgers Powerhouse behind you driving you forward."
-Sean Ireland
Press: For all media inquiries see our Media Kit