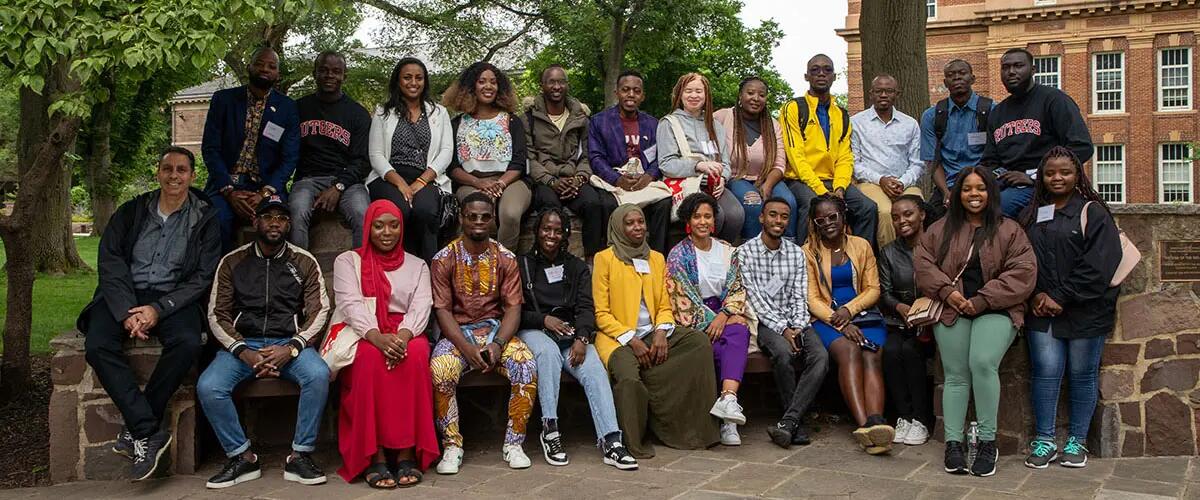 Mandela Washington Fellows gain U.S. perspectives on business issues, leadership
Each summer, Rutgers Business School welcomes a group of young professionals from Africa who have been selected to study business and to expand their networks in the U.S. as part of the Mandela Washington Fellowship for Young African Leaders.
The six-week-long Business Leadership Institute at Rutgers is sponsored by the U.S. State Department as part of its Young African Leaders Initiative. It is led by Kevin Lyons, a professor of professional practice and director of the Public Private Community Partnership at Rutgers Business School, and Johanna Bernstein, assistant dean of global programs at Rutgers Global.
The 25 fellows attending the 2023 institute were entrepreneurs, engineers, pharmacists, architects, finance executives, experts in agribusiness and renewable energy from Angola to Zambia. They were also mentors, STEM trailblazers, community organizers working to empower youth, women, and advocates for environmental sustainability, and affordable housing.
Since 2016, Lyons and Magda Comeau, senior program administrator for the Public Private Community Partnership, have successfully developed and integrated business, entrepreneurship, arts, culture, economic and social impact into the six-week program. Read about previous cohorts of Mandela Fellows at Rutgers and how the program continued during the Covid-19 pandemic.
"We have provided 200 sub-Saharan African young professionals a Rutgers Business School experience which has resulted in the launch and expansion of hundreds of successful business ventures on the African Continent while also furthering the professional education of our Rutgers Mandela Fellow alumni," Lyons said.
- Susan Todd
The 2023 Mandela Washington Fellows at Rutgers
Press: For all media inquiries see our Media Kit