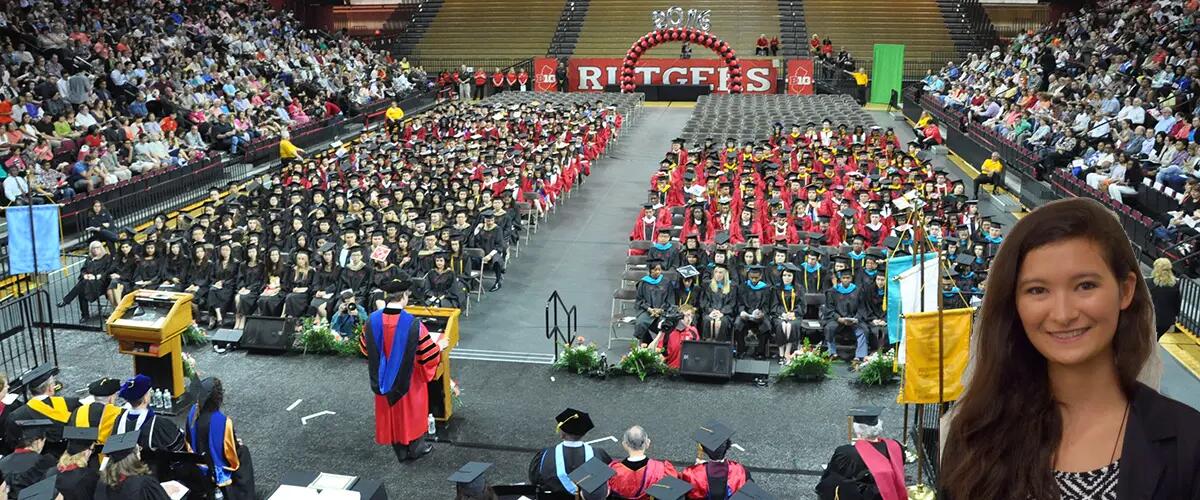 Melissa Diep, RBS '16: "We grew the Rutgers University Business for Youth (RUBY) program to impact over 500 high school students"
2016 Distinguished Leadership Award Winner: Melissa Diep, Rutgers Business School – New Brunswick Undergraduate Program
The dean's Distinguished Leadership Award was created in 2011 to recognize student leaders from Rutgers Business School's graduate program and its undergraduate programs in Newark and New Brunswick. The award is given to students who demonstrate outstanding academic achievement, service to RBS and leadership potential. The name of each recipient is engraved on the Rutgers Business School bell.
Melissa Diep, who majored in supply chain management with an entrepreneurship concentration, was chosen to receive this year's award from the undergraduate program in New Brunswick. After graduation, she will work at CIT Group, LLC. She also plans to launch a pilot of her project Change Booths in Kathmandu, Nepal, in order to improve job recruitment and lower poverty in areas of deep need.
Why did you decide to study business?
"I chose to study business because I knew that a business education would provide me with leadership skills that can be transferable to any industry. My degree gives me the flexibility of developing a career in many different ways."
In which clubs/activities were you involved at Rutgers Business School?
"I was most involved with Rutgers University Business for Youth (RUBY). I co-founded the RUBY club in my freshmen year and, this year, I was its president. The student club was formed to help support and expand the RUBY program, which allows underserved high school students to gain a better understanding of business and prepares them for college through discussions with faculty, RBS students and business executives, field trips to major corporations, seminars on contemporary business topics, activities involving the development of business plans, and SAT preparation classes. Each year, we also pair the RUBY high school students with RBS mentors that support them throughout the semester. We encourage our high school students to reach out to their mentors for guidance and suggestions, and we expect them to be proactive in career planning."
"This semester, I was a part of the Rutgers Entrepreneurial Academy of Leadership (REAL) Ambassador Program, a 6-week program run by Assistant Director Alfred Blake of the undergraduate entrepreneurship programs. I got to meet 17 like-minded individuals with incredible passion, projects, and I learned key components of being a successful entrepreneur."
"I was also an RBS ambassador, where I provided information services at the concierge desk for several hours each week and volunteered at business school events."
My degree gives me the flexibility of developing a career in many different ways.
Which RBS class was your favorite and why?
"My favorite classes (it is hard for me to pick just one) would be the entrepreneurship classes. I took Introduction to Entrepreneurship, Managing Growing Ventures, Social Entrepreneurship, and Innovation, Creativity, & Entrepreneurship. Collectively, these classes gave me the fundamental knowledge, skills, and inspiration to start and lead multiple entrepreneurial projects as a student. Professor Gary Minkoff and Professor Mukesh Patel were extremely supportive, and I am so thankful for all of their advice and guidance that have propelled me to achieve many goals."
What do you think the program has done to prepare you for your future?
"In addition to my classes, Rutgers Business School provided me with numerous opportunities to develop my leadership skills. I was able to participate in many different competitions at Rutgers such as the RBS Business Plan Competition. I also represented RBS in competitions at other universities such as the Hult Prize Regional Finals in San Francisco and Saint Louis University's Pitch & Catch."
"In the future, I would like to lead my own social enterprise to improve many lives. I think that RBS has provided me with a great education and experiences to prepare me for achieving this dream."
What was your favorite "RBS Moment?"
"My favorite "RBS Moment" was making a large impact by growing the RUBY program with my executive board and Dean Martin Markowitz. In the span of four years, we grew the program from a small summer camp to a 3-year-long program that has impacted over 500 high school students. I hope that RUBY will continue to help many more high school students in the future."
-Sean Ireland
Press: For all media inquiries see our Media Kit