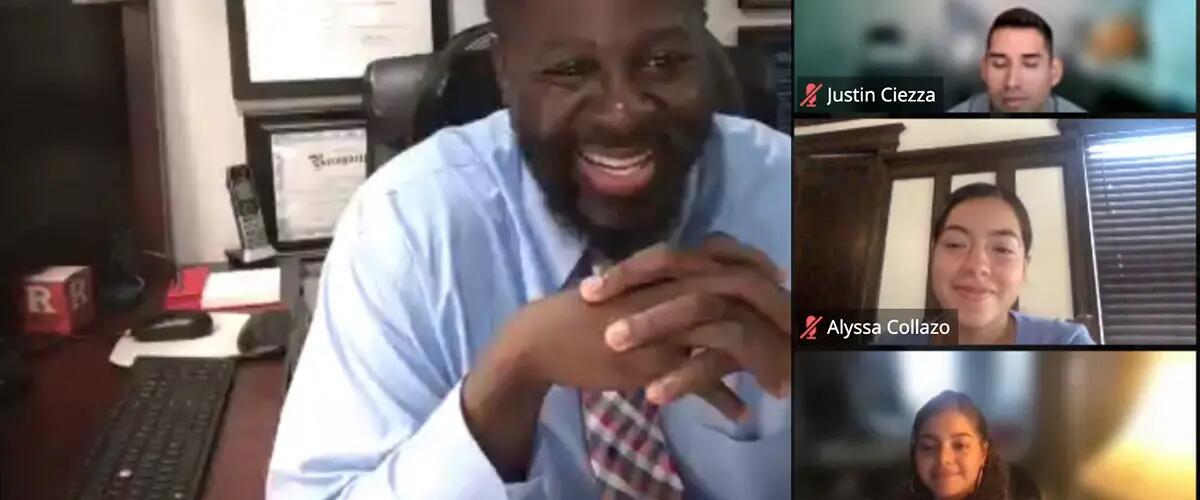 New program sets students on a course to succeed at college, and beyond
Kevana Dupree was nervous about starting college before Rutgers Business School's DiversityLAUNCH Institute turned her anxiety into excitement.
Now, the freshman-to-be is planning to connect with a professor who described an interesting career mixing finance and entertainment that she wants to learn more about. She intends to join the student chapter of the National Association of Black Accountants, and she understands why it will not be too early to attend career fairs, even as a first-year student.
"The DLI (DiversityLaunch Institute) gave us a readiness," Dupree said. "I would say I am much more confident than I was before. I'm more excited."
Over four days, 36 incoming historically underrepresented students, including some who are transferring to Rutgers from county colleges, were introduced to Dean Lei Lei, professors, staff, alumni and working professionals from companies like M&T Bank, Deloitte, and KPMG.
On the opening day, Charles Brown, assistant dean for the Office of Inclusion, Diversity, Equity and Access, told the students they would learn about the career development, scholarships, and employment opportunities Rutgers Business School (RBS) will offer them. "What you're going to learn will propel you into a position of success," he said.
The DiversityLAUNCH Institute is a shorter, less intense version of the award-winning Business Student Transition, Access and Retention. Like B-STAR, it is designed to provide underrepresented incoming, including transfer students, with an introduction to the people, programs, and opportunities at Rutgers Business School.
In the same way that each cohort of B-STAR students begin college already connected to a circle of friends and a support system, so will the DLI students. Dupree said the program left her with a sense of belonging and support. "I got a feeling of community and a feeling like we're going to help one another succeed," she said.
"DLI is a program for them," he said, describing it as a B-STAR accelerator – without the three-credit course but with many of the same workshop topics and empowering introductions. The program intentionally includes transfer students. "It will be a (safety) net for underrepresented transfer students," Brown said.
The students who participated in DLI will also join the new B-STAR cohort and benefit from its programming, mentoring and career development resources while they progress through Rutgers.
"I don't think it will be the hardest class you'll take at Rutgers Business School," Eugene Gentile, director of the Office of Career Management at Rutgers Business School-New Brunswick said describing the Business Forum course to the DLI scholars, "but it will be the most important."


M&T Bank was the title sponsor of the inaugural program. Other corporate partners who work closely with Rutgers Business School and IDEA are EY, KPMG and PWC.
In addition to faculty and staff, the students heard from representatives of groups like SEO Career and MLT who reinforced messages about the importance of building networks, differentiating themselves and applying for internships.
But it was the alumni speakers – whether it was graduates who told of the support they received as members of the B-STAR program or the working professionals who shared insights about their own career paths and insights – that resonated with many of the students.
Esron Holder, who is starting his freshman year at RBS-Newark, said Rutgers alumni working at different companies – major companies – was inspirational and proof of possible achievement. "Once you do what you have to do, the possibility of where you go is limitless," he said.
For incoming RBS-New Brunswick first-year student Akwasi Akosa, the highlight of the program was the Secure the B.A.G. (Budgeting, Assets, and Generational Wealth) Workshop presented by Rutgers MBA alum Wes Ifan, CEO and senior financial advisor at KOBO Wealth Strategies. "Hearing from another Black man about the importance of starting early to save, invest, and create a financial plan for the future changed how I handle money," said Akosa. "I've already created and contributed to a long-term growth account."
Holder said after going through the DiversityLAUNCH Institute, he feels supported. "My biggest take-away is, I'm not going into this alone. Everyone – the deans, the staff, the professors – are giving us the resources to succeed."
He said the students, who were known as "DLI scholars," were building their networks during the program. It did not take long before they were encouraging one another to add new connections to their LinkedIn accounts every day after different workshops, he said.
Many of the sessions were designed to provide the students with an introduction to the opportunities they would have at Rutgers Business School, and the speakers in every workshop left time for students to ask questions.
The students had plenty of questions for the Rutgers alumni working now at M&T Bank as well as the recent B-STAR graduates. "What was your favorite memory," one asked. "Did you do a study abroad?" "What clubs and organizations did you belong to?"
A team from the Office of Career Management described apps that students could use to track events and activities. They explained the required Business Forum class, which focuses on preparing students for careers. "I don't think it will be the hardest class you'll take at Rutgers Business School," said Eugene Gentile, director of the Office of Career Management at Rutgers Business School-New Brunswick, "but it will be the most important."    
Hannah Salto, program coordinator of mentoring programs at Rutgers Business School, explained the benefits of having a mentor.
"Mentoring is important for exploring opportunities and career paths, developing your professional skills, and learning to navigate collegiate challenges from someone who can help you obtain tangible career outcomes," she told the students.
Salto described the mentoring opportunities, including one tailored to transfer students. "Yes, your time here at RBS is shorter and you have to hit the ground running," Salto said. "However, we have programs you can join your first year that are not available to incoming freshmen."
On the final day of the program, Abby Weiss of M&T Bank's Talent Acquisition and Daniel Son, a commercial banker at M&T, described the company's culture, internship opportunities and employee resource groups.
Weiss also fielded questions from the students who wanted to know if they had to wait for junior year to apply for an internship. They asked about the employee resource groups, which Weiss described as "a great way to meet folks you would not ordinarily come into contact with."
Brown, who attended each of the sessions during the program, expressed appreciation for M&T's partnership. "I'm looking forward to everything we're going to be working on in the future," he said. "I'm also looking forward to having RBS students go to work at M&T."
Press: For all media inquiries see our Media Kit