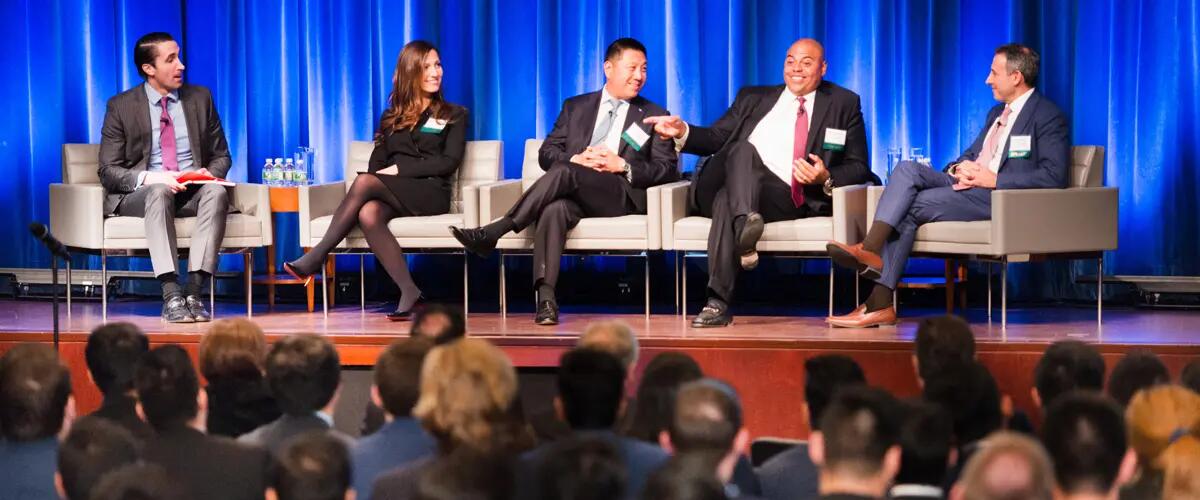 New York finance event celebrates Rutgers students, alumni on Wall Street
12th Annual LIBOR Finance Summit brings Rutgers alumni, students and faculty together to discuss current events in the finance industry and provide networking opportunities
Over 300 Rutgers Business School students, alumni and faculty gathered among the majestic halls at Credit Suisse on Madison Square Park at the 12th Annual Finance Summit organized by the student-run Little Investment Bankers of Rutgers (LIBOR).
LIBOR's Finance Summit has become one of the biggest events of the year to both discuss current events in the finance industry and celebrate the accomplishments of Rutgers Business School students on Wall Street. Through RBS programs like Road to Wall Street and the Rutgers Student Managed Fund, RBS students have a path that leads to meaningful careers on Wall Street.
Students will be following in the footsteps travelled by pioneering Rutgers alumni including former President and Co-Chief Operating Officer of Goldman Sachs Harvey Schwartz who spoke about how instrumental Rutgers was in his life during the keynote address, Parshu Shah, Managing Director at Credit Suisse, who was excited about the future of RBS to provide talent and energy for Wall Street, and the alumni panelists:
Brian Chin, CEO of Global Markets at Credit Suisse

Mark Friedman, Senior Managing Director at Evercore

Milwood Hobbs Jr., Managing Director at Oaktree Capital

Melanie Vangopoulos, CFA, Portfolio Manager at Millennium Management.
The panel discussion, moderated by Joseph Gasparro, Head of Capital Services Content at Credit Suisse, gave a 360-degree view of life and work in the finance industry. Common themes on how to advance in your career were to work extremely hard, fit the culture of your firm, find a mentor and be authentic.
Dean Lei Lei spoke about the initiative for Rutgers Business School to take over the Road to Wall Street program to bring students closer to faculty, alumni and career advisers who can leverage their experience and relationships with Wall Street firms [see story: Road to Wall Street gets realignment].
Many of the students and alumni in the room lit up when they saw Ben Sopranzetti, Professor of Finance and Assistant Chair of the Department of Finance and Economics, who they call "Dr. Ben," recognizing him as a major force in elevating Rutgers Business School's stature on Wall Street.
Press: For all media inquiries see our Media Kit