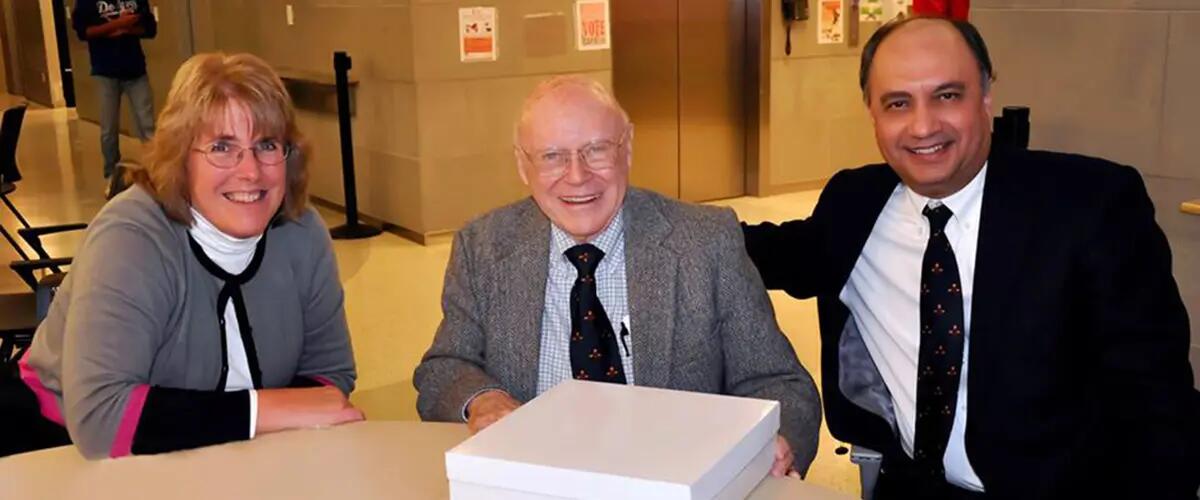 Philip Shaak, a giant behind the "powerhouse" Executive MBA program
This article was written in April of 2014 when Philip Shaak, a retired professor and the founding director of the Rutgers Executive MBA program was honored during a luncheon at Rutgers Business School. Professor Shaak, who retired in 1988 after 35 years on the Rutgers faculty, passed away on June 24. In tribute, we are reposting an interview with him that was done during his visit.
Philip Shaak, a retired professor and the founding director of the Executive MBA program, was honored on April 4, 2014 during an EMBA luncheon at Rutgers Business School.
Shaak, who once served as an associate dean, said he looks back at EMBA as the most exciting period of his career.
"I really liked teaching and that was the most exciting teaching time for me," he said. "I was extremely fortunate in my career."
Professor Farrokh Langdana, the current EMBA director, said he and Assistant Dean Kathleen Connelly Harmon were "honored to be part of (Shaak's) legacy to RBS."   
"Kathleen and I have often told Professor Shaak that the Rutgers Executive MBA Program has been able to garner all of its global rankings because it was built on the shoulders of giants, such as Phil Shaak and his team," Langdana said.
"It was this hard-hitting and fast-moving team of professors that included the likes of Giles Mellon, Bob Rothberg, Bob Schlosser, Allan Roth and Rosa Oppenheim," he said, "that have allowed Rutgers EMBA to become the 'powerhouse' that it is today."
It was only fitting, Langdana said, to let Shaak know "how much we, the faculty and staff and students of Rutgers EMBA, owe to him and his team." EMBA administrators presented Shaak with an ornate handmade glass plaque from Newark-based Glassroots.
While Shaak was in town – only his second visit since retiring in 1988 – he took some time to talk about EMBA's early days, the program's growth and his time at RBS.
Q: Tell us about the start of the Rutgers Executive MBA program.
A: We had 12 people signed in before my heart attack in June (of 1987). I was out for a couple of months, but when I got back the program was underway with 35 students, and we proceeded from there. The issue fairly quickly turned to getting ready for the next year's program. We had a faculty group together that was well experienced, very effective in the classroom so there were very few issues involving the teaching process. We knew we had a good faculty and that turned out to be the case.
We had to get a class together in 1987. That was a marketing effort because the EMBA program was new. It was a matter of convincing folks and their companies to enroll in the program. I understand with the tremendous achievements in recent years, and the recent rankings, there's a lot of momentum now so a lot of great candidates come in with some very positive views of the program already.
Q: The Rutgers EMBA came one year after Columbia, so you were still pioneering. How did you go about building EMBA?
A: We knew we wanted people with experience to come in. Not just one or two years of experience. We wanted people who had been in the business world for a while, people in middle management who had not gone on to get their master's degrees.
We were able to attract a few lawyers, a physician and other professionals. The average age was 35 or so. They were very bright people. Their interactions with one another were very collaborative. A lot of the learning in the MBA program is among the students. They have some tremendous backgrounds.
Q: Did anything differentiate the Rutgers EMBA program?
A: The early EMBA programs were fairly similar to one another.
Q: What do you think of Newark now?
A: It's startling, it really is. I came up Broad Street and the changes on Broad Street are immense.
Q: Rutgers was a big part of your life, can you tell us about the time you spent here as student and a professor?
A: When I started at Rutgers, it was 1948 as an undergraduate student. It was the Newark College of Arts and Sciences. The business school was the junior and senior year, so originally it was in the College of Arts and Sciences. After finishing my sophomore year, I transferred down to the business school and graduated in 1950. That's when the master's degree program was started. I graduated with an MBA in 1953. I was asked to join the University College faculty. They were looking for an instructor in management and it worked out that I joined the University College faculty for a few years. I went to Harvard Business School and got my doctorate and in 1961 came back to the Rutgers Business School faculty. I remained with the business school until 1988.
Q: What do you think of what EMBA has become?
A: This program has only one way to go and that's up. I don't think it should grow more in size beyond what it is now. The quality of the program is very strong and will get better. That's going to attract very good students but it's also going to attract and hold the very best faculty. That's critical. One of the key parts of EMBA is it's not simply a sterile academic exercise. There's a blending of the academic world with the real world of business. That blending is what makes the program so successful.
-Andrea Cunnell and Susan Todd
Press: For all media inquiries see our Media Kit