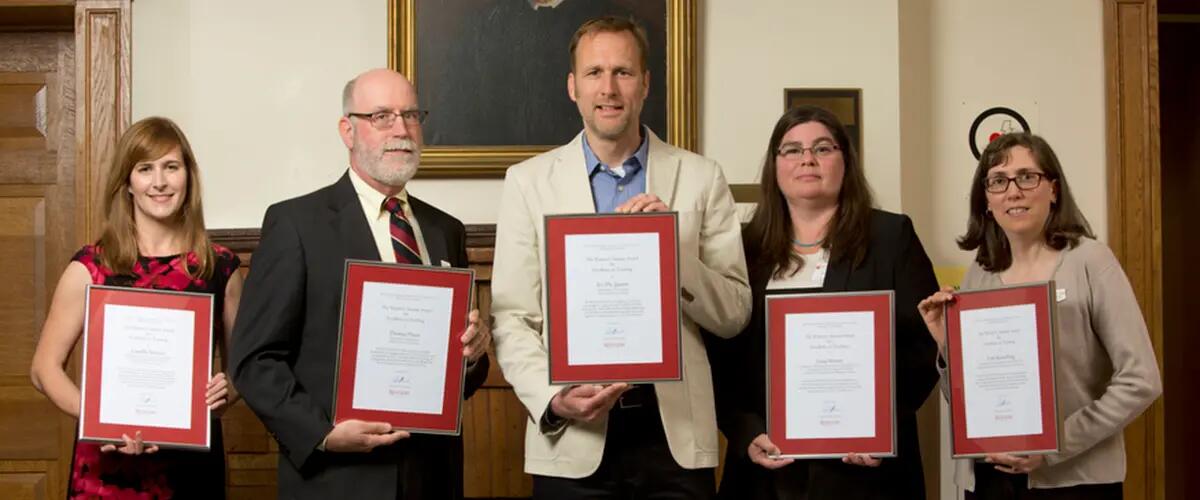 Professor Terri Kurtzberg receives a Warren Susman Award for Excellence in Teaching
The winners of the Warren I. Susman Award for Excellence in Teaching for 2015-2016. Professor Terri Kurtzberg is standing on far right. Other winners are: Professors Lena Struwe, Ivo Jansen, Thomas Prusa and Camilla Stevens.
Professor Terri Kurtzberg, who teaches negotiations along with other management and organizational behavior topics, is a winner of Rutgers University's Warren I. Susman Award for Excellence in Teaching for 2015-2016.
The award is the university's highest honor for innovative teaching and mentoring. It includes an honorarium of $1,000.
"What makes Professor Kurtzberg an especially extraordinary teacher is her innovation in methodologies for teaching management-related courses," Dean Lei wrote in a letter recommending Kurtzberg for the award.
"Across all courses she has taught, including very challenging courses in the management field, Professor Kurtzberg has achieved an overall teaching rating average of 4.6 out of 5, including both core and elective courses," Lei said. "This is a tremendous accomplishment and speaks volumes about her superior ability to present complex information in an engaging and relatable manner."
Kurtzberg said being selected for the teaching award was an honor.
"I am honored that my department chair sought to nominate me and awed by the incredibly positive response from the faculty members and former students who so generously supported my application," Kurtzberg said.
"To be recognized on the university level like this is really no small thing," she said. "It has most definitely left its mark on me and my teaching."
Kurtzberg is part of the Management and Global Business faculty at Rutgers Business School. She has been teaching at Rutgers since 2002. She teaches undergraduate as well as MBA students and also teaches students in the Executive MBA program.
Kurtzberg received the award during a ceremony May 5 at Winants Hall in New Brunswick.
- Susan Todd
Press: For all media inquiries see our Media Kit