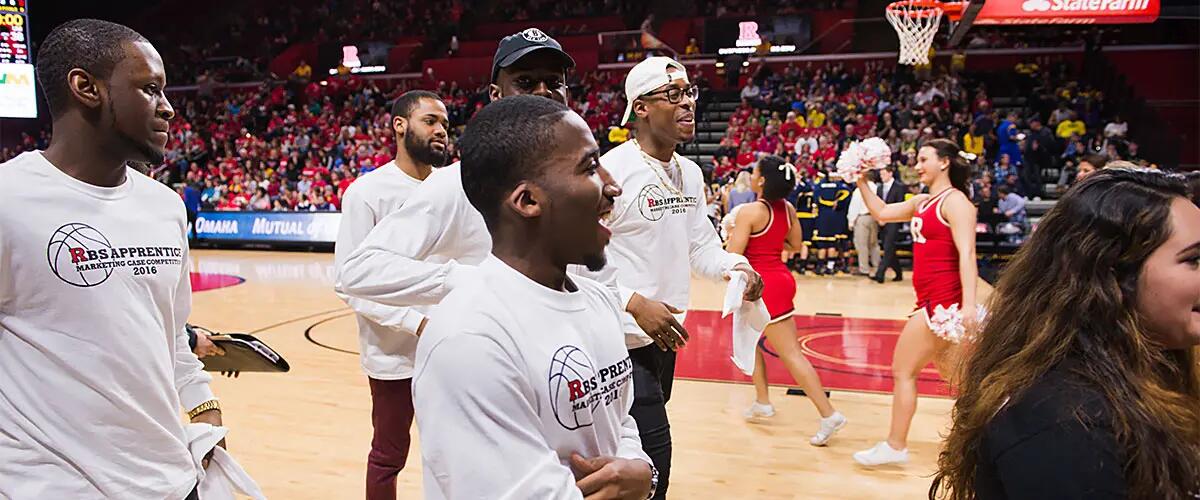 RBS Apprentice competition gives students chance to do work of marketing professionals
Larry Hill and his four team mates from Rutgers Business School considered themselves the underdogs leading up to the final round of the RBS Apprentice marketing case competition.
They were designated an alternate twice. And twice, another team dropped out, clearing the way for them to advance in a contest that required the students to develop a marketing plan to boost attendance at a Rutgers women's basketball game.
Hill and the rest of the Scarlet Raiders team – Wadnes Castelly, Musa Elison, Chinedu Onyema and Tochi Ukaigwe – executed a powerful social media campaign with a catchy hashtag that helped to bring 300 people to the Rutgers Athletic Center when Rutgers faced off against Michigan on Feb. 28. They targeted student organizations and Robert Wood Johnson University Hospital and partnered with the Office of Housing for some added momentum. And the underdogs, who like to repeat a Michael Jordan quote about not letting obstacles stop you, took home the top prize of $5,000.
The five are all seniors with heavy course loads and schedules busy with activities and responsibilities. But unlike some of the other teams, Hill said, the Scarlet Raiders knew one another before the marketing competition.
"It was tough at times," Hill said, "but it worked in the end."
Nearly two years ago, Coach Vivian Stringer mentioned the possibility of having Rutgers Business School students help promote women's basketball. Senior Associate Dean and professor Phyllis Siegel, who is a fan, didn't forget the comment.
She worked with Assistant Head Coach Betsy Yonkman and RBS marketing instructor Erich Toncre to develop a competition that would give students hands-on marketing experience and help rally Rutgers students and the public around women's basketball.
Toncre, who served as advisor to the teams, said the competition helped to "transform" the students into marketing professionals. "All the teams had very good ideas," he said. "What set the Scarlet Raiders apart was their execution. They delivered the best outcome in terms of getting fans in the stands."
"This was a great opportunity for our students to show their stuff," Siegel said. "And it proved what we always say, our students are not just well-trained, they will roll up their sleeves and get the job done."
Each of the five teams that made it to the final round of competition – 15 were eliminated in two earlier rounds – were given a budget of $2,500 and assigned groups to target, including veterans, graduate students, faculty and girl scouts.
The teams produced logos and videos and fliers. They reached out to community groups and area high school coaches by telephone and email. They created special promotions to entice people to come and reward the ones who followed through. To win the $5,000 prize, though, they had to deliver, in this case by filling seats. Spectators drawn to the game by one of the student teams had to bring the team's flier and turn it in so there was a way of counting how effective the teams were in bringing people out.
The students were credited with boosting the number of spectators at the game by 819, or 37 percent, making the final game of the season the second biggest crowd of the year, according to Geoff Brown, senior associate athletic director and chief marketing officer.
Sarah Baumgartner, Rutgers University's senior associate athletic director and chief development officer who served as a judge at the RBS Apprentice awards program on March 9, said the larger crowd elevated the level of energy and spirit inside the RAC on game day. "You helped our team tremendously," Baumgartner said. Rutgers beat Michigan 72-50.
In addition to Baumgartner, Rutgers Business School Dean Lei Lei, professor Ashwani Monga, chair of the RBS marketing department, and Michelle Edwards, director of operations for women's basketball, served as judges.
During the awards program, the teams made presentations and analyzed the effectiveness of their marketing campaigns, which culminated at the RAC on game day.
At the RAC, the Scarlet Raiders passed out white sweat towels emblazoned with their logo while Sonam Patel and Shahnza Shahid, members of the Knightovators, were busy handing out cups of Mac and Cheese. Patel said she never realized marketing was so difficult.  "We really had to think outside of the box," she said. "This is the day we've been working towards, so it's really exciting."
Like the Scarlet Raiders, the Knightovators used social media, creating an Instagram contest that offered an Amazon tablet to the person whose photo received the most "likes" and designating $250 to a local Girl Scout troop as an incentive for coming to the game.
The team attracted nearly 200 people. The Knightovators won $1,000 in the competition's category of Best Return On Investment. The students who called themselves The Big 5 won the $1,000 prize for Best Potential.
Theresa Salud, a member of The Big 5, said she saw the marketing of the women's basketball game as a good cause that could turn Rutgers students into new fans. "We felt if we could just reel them in, they would know how good our team really is," she said, "and maybe it would become a new experience for them."
Each of the teams had their own creative strategies for marketing the game. Members of the Brick City Grinders team used an Instagram icon cut-out to encourage people to post photographs on game day and team member Roberto Delgado appeared before a Rutgers Business School faculty meeting to make a personal pitch to Rutgers Business School professors and instructors.
The fifth team, Full Court Press, tried to differentiate themselves by spending the least money. They created a Twitter campaign to build awareness and to engage prospective spectators with one of the team's top players, Kahleah Cooper. (The effort won Cooper 40 new followers)
"We wanted our efforts to have a lasting impact," Melissa Granet said. "We think a lot more students know about the team now."
All of the students talked about the experience of working as a team, whether they knew one another before the competition or not. "Something undervalued and not taught is teamwork," said Daniel Klizas, a member of the Brick City Grinders. "This was invaluable experience."
The Scarlet Raiders held 4 a.m. meetings to make sure things were getting done. Team member Tochi Ukaigwe said his motivation was often the direct result of the team's strong bonds.
"I didn't want to let any of them down," he said.
Siegel said all of the students leveraged their knowledge of marketing as well as finance, supply chain and management and proved to be nimble and unflagging. "I was very impressed with their ingenuity, creativity and energy," she said. "They really made RBS proud."
The following is a complete list of the students who made it to the final round of the RBS Apprentice and how they finished in the competition:
The Big 5: Mario Beshir, Amogh Karwar, Leonard Lee, Theresa Salud and Andrew Tsai. Won $1,000 for Best Potential.
Brick City Grind: Roberto Delgado, Isaac Erazo, Sophia Gonzalez, Daniel Klizas and Nicole Perez. Runner up for ROI.
Knightovators: Sonam Patel, Zachary Pincus, Shahnza Shahid and Isabella Verdi. Won $1,000 for ROI.
Full Court Press: John Butler, Tyler DeMartin, Melissa Granet and Erica Young. Runner up for Best Potential.
The Scarlet Raiders: Wadnes Castelly, Musa Elison, Larry Hill, Chinedu Onyema, Tochi Ukaigwe. Won $5,000 grand prize for best outcome.
 -Susan Todd
Press: For all media inquiries see our Media Kit