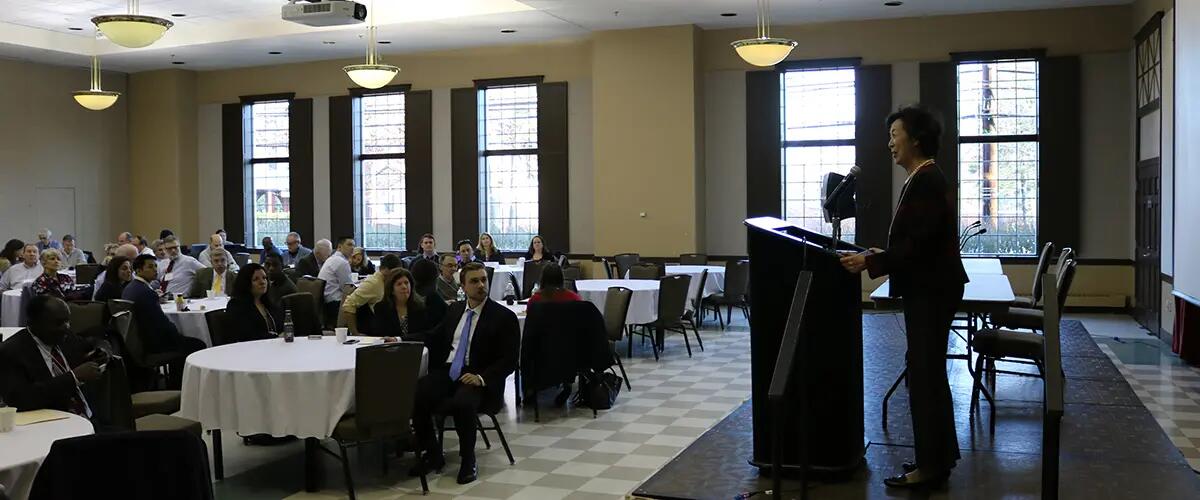 Rutgers Accounting and Auditing Conference brings state auditor and accounting professionals together
The 2015 Rutgers Governmental Accounting and Auditing Update Conference took place at the Douglas College center of the Rutgers University – New Brunswick campus.  Accounting and auditing professionals from throughout New Jersey attended and could earn 8 CPE credit hours (Continuing Professional Education).
Dean Lei Lei, Executive Vice Dean Mensah, and Director, Rutgers Master of Accountancy – Governmental Accounting Irfan Bora welcomed the participants.
The purpose of the conference is to bring leaders in public financial management to address the most pressing issues, and provide an update on current regulations, accounting pronouncements, auditing issues, and other subjects of interest.  New Jersey Acting Treasurer Ford M. Scudder, and Deputy Director, NJ Division of Local Government Services Christine Caruso gave major addresses.
Rutgers Business School Instructor of Professional Practice Evan C. Wasserman, Accounting & Information Systems, found the conference as a whole very informative.  "Mr. Scudder's candid analysis of New Jersey's tax system was very interesting," said Wasserman.  "I can incorporate certain significant developments in accounting and auditing presented during the conference into the classes that I teach."
Alumna of the Rutgers Master of Accountancy – Governmental Accounting program, Kathleen Nolan of Suplee, Clooney & Company - Certified Public Accountants, said: "I think that the conference was a great experience in being able to see the correlation between the curriculum in the MACCY-Governmental Accounting program and how it is adaptable in the governmental accounting world."
-Sean Ireland
Press: For all media inquiries see our Media Kit