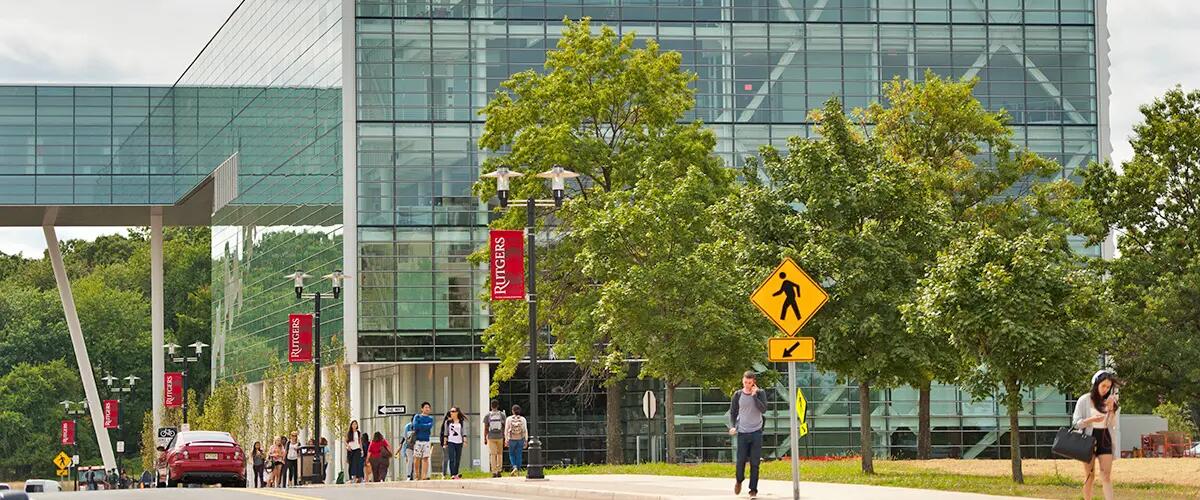 Rutgers Business School MBA team wins supply chain finance case competition
A team of Rutgers Business School MBA students won first place in the second annual Rutgers Ten Plus Supply Chain Case Dual Challenge held in New Brunswick, March 31-April 1. This year's case competition brought nine graduate and six undergraduate teams competing in parallel events focused on Supply Chain Finance.
Teams from Big Ten Universities such as Indiana, Iowa, Ohio State, Maryland, Penn State, Purdue, Wisconsin, and Rutgers, plus teams from the Arkansas, Northeastern, Pittsburgh, Rider, Stevens Institute of Technology, and Syracuse all competed for a top prize of $3,000 in each division - graduate and undergraduate.
The winning Rutgers MBA team consisted of Rebecca King, Matthew Watters, Anupriti Warade, and Jagadish Mahendran. Pittsburgh finished in second place, with Maryland coming in third. Watters was honored with the "Most Professional Presenter Award."
In the undergraduate competition, Stevens Institute of Technology took first place and Rider University came in second.
The judges for this event represented a wide range of companies such as Dell, Johnson & Johnson, Kuehne & Nagel, Damco/Maersk, Solvay Chemical, Credit Suisse, Estée Lauder, Verizon, and others. The panel of judges for the final round consisted of some of the world's top experts on Supply Chain Finance:
Mike Dundas, Vice President, Global Manufacturing & Operations Engineering at Dell, is in charge of the supply chain that is widely cited as one of the best in the world.
Jordan Novak, Managing Director at C2FO, one of the most innovative and fastest-growing financial technology companies.
Steve Lauricella, Director at Greensill Capital, one of the largest funders of Supply Chain Finance programs worldwide.
Doug Schoch, Vice President, Captive Business at Siemens, leads one of the first and largest Supply Chain Finance programs in the world.
Anubhav Shrivastava, Director and Head of North America Supplier at Citigroup, which is the largest bank in Supply Chain Finance worldwide.
Rutgers Business School's Graduate Supply Chain Management program was recently ranked #11 nationwide - U.S. News & World Report, 2016; the MBA program was ranked #3 in employment nationwide - U.S. News & World Report, 2016.
-Sean Ireland
Press: For all media inquiries see our Media Kit