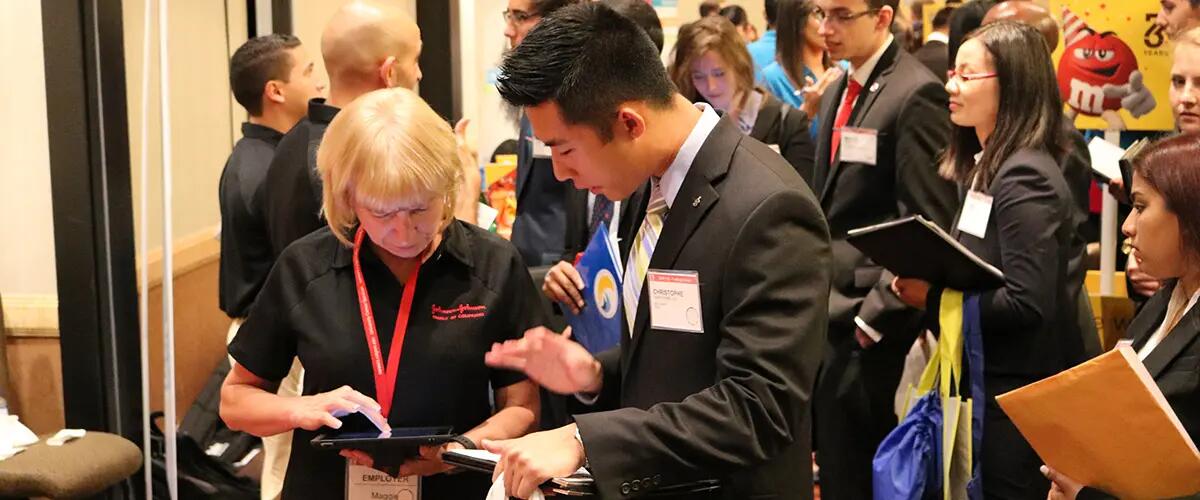 Rutgers Business School students pack and impress at Fall 2016 Business Career Fairs
Over 70 companies and hundreds of students attended the Rutgers Business School-New Brunswick Fall 2016 Business Career Fair, Friday, September 23, 2016. The large conference ballroom in the Heldrich Hotel was shoulder-to-shoulder with enthusiastic students armed with resumes, elevator career speeches, and smiles.
Reid Postle of Textron Aviation, the Wichita, KS manufacturer of Beechcraft, Cessna, and Hawker aircraft, was impressed with the students.  "There were more freshmen and sophomores than I expected," said Postle.  "These students were mostly attending the career fair to gain the experience for later when they are nearing graduation and looking for careers."
Textron Aviation is looking to fill over 400 internships this year, mostly with undergraduates.  With positions ranging from customer support, engineering, finance, information technology, integrated supply chain, to sales and marketing, they will be placing graduate students as well.
"Some students asked: 'would I just be pushing paper' in this internship?  No, in sales and marketing, for example, the interns will be out there meeting people, making connections. These are meaningful internships," Postle said.
Tom Nagy waited in lines up to 20 minutes to speak with recruiters from the larger companies in finance and investment.  "I want to get an internship with a bigger company to gain that experience for applying to an MBA program later," said Nagy.
Director Eugene Gentile, RBS New Brunswick Office of Career Management, said that the corporate representatives were impressed with the RBS students' professionalism.  "Beyond the coursework and mock interviews, Rutgers is tough.  Navigating the bureaucracy and size of Rutgers provides real-world challenges and experiences that transfer to careers after graduation," Gentile said.
Rutgers Business School-Newark also hosted their annual Career Fair on Wednesday, September 28, 2016. Students had the opportunity to network with nearly 50 companies.
Dean Thomas Hopkins, Director of Rutgers Newark Career Development Center, emphasized the "great advantage networking allowed for the students."
Cheryl Egan, assistant director and intern coordinator of the Career Development Center, stressed how vital it is for students to have the "one-on-one with employers" and that it "promotes and sells their skills and what they have to offer."
Jorge Paneque, a teaching assistant for Business Forum and president of the Rutgers Finance Society, has been attending the career fair since his freshman year. He encourages all students to come to "expand your network, develop a connection with recruiters, and practice your elevator pitch."
Rutgers Business School student Renato Franco Rosas said attending the Career Fair is a great way to "explore opportunities that Rutgers-Newark has to offer" and adds that, "it's not an opportunity you see every day."
-Sean Ireland and Amanda Pan
Press: For all media inquiries see our Media Kit