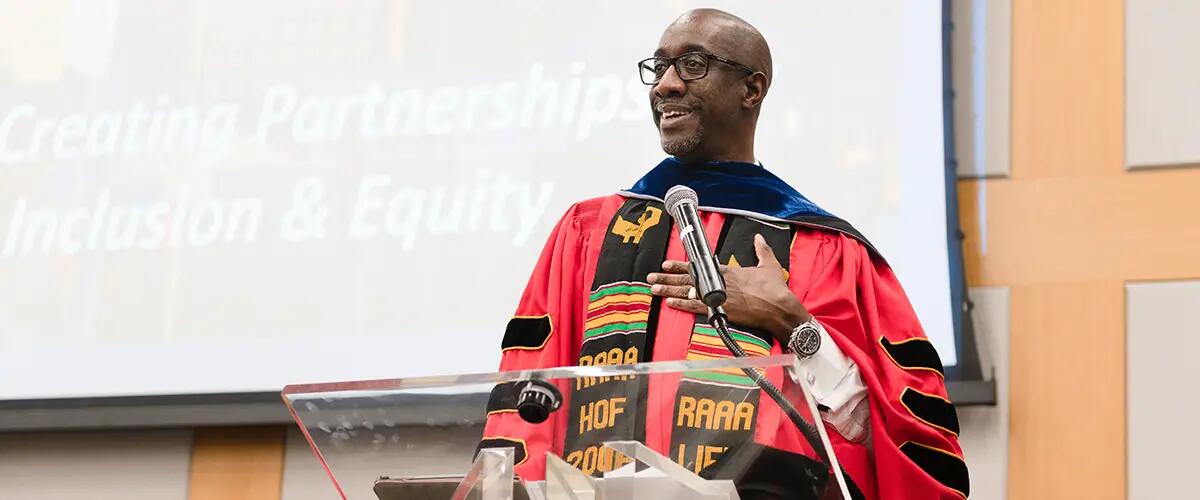 Rutgers celebrates Jeffrey A. Robinson as the new Prudential Chair in Business
On a bright and beautiful autumn day, faculty, friends, and family gathered on the Rutgers University – Newark campus to celebrate the investiture of Jeffrey A. Robinson as the next Prudential Chair in Business at Rutgers Business School (RBS).
Robinson follows in the footsteps of his mentor Jerome D. Williams, who held the inaugural Prudential chair since 2010 until his unexpected death in 2021.
"It's incredibly emotional for me to sit where Jerome sat and be able to see where I was born in East Orange, New Jersey, two miles from here, and reflect on my life's journey that brought me to today," said Robinson. "I am honored to continue Jerome's legacy that focused on inclusivity, innovation, and equity," he said.
The Prudential Chair in Business was created to advance a multidisciplinary approach to business education with a focus on science and technology, ethics, and social justice. Nancy Cantor, Chancellor of Rutgers – University Newark praised Robinson as the "perfect match" for the chair. "He is a pioneer in social entrepreneurship and a steadfast builder of inclusive innovation," she said.
Robinson believes that the innovators who are participating in the economy should be as diverse as our nation. His work as a research fellow at Rutgers Advanced Institute for the Study of Entrepreneurship and Development (RAISED), has added to scholarship that shows how more diverse teams lead to more innovation and higher profits.
As the former founding assistant director and the current academic director of The Center for Urban Entrepreneurship and Economic Development (CUEED), Robinson has been able to put his influential scholarship to practical implementation through social entrepreneurship and promoting minority businesses.
"Making a positive social impact on society is an integral part of our mission," said Lei Lei, dean of Rutgers Business School. "Professor Robinson has made a great economic impact on our communities. He is also deeply involved in making the tech sector more inclusive," she said.
Known for his laser focus on entrepreneurship solutions to economic problems, Robinson has put Rutgers Business School on the map for social inclusion and social entrepreneurship according to Ajai Gaur, chair of the department of management & global business at RBS.
It was this opportunity to move ideas from academia into the real world that attracted Robinson to Rutgers. "Jeff is a remarkable young man whose career at Rutgers has allowed him to flourish," said dt ogilvie, CUEED's founding director, and currently a professor at Saunders College of Business at Rochester Institute of Technology. "He has inspired and improved hundreds of lives through his work," she said.
In his "Prudential Chair Lecture," Robinson described some of his life experience that influence his ideas and drives him to advocate for inclusive innovation. He was one of only two Black students at his elementary school in Parsippany, NJ. He was also the first from his family to go to college and one of the only Black students studying civil  engineering at Rutgers University.
After Robinson graduated from Rutgers in 1995 with a degree in civil engineering and urban studies, his father sent him an ad promoting the PhD Project. The program was designed to create a pipeline of diverse students to earn advanced degrees and gain the technical expertise necessary to drive innovation.
"Dr. Robinson is a defining example of why we started the Ph.D. Project," said founder Bernard J. Milano, who attended the investiture ceremony. "We cannot have a diverse workforce without diverse graduates. We cannot have diverse graduates without diverse faculty," he said.
Press: For all media inquiries see our Media Kit