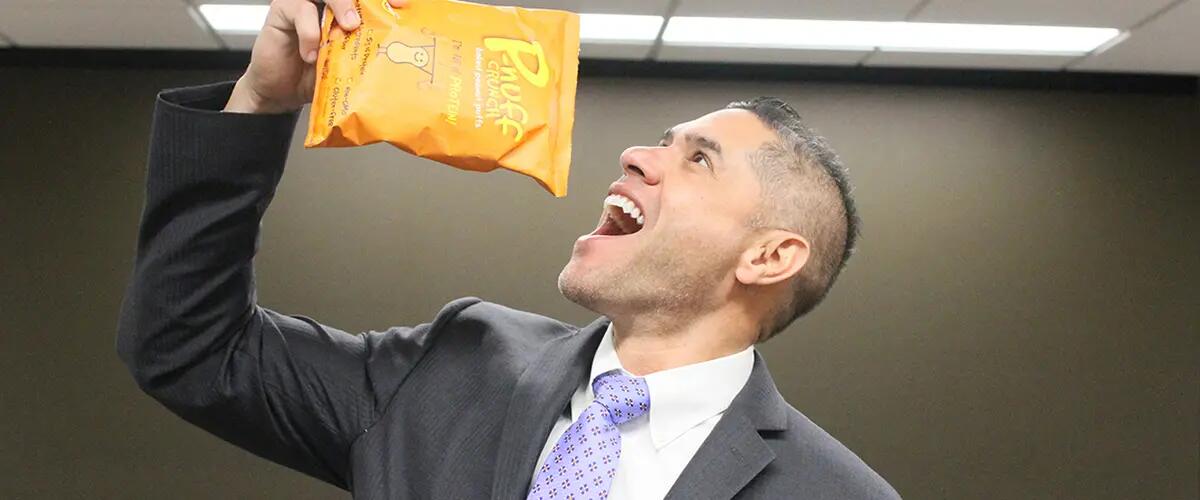 Rutgers entrepreneur makes a deal on ABC's Shark Tank
A Rutgers graduate's sensational pitch for a deal to help grow his tasty plant-based nutritional snack secured a startling $400,000 investment from entrepreneur Mark Cuban on the latest episode of Shark Tank.
Juan Salinas, who founded P-nuff Crunch, has a Ph.D. from Rutgers in food science and was working on a Rutgers MBA in 2018 when he won the top prize in Rutgers Business School's annual business plan competition.
His winning pitch at Rutgers was tame in comparison to the flair he exhibited on the Oct. 23 episode of Shark Tank.
When Salinas stopped before the five sharks, he was dressed in a white lab jacket. He introduced himself as a food scientist who had studied at Rutgers University and worked for several large food companies as a food formulator.
A few minutes into the pitch, Salinas ripped off his lab jacket to reveal a bare, muscular chest and chiseled abs. He flexed his bare arms. He told the sharks that his interest in bodybuilding drove his desire to produce a snack that was both nutritious and good tasting.
Once the gushing and smirks subsided, the sharks asked Salinas about his product sales. (Currently $104,000) How many stores sold the snack? (In the U.S., 450.) Where did it sit in stores? (Near the chips and other snacks.)
Salinas said the peanut ingredient in his product had caused him to be forced out of several manufacturing plants, so with the help of a family investment, he purchased a facility of his own. He also explained that despite his strengths in formulating and nutrition, he needed help in sales and marketing.
As one of the sharks puzzled aloud over how to value the company, businessman Mark Cuban interrupted. He said he had devoured a bag of P-nuff Crunch that his wife brought home from the store. His wife was disappointed when she couldn't find more, he said.
And then Cuban offered Salinas a deal: $300,000 for a 25 percent stake in the company. Salinas looked stunned. The other sharks on the reality show looked equally surprised. Salinas countered, reducing the stake to 15 percent. Cuban shook his head.
The other sharks encouraged Salinas to take the deal. "What's there to think about," Kevin O'Leary told Salinas. After a few more exchanges, Cuban offered $400,000 for the 25 percent stake. Salinas was quiet, looking as if he might be doing calculations in his head.
And then he suddenly shouted: "I'll do it."
"I'm going to change your life," Cuban told him. "We're going to make a lot of money."
Back stage, a teary-eyed Salinas was filmed talking about the sacrifices of his parents and his own hard work. "Finally," he said.
"This is a big milestone," he added, "but there's still more to do."
Salinas grew up in Honduras. He began college at Rutgers as an engineering student, but later switched his focus to food science. He spent a career working in several of the largest food manufacturing companies in the U.S., including Nabisco and Kraft.
While he was studying entrepreneurship as an MBA student at Rutgers two years ago, he won first place in the annual business plan competition for his work to grow Perfect Life Nutrition and develop the company's first snack product – P-nuff Crunch. The top prize came with $20,000 to infuse into the three-year-old business. 
- Susan Todd
Press: For all media inquiries see our Media Kit