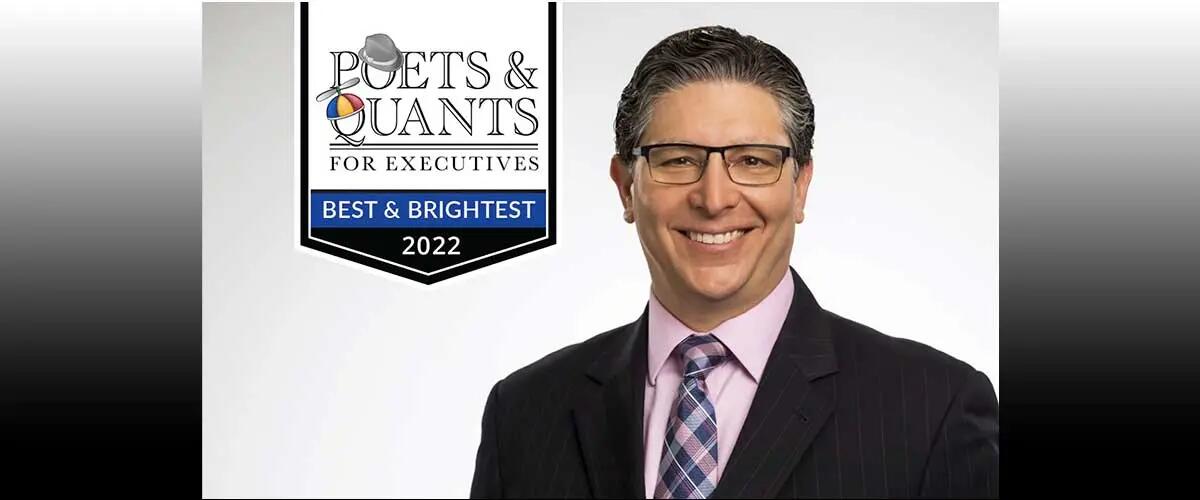 Rutgers Executive MBA allows graduate to innovate within Penn Medicine System
This profile was included among The Best & Brightest Executive MBAs of 2022 published by Poets & Quants on July 30, 2022.
Noah A. Goldman
Rutgers Business School Executive MBA
Age: 51
"I am a good-natured father of five and practice medicine as a gynecologic oncologist."
Hometown: South Orange, NJ
Family Members: wife Faith; daughter, Sophie, 21; sons, Nathan, 19, Adyn, 12, Asher, 10, Avi, 5.
Fun fact about yourself: I started skiing at 2-years old, and I have been skiing ever since.
Undergraduate School and Degree:
University of Rochester, Bachelor's degree, Biochemistry, 1992
University of Medicine and Dentistry of New Jersey (UMDNJ), medical degree, 1996
Where are you currently working? Penn Medicine Princeton Health, Medical Director of Cancer Programs
Extracurricular Activities, Community Work, and Leadership Roles:
Chair, Cancer Center Clinical Operations Committee, Penn Medicine Princeton Hospital
Chair, AAGL Oncology Special Interest Group
Chair, Robotics Committee, University Hospital
Chair, Value Analysis Perioperative Subcommittee, University Hospital
Mt. Sinai Department of Obstetrics, Gynecology, & Reproductive Sciences, Administrative Chief Resident Award
Clinical Research Award, ECOG/Aventis 2002 Young Investigator Symposium
Certificate of Appreciation, NYC Police Department Detectives' Endowment Association
Activities: Boxing, Peloton Bike, watching 80s and 90s movies with my boys.
Which academic or extracurricular achievement are you most proud of during business school? Applying for and being named director of cancer programs at Penn Medicine Princeton Health. It was a position that was out of my comfort zone, but having the EMBA background allowed me the wherewithal to secure the position.
What achievement are you most proud of in your professional career? First, becoming a physician and then becoming a gynecologic oncologist. When I applied, there were approximately 35 fellowship spots available in the U.S.
Who was your favorite MBA professor? Ignacio "Nacho" Vijil – a Rutgers EMBA alum and an engaging professor. I used his precepts in subsequent classes, and I use them at work constantly.
Why did you choose this school's executive MBA program? When I applied, I was a faculty member at Rutgers University-New Jersey Medical School, so the location to home and work seemed ideal. As I investigated other programs – the breadth of information taught, the innovative and constantly changing courses to ensure the curriculum remained relevant, the international program, and, of course, Professor Farrokh Langdana, the program director – it became clear there was no better choice for me.
What is the biggest lesson you gained during your MBA, and how did you apply it at work? There is not one lesson for me. While I understood some business before EMBA, the Rutgers program has allowed me to sit at the table with executives from the Penn Medicine System and understand what is happening. It allows me to comment, question, advise, and innovate within the hospital and the system. While my job is at a single hospital, I have been asked to attend system-wide committees. The Rutgers EMBA program has allowed this to happen.
Give us a story during your time as an executive MBA on how you were able to juggle work, family, and education? My day usually starts at 7 or 7:30 a.m., and I am at work until 5 or 6 p.m. I am usually the one who cooks dinner and then I help everyone get to bed. From 9 p.m. to 11 or 11:30 p.m. is school time. I knew that time management would be important and there was no room for error. Luckily, my family was supportive and allowed me the time I needed for school and studying.
What advice would you give to a student looking to enter an executive MBA program? Know why you are doing it. Don't do it because you want the letters after your name. Do it because you want to learn and because you want to make a difference in whichever organization you're in.
What is the biggest myth about going back to school? The biggest myth that I heard before starting school was that I was too far away from school to get back into "school mode."  I found that I was able to settle into school fairly easily. I think being online in the beginning due to COVID was helpful. I also received a lot of advice from colleagues and Rutgers alumnae who offered advice on technology for notetaking, etc.
What was your biggest regret in business school? I regret not applying to the EMBA program earlier in my career, recognizing that the timing was due to where I was in my career and with my family.
Which MBA classmate do you most admire? Jason Kaneshiro. I have had the opportunity to get to know Jason more during this last semester, being teamed with him in one of our electives. Jason is a quiet gentleman and extremely bright. He seems to have in-depth knowledge about everything, and I look forward to the days when I can sit with him in class and discuss anything from business to sports to family.
What was the main reason you chose an executive MBA program over part-time or online alternatives? One of our professors has said, "MBAs often specialize in and are hired to fulfill a specific functional role within a firm, whereas EMBAs are hired to run the business." This sums up why I chose EMBA. I was not interested in online as the live interactions with colleagues are as meaningful as the courses. Part-time was not an option due to timing and the effect on my family.
What is your ultimate long-term professional goal? Outside of doing something entirely outside of medicine, I am in the job I aspired to be in as a cancer center director. I have been hired to design and run a cancer program from the ground up. I know that had I not been in the EMBA program, I would not have been considered for the position.
What made Dr. Goldman such an invaluable addition to the class of 2022?
"Dr. Noah Goldman is truly a multi-faceted doctor. In addition to being accomplished in his medical field, Noah is a natural leader and manger with outstanding presentation skills. In the beginning of the program, he was a faculty member at Rutgers University – New Jersey Medical School. During the COVID years, he was able to juggle the delivery of clinical healthcare to his patients with his executive duties as executive vice chair of the Department of OB/GYN and Women's Health. In fact, in between the first and second year, Noah transitioned to Penn Medicine Princeton Health as the medical director for cancer programs, a position he attributes to his candidacy for the Rutgers EMBA. His crazy busy schedule got crazier! And even with all this on his plate, he managed to graduate from Rutgers EMBA with flying colors. He is on his way to being one of the three recipients of the prestigious Rutgers EMBA Ted Marousas Award, which is presented to graduates who have done the most to increase the footprint of the Rutgers EMBA Powerhouse."
Farrokh Langdana
Ph.D., Director of the Rutgers EMBA
Professor of Finance and Economics
Press: For all media inquiries see our Media Kit