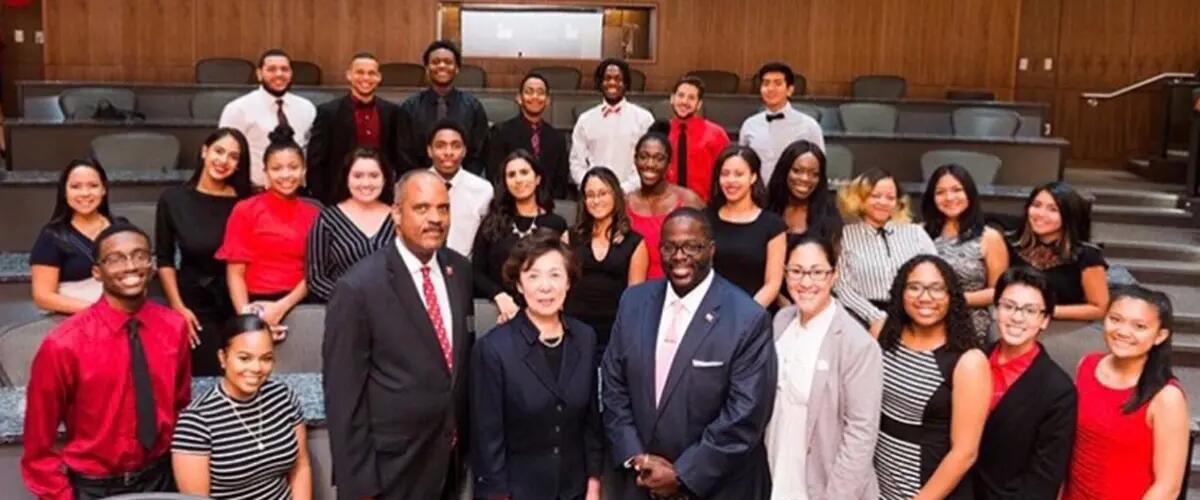 Second-year B-STARs welcome and guide first-year B-STARs
Business Student Transition at Rutgers (B-STAR) Program
2019 B-STARs lighting the path for incoming 2020 B-STARs
Halfway through this summer's Business Student Transition at Rutgers (B-STAR) Program, the newest cohort of B-STAR students received some sage advice through an interactive live webinar.  Following COVID-19 pandemic safety guidelines, the summer B-STAR program is being run remotely for the first time.  The students are getting a headstart on getting comfortable in the online teaching and learning environment.
The overall message from Professor and Executive Vice Dean Yaw M. Mensah and second-year B-STAR students was: Reach out, connect, ask for help; use every resource that Rutgers Business School provides to support your success.
"This program is part of the serious commitment and investment that Rutgers Business School makes in support of diversity and inclusion, equity, and access," said Mensah.  "You were selected for your proven ability; we will support you to your demonstrated potential.  Your hard work, motivation, and success that earned you your place in the B-STAR program will serve you well through RBS to graduation and beyond to your careers."
"None of us got here, or succeeds on their own," Mensah continued.  "We all need help sometimes.  You already have a great start on your support network in the B-STAR program.  Make friends, seek mentors now before you need them.  In turn, you will find yourself able to help and support others.  However, if you have a problem that you cannot solve, email me, visit my office.  You have friends in the Dean's Office now."
Rising B-STAR sophomore Erica Odoemene introduced the other second-year B-STAR students for the panel discussion.  After a slideshow with short biographies of each panelist, they all, in turn, answered questions to help the new students get to know them.
What class would you take again for no credit?
Golf, Business Forum, Managerial Accounting, Financial Accounting.  The engaging faculty, networking, and surprisingly interesting curriculum were the reasons.
Where is your favorite place to which you have traveled?
Dominican Republic; Paris, France; and California.  Travel opens your mind to new experiences and is culturally expanding.
Then the panelists answered pre-submitted questions, as well as live questions from the newest cohort.
The B-STAR Peer Mentoring & Panel Discussion virtual event demonstrated the supportive, collaborative nature of the program.  Also apparent was the commitment that Rutgers Business School leadership, Assistant Dean Charles A. Brown, and Program Coordinator Yvette M. Del Valle have to the students, and that the students have for each other.
Rutgers Business School's Business Student Transition at Rutgers (B-STAR) Program, offered by the RBS Office of Diversity Programs, supports high-performing and high-potential first-year minority students who have accepted admission to RBS.
Phase I of the program includes an intensive six-week summer bridge academic agenda.  Previously, selected incoming freshmen have had an opportunity to live on campus and take two college courses for full academic credit.  Following COVID-19 pandemic safety guidelines, this year the summer B-STAR program is being presented remotely, just as class instruction is planned for the fall.
Phase II of the program starts once students enter RBS as fully matriculated first-year students in the fall.  Phase II includes multi-year follow-up and support services via the Office of Diversity Programs and the RBS C.E.O. Network Initiative. Students start as RBS B-STARs the summer after they graduate from high school, continue in the program throughout their entire undergraduate journey at RBS, and even after graduation, they remain a part of the RBS B-STAR alumni network.
-Sean Ireland
Press: For all media inquiries see our Media Kit